John Ford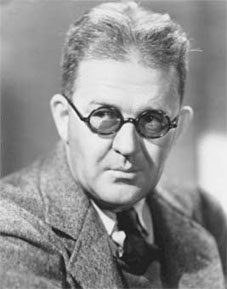 AKA John Martin Feeney
Born: 1-Feb-1894
Birthplace: Cape Elizabeth, ME
Died: 31-Aug-1973
Location of death: Palm Desert, CA
Cause of death: Cancer - Stomach
Remains: Buried, Holy Cross Cemetery, Culver City, CA

Gender: Male
Religion: Roman Catholic
Race or Ethnicity: White
Sexual orientation: Bisexual
Occupation: Film Director
Nationality: United States
Executive summary: How Green Was My Valley
Military service: US Navy
From Maureen O'Hara's autobiography:
I went to Ford's office to show him the revised sketches for my wardrobe. My arms full of the sketches, I walked into his office without knocking and could hardly believe my eyes. Ford had his arms around another man and was kissing him. I was shocked and speechless. I quickly dropped the sketches on the floor, then knelt down to pick them up. I fumbled around slowly and kept my head down. I took my time so they could part and compose themselves. They were on opposite sides of the room in a flash. The gentleman Ford was with was one of the most famous leading men in the picture business. He addressed a few pleasantries to me, which were forced and awkward, then quickly left. Ford and I went on with our business. Not a word was said, and I played it out as if I hadn't seen a thing.

Later, that actor approached me and asked, "Why didn't you tell me John Ford was homosexual?" I answered, "How could I tell you something I knew nothing about?"
Brother: Frank A. Ford
Brother: Edward O'Fearna
Wife: Mary McBride Smith (m. 3-Jul-1920)
Daughter: Barbara Ford (film industry, b. 16-Dec-1922, d. 27-Jun-1985)
Son: Patrick Ford (film producer)
Brother: Francis Ford (film director, b. 14-Aug-1881, d. 5-Sep-1953)
Mistress: Katharine Hepburn (mid-1930s)


Hollywood Anti-Nazi League
American Film Institute Life Achievement Award 1973
Oscar for Best Director 1936 for The Informer
Oscar for Best Director 1941 for The Grapes of Wrath
Oscar for Best Director 1942 for How Green Was My Valley
Oscar for Best Director 1953 for The Quiet Man
Shrapnel Injury
Cholecystectomy (1954)
Irish Ancestry
Risk Factors: Smoking, Alcoholism


FILMOGRAPHY AS DIRECTOR
7 Women (4-May-1966)
Cheyenne Autumn (3-Oct-1964)
Donovan's Reef (12-Jun-1963)
How the West Was Won (1-Nov-1962)
The Man Who Shot Liberty Valance (22-Apr-1962)
Two Rode Together (26-Jul-1961)
Sergeant Rutledge (18-May-1960)
The Horse Soldiers (12-Jun-1959)
The Last Hurrah (24-Oct-1958)
Gideon of Scotland Yard (25-Mar-1958)
The Rising of the Moon (10-Aug-1957)
The Wings of Eagles (22-Feb-1957)
The Searchers (13-Mar-1956)
Mister Roberts (30-Jul-1955)
The Long Gray Line (9-Feb-1955)
Mogambo (9-Oct-1953)
The Sun Shines Bright (2-May-1953)
What Price Glory (22-Aug-1952)
The Quiet Man (21-Jul-1952)
Rio Grande (15-Nov-1950)
Wagon Master (19-Apr-1950)
When Willie Comes Marching Home (17-Feb-1950)
She Wore a Yellow Ribbon (22-Oct-1949)
3 Godfathers (1-Dec-1948)
Fort Apache (9-Mar-1948)
The Fugitive (3-Nov-1947)
My Darling Clementine (3-Dec-1946)
They Were Expendable (20-Dec-1945)
December 7th (1943)
How Green Was My Valley (28-Oct-1941)
Tobacco Road (20-Feb-1941)
The Long Voyage Home (8-Oct-1940)
The Grapes of Wrath (15-Mar-1940)
Drums Along the Mohawk (3-Nov-1939)
Young Mr. Lincoln (30-May-1939)
Stagecoach (15-Feb-1939)
Submarine Patrol (25-Nov-1938)
Four Men and a Prayer (29-Apr-1938)
The Hurricane (9-Nov-1937)
Wee Willie Winkie (30-Jul-1937)
The Plough and the Stars (26-Dec-1936)
Mary of Scotland (28-Jul-1936)
The Prisoner of Shark Island (12-Feb-1936)
Steamboat Round The Bend (6-Sep-1935)
The Informer (1-May-1935)
The Whole Town's Talking (22-Feb-1935)
Judge Priest (5-Oct-1934)
The World Moves On (27-Jun-1934)
The Lost Patrol (16-Feb-1934)
Doctor Bull (22-Sep-1933)
Pilgrimage (12-Jul-1933)
Air Mail (3-Nov-1932)
Arrowsmith (7-Dec-1931)
Seas Beneath (30-Jan-1931)
Up the River (10-Oct-1930)
Born Reckless (11-May-1930)
The Black Watch (8-May-1929)
Four Sons (13-Feb-1928)
3 Bad Men (28-Aug-1926)
North of Hudson Bay (18-Nov-1923)
Straight Shooting (27-Aug-1917)





Requires Flash 7+ and Javascript.



Do you know something we don't?
Submit a correction or make a comment about this profile






Copyright ©2019 Soylent Communications