How the West Was Won (1-Nov-1962)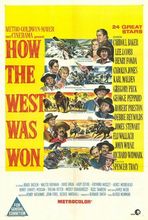 Directors: John Ford; George E. Marshall; Henry Hathaway
Writer: James R. Webb
Music: Alfred Newman
Producer: Bernard Smith
Keywords: Western




Four generations of a New England family as they move westward, told episodically: The Rivers, The Plains, The Civil War, The Railroad, and The Outlaws. Among the most epic of epic westerns. Won Oscars for Best Screenplay, Best Sound and Best Editing; received additional nominations for Best Picture, Best Cinematography, Best Set Decoration, Best Costume Design, and Best Original Score. Entered 1997 into the National Film Registry.
[watch trailer]
| Name | Occupation | Birth | Death | Known for |
| --- | --- | --- | --- | --- |
| Carroll Baker | Actor | 28-May-1931 | | Baby Doll |
| Walter Brennan | Actor | 25-Jul-1894 | 21-Sep-1974 | Three Oscars for Best Supporting Actor |
| David Brian | Actor | 5-Aug-1914 | 15-Jul-1993 | Mr. District Attorney |
| Lee J. Cobb | Actor | 8-Dec-1911 | 11-Feb-1976 | The Left Hand of God |
| Andy Devine | Actor | 7-Oct-1905 | 18-Feb-1977 | Adventures of Wild Bill Hickok |
| Henry Fonda | Actor | 16-May-1905 | 12-Aug-1982 | 12 Angry Men |
| Carolyn Jones | Actor | 28-Apr-1929 | 3-Aug-1983 | Morticia on The Addams Family |
| Karl Malden | Actor | 22-Mar-1912 | 1-Jul-2009 | Streets of San Francisco |
| Raymond Massey | Actor | 30-Aug-1896 | 29-Jul-1983 | Things to Come |
| Agnes Moorehead | Actor | 6-Dec-1900 | 30-Apr-1974 | Endora on Bewitched |
| Harry Morgan | Actor | 10-Apr-1915 | 7-Dec-2011 | Col. Sherman T. Potter on M*A*S*H |
| Gregory Peck | Actor | 5-Apr-1916 | 12-Jun-2003 | To Kill A Mockingbird |
| George Peppard | Actor | 1-Oct-1928 | 8-May-1994 | The A Team |
| Robert Preston | Actor | 8-Jun-1918 | 21-Mar-1987 | The Music Man |
| Debbie Reynolds | Actor | 1-Apr-1932 | 28-Dec-2016 | Dancer, actress |
| Thelma Ritter | Actor | 14-Feb-1905 | 4-Feb-1969 | Stella in Rear Window |
| Mickey Shaughnessy | Actor | 5-Aug-1920 | 23-Jul-1985 | Jailhouse Rock |
| Jimmy Stewart | Actor | 20-May-1908 | 2-Jul-1997 | Mr. Smith Goes to Washington |
| Russ Tamblyn | Actor | 30-Dec-1934 | | Seven Brides for Seven Brothers |
| Spencer Tracy | Actor | 5-Apr-1900 | 10-Jun-1967 | Two consecutive Best Actor Oscars |
| Eli Wallach | Actor | 7-Dec-1915 | 24-Jun-2014 | The Magnificent Seven |
| John Wayne | Actor | 26-May-1907 | 11-Jun-1979 | The Duke |
| Richard Widmark | Actor | 26-Dec-1914 | 24-Mar-2008 | Kiss of Death |
CAST
REVIEWS
Review by Joe Durham (posted on 15-Feb-2008)
I was a Cinerama fan long before this movie came out, so it was thrilling just to be able to see it in Cinerama two or three times. It was a western on a huge scale, which hasn't been duplicated since. The actors were all familiar at the time, but I thought John Wayne should have been either the sheriff at the end or the George Peppard character at the end. I realize it was most probably John Ford who cast him in the Civil War episode, which Ford also directed. Ford did not like the Cinerama camera and reportedly had some particularly choice words to say about it. The best parts of the movie remain the building of the railroad with Richard Widmark as the man who thinks he owns the Union Pacific, the rivers with Karl Malden and Debbie Reynolds going to Ohio, and of course, the finale with Eli Wallach as the bad guy. The music was uplifting, and was surprising it didn't win an Oscar. But I believe I have that figured out. It had a lot of themes which were adapted by Alfred Newman into the score, but the main title theme is still one of the best. This was probably also why the Gone With the Wind music didn't win an Oscar either, because of the songs Max Steiner adapted into its score. I don't even remember the score which eventually won the year this was released. The film did have its problems. A scene which was later cut involved Debbie Reynolds and Agnes Moorehead crossing a river in the Conastoga wagon which was shown with a big power line in the background. Also, the story called for the characters in the first episode to go over the falls of the Ohio River. Since this was impossible, the scene suddenly shifts from the east to the west, then shifts back again after the scene is over. The scenes with Gregory Peck as the gambler are probably the weakest, and takes too long for this particular segment to unfold. A part about the Ohio River pirates with Walter Brennan as the head pirate is compelling and Brennan is particularly devious in this segment. I would like for someone to release a director's cut of this movie, since Heddy Lamar's part was completely cut out, as was a scene with some outlaws gunning down Henry Fonda. Of course, that would probably make the running time 3:30 or so, but look at the afore-mentioned GWTW and others. I'm also hoping for a release in the original Cinerama with the new smile-box process, which really would make it look better.
---
Do you know something we don't?
Submit a correction or make a comment about this profile

Copyright ©2019 Soylent Communications