Rio Grande (15-Nov-1950)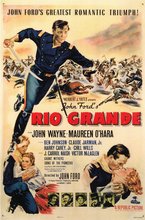 Director: John Ford
Writers: James Warner Bellah; James Kevin McGuinness




Lt. Kirby Yorke, U.S. Cavalry, commands an outpost on the Rio Grande, in the midst of renegade Apaches. Separated from his Southern wife since the Civil War, she comes to Fort Stark with the intent of extricating their son Jeff, a West Point dropout, from the Cavalry, who coincidentally will be stationed there. Kirby may still have some feeling for his wife; and there are marauding Apaches still about. Third entry in John Ford's "Cavalry Trilogy", the others being Fort Apache (1948) and She Wore a Yellow Ribbon (1949).
REVIEWS
Review by Anonymous (posted on 21-Jul-2007)
It was short and sweet and heavy on the sweet. It had excellent comedy, singing, action pact and easy to understand what was going on. Being a 25 year Army veteran myself, I could see the two sides of army life, and the traditions. Alot of people would be shocked to find out how close the family ties are within the family circle. I had alot of enriched historical settings although there wasn't any specific campaigns told for real unless you had an eye for it. I watch the movie just to enjoy the music of the sons of the pioneers and to see different correlations between the new Army and the old traditional Army. Of course it stands to reason that I watch the other John Wayne westerns. Thank you for your contribution.
---
Do you know something we don't?
Submit a correction or make a comment about this profile

Copyright ©2019 Soylent Communications