They Were Expendable (20-Dec-1945)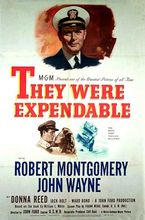 Director: John Ford
Writer: Frank Wead
Based on a book: They Were Expendable by William L. White
Musical Score: Herbert Stothart
Keywords: Drama, WWII, Pacific Theater




American Navy men use PT boats to fight the Japanese in the early days of World War II, defending the Philippines. The war is going badly, and these professionals stubbornly carry on despite the vulnerability of their situation. Standout war film by John Ford, unusual in that its subject matter is catastrophic defeat. Beautiful cinematography. Received Oscar nominations for Best Sound Recording and Best Special Effects.
[watch trailer]
| Name | Occupation | Birth | Death | Known for |
| --- | --- | --- | --- | --- |
| Leon Ames | Actor | 20-Jan-1902 | 12-Oct-1993 | Character actor, a SAG founder |
| Robert Barrat | Actor | 10-Jul-1889 | 7-Jan-1970 | The Kennel Murder Case |
| Ward Bond | Actor | 9-Apr-1903 | 5-Nov-1960 | Wagon Train |
| Louis Jean Heydt | Actor | 17-Apr-1905 | 29-Jan-1960 | American character actor |
| Jack Holt | Actor | 31-May-1888 | 18-Jan-1951 | They Were Expendable |
| Cameron Mitchell | Actor | 4-Nov-1918 | 6-Jul-1994 | The High Chaparral |
| Robert Montgomery | Actor | 21-May-1904 | 27-Sep-1981 | Mr. and Mrs. Smith |
| Donna Reed | Actor | 27-Jan-1921 | 14-Jan-1986 | The Donna Reed Show |
| Russell Simpson | Actor | 17-Jun-1880 | 12-Dec-1959 | The Grapes of Wrath |
| Marshall Thompson | Actor | 27-Nov-1925 | 18-May-1992 | To Hell and Back |
| Charles Trowbridge | Actor | 10-Jan-1882 | 30-Oct-1967 | The Great Lie |
| John Wayne | Actor | 26-May-1907 | 11-Jun-1979 | The Duke |
| Jeff York | Actor | 23-Mar-1912 | 11-Oct-1995 | Reno McKee on The Alaskans |
CAST
REVIEWS
Review by JERRY FREDERICK (posted on 13-Dec-2007)
The brief but reluctant and cautiously undeniable relationship between Donna Reed's character and that of John Wayne is heartbreaking when it is obvious that the last (cut short phone call) that they share will be the end of them and any chance of a future together, with John Waynes character following orders to evacuate his PT boat and crew and leave the Bataan penisula knowing full damn well that Donna Reeds character may not survive what is coming with the enevidable advance of the Japanese army and its barbaric tactics of occupation. Tactics that were well known to the American Navy brass from the way the Japanese Empire swept into China. So much is said between them during that scene but with out it obviously having to be being said. The feelings that these two victims of war have for each other is very heart felt to the viewer. John Waynes charcter knows that there is nothing he can do for her, he can't save her or hold her or swap spots with her, all he can do is walk away and do his duty and pray that she survives. This movie is so full of sacrfice and pain with no glorifing of war.
---
Review by BARNEY (posted on 7-Aug-2007)
It was a very riveting movie in all respects, very well done technologically and dramatically. The historical parts were excellent, and for the people who did not live at that time it will probably be very enlightening to them. The action scenes were very well done and all in all it was a superb and very memorable movie, one of the best ever done by John Ford!
---
Review by anonymous (posted on 29-May-2005)
Truly one of the all time classic War Movies.....how could it not be, with John Ford (WWII Navy Commander) Robert Montgomery (WWII Navy Lt Commander) Donna Reed and of course, the "Duke", John Wayne. The lead character, Lt Brickley is more than loosely based on Lt John Bulkely, a WWII PT Boat Commander and the recipient of the Congressional Medal of Honor. Great detail shots, exact (correct) small arms used throughout the movie. A close glimpse of the pre-war and early WWII Navy in the Phillipines.
---
Review by DAKOTA KID (posted on 15-Jul-2007)
Brilliant movie & absolutely authentic. Much like The Longest Day, it utilized only actual weapons, boats, etc. Montgomery & Wayne worked well together & Donna Reed and the Duke (both from Iowa)had great chemistry. It is a terrific watch
---
Do you know something we don't?
Submit a correction or make a comment about this profile

Copyright ©2019 Soylent Communications