The Horse Soldiers (12-Jun-1959)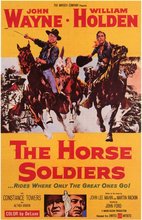 Director: John Ford
Writers: John Lee Mahin; Martin Rackin
From novel by: Harold Sinclair
Music by: David Buttolph
Producers: John Lee Mahin; Martin Rackin




Col. John Marlowe's cavalry unit is ordered 300 miles behind enemy lines to attack the railway junction at Newton Station. Accompanying him is an Army surgeon, and a southern belle who has overheard their plans. Based on the actual events of Grierson's Raid, intended to dilute Joseph Eggleston Johnston's attention and take pressure off the Vicksburg Campaign.
[watch trailer]
| Name | Occupation | Birth | Death | Known for |
| --- | --- | --- | --- | --- |
| Willis Bouchey | Actor | 24-May-1907 | 27-Sep-1977 | The Man Who Shot Liberty Valance |
| Ken Curtis | Actor | 2-Jul-1916 | 29-Apr-1991 | Festus Haggen on Gunsmoke |
| Althea Gibson | Tennis | 25-Aug-1927 | 28-Sep-2003 | First black woman to win Wimbledon |
| Hoot Gibson | Actor | 6-Aug-1892 | 23-Aug-1962 | Cowboy star of the 20s and 30s |
| William Holden | Actor | 17-Apr-1918 | 16-Nov-1981 | Stalag 17 |
| Anna Lee | Actor | 2-Jan-1913 | 14-May-2004 | Lila Quartermaine on General Hospital |
| Strother Martin | Actor | 26-Mar-1919 | 1-Aug-1980 | Cool Hand Luke |
| Denver Pyle | Actor | 11-May-1920 | 25-Dec-1997 | Jesse Duke on Dukes of Hazzard |
| Bing Russell | Actor | 5-May-1926 | 8-Apr-2003 | Dep. Clem Foster on Bonanza |
| Basil Ruysdael | Actor | 24-Jul-1888 | 10-Oct-1960 | The Cocoanuts |
| Russell Simpson | Actor | 17-Jun-1880 | 12-Dec-1959 | The Grapes of Wrath |
| Constance Towers | Actor | 20-May-1933 | | Shock Corridor |
| John Wayne | Actor | 26-May-1907 | 11-Jun-1979 | The Duke |
| Hank Worden | Actor | 23-Jul-1901 | 6-Dec-1992 | The Searchers |
| Carleton Young | Actor | 21-Oct-1905 | 7-Nov-1994 | 20000 Leagues Under the Sea |
CAST
REVIEWS
Review by Charles E. Kelly (posted on 25-Dec-2007)
I have seen all of John Wayne's films. Well, almost all of them. For some reason, I like this one, maybe the most. Perhaps it was the subtle, yet smoldering chemistry between Constance Towers and John Wayne. Or maybe it was the Wayne-Holden chemistry. The filming was beautiful. The sets so authentic. And the attention to genuine cavalry details provide a great sense of the time-period. But overall, the chemistry between Wayne and Towers always makes me long for such a romance. She was so damned beautiful. Those eyes. His sense of duty and honor. Just the way she looked at him. I think it was very underrated.
---
Review by john levin (posted on 9-Sep-2007)
This John Ford/John Wayne film remains underrated. The prevalent reason for overlooking this one concerns the accidental death of a stuntman who Ford had allowed to work in spite of health problems.Allegedly Ford just wanted out and lost interest. Maybe so. But the evidence on screen shows a one-time combo of Wayne and Holden and the sparks do fly! The only irritant is Willis Bouchey who "John"s Wayne interminably. This film deserves another look.
---
Review by McKay Anderson (posted on 27-Sep-2007)
I completely agree with the last reviewer. This movie is totally underated! The cast is superb from top to bottom! The Duke is never more comfortable in a role. The addition of Bill Holden in a John Ford movie with John Wayne was a stroke of genius. Too bad is was their only movie together. The supporting cast was excellent. I went to the movie in 1959 to see my favorite actor/director's latest movie and was absolutely dumbstruck when Constance Towers appeared on screen. It was the first time I had ever seen her and I still feel she was the most beautiful actress I had ever seen and feel that way to this day. For the most part the film was historically correct and based on an actual event. I bring out this DVD along with "The Searchers" and watch them 3-4 times a year.
---
Do you know something we don't?
Submit a correction or make a comment about this profile

Copyright ©2019 Soylent Communications