Craig T. Nelson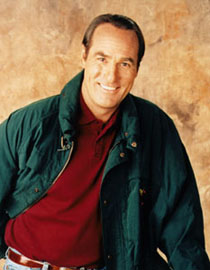 AKA Craig Richard Nelson
Born: 4-Apr-1946
Birthplace: Spokane, WA

Gender: Male
Race or Ethnicity: White
Sexual orientation: Straight
Occupation: Actor
Nationality: United States
Executive summary: Coach Hayden Fox on Coach
Craig T. Nelson is an actor, best known for his TV work as the deadpan slow-burning Coach on Coach, and as the stoic Police Chief on The District. Nelson began his career as a writer-announcer on Los Angeles radio, and performed stand-up comedy with Barry Levinson. He wrote for early 1970s comedies like The Tim Conway Show and The John Byner Comedy Hour, and made his film debut in the campy vampire sequel Return of Count Yorga. In 1974's sci-fi softcore porn Flesh Gordon, Nelson provided the monster's voice, shouting lines like, "Nobody burns my ass and gets away with it, Gordon!"
In the mid-1970s, Nelson grew disenchanted with show business, dropped out of Hollywood, and moved with his wife and kids to rural California. For almost five years he worked as a janitor, plumber, lumberjack, and carpenter. Then he returned to Los Angeles, and produced a series of documentaries about a subject he knew well -- artists who chucked the urban grind for a rural lifestyle.
Levinson co-wrote Al Pacino's 1979 lawyer melodrama ...And Justice for All, and had Nelson audition for a small part. He got the role, and other films followed. Nelson eventually came to prominence as the father in the first, best Poltergeist, and he played a high school football coach in the early Tom Cruise film All the Right Moves. More recently, Nelson provided the voice for Mr. Incredible in The Incredibles.
The "T" in Craig T. Nelson stands for Theodore, a phony middle name Nelson created when he learned that another Craig Richard Nelson was already registered with the Screen Actors Guild.
Nelson does not want to pay taxes: He told Glenn Beck, "As an investor, as someone who gets taxed an awful lot, I just say I'm not going to pay until you guys can show me that you're fiscally responsible." He feels that his money isn't being well spent by the government. Nelson goes on to explain that he has undergone personal financial hardship, with no safety net to catch him: "I've been on food stamps and welfare. Anybody help me out? No."[1] Somehow, his head did not explode.
---
[1] The Glenn Beck Show, 28 May 2009.

Father: (drummer for Bing Crosby)
Wife: Robin Nelson (div. 1978, three children)
Wife: Doria Cook-Nelson (actress, The Swarm, m. 1987)
Son: Noah Nelson


Visited Disneyland Candlelight Procession (Dec-1986)


TELEVISION
Parenthood Zeek Braverman (2010-)
My Name Is Earl Warden Jerry Hazelwood (2007)
The District Chief Jack Mannion (2000-04)
Coach Coach Hayden Fox:Coach Hayden Fox (1989-97)
Call to Glory Col. Raynor Sarnac (1984-85)
Chicago Story Kenneth A. Dutton (1982)


FILMOGRAPHY AS ACTOR
Incredibles 2 (5-Jun-2018) [VOICE]
Book Club (17-May-2018)
Gold (29-Dec-2016)
Get Hard (16-Mar-2015)
Soul Surfer (8-Apr-2011) · Dr. Rovinksy
The Company Men (22-Jan-2010) · Salinger
The Proposal (15-Jun-2009)
Blades of Glory (30-Mar-2007)
The Family Stone (2-Dec-2005)
The Incredibles (27-Oct-2004) · Bob Parr [VOICE]
Dirty Pictures (27-May-2000)
The Skulls (27-Mar-2000) · Litten Mandrake
Creature (17-May-1998)
The Devil's Advocate (17-Oct-1997)
I'm Not Rappaport (24-Dec-1996) · The Cowboy
Ghosts of Mississippi (20-Dec-1996)
If These Walls Could Talk (11-Sep-1996)
The Switch (17-Jan-1993)
The Josephine Baker Story (16-Mar-1991)
Turner & Hooch (28-Jul-1989) · Chief Hyde
Troop Beverly Hills (22-Mar-1989)
Red Riding Hood (15-Mar-1989)
Me and Him (15-Sep-1988)
Action Jackson (12-Feb-1988) · Peter Dellaplane
Rachel River (17-Sep-1987)
Poltergeist II: The Other Side (23-May-1986) · Steve Freeling
Alex: The Life of a Child (23-Apr-1986)
The Killing Fields (2-Nov-1984) · Military Attaché
Silkwood (14-Dec-1983)
Man, Woman and Child (18-Nov-1983)
All the Right Moves (21-Oct-1983)
The Osterman Weekend (14-Oct-1983)
Poltergeist (4-Jun-1982) · Steve Freeling
Murder in Texas (3-May-1981)
The Formula (19-Dec-1980)
Stir Crazy (12-Dec-1980) · Deputy Ward Wilson
Private Benjamin (10-Oct-1980)
Where the Buffalo Roam (25-Apr-1980) · Cop on Stand
...And Justice For All (19-Oct-1979) · Frank Bowers
Diary of a Teenage Hitchhiker (21-Sep-1979)
Scream, Blacula, Scream (27-Jun-1973)
The Return of Count Yorga (1971) · Sgt. O'Connor





Requires Flash 7+ and Javascript.



Do you know something we don't?
Submit a correction or make a comment about this profile






Copyright ©2019 Soylent Communications