Blades of Glory (30-Mar-2007)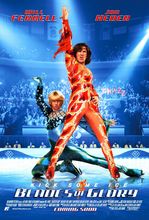 Directors: Josh Gordon; Will Speck
Writers: Craig Cox; Jeff Cox; Busy Philipps
Keywords: Sports Comedy, Figure Skating




Two rival Olympic figure skaters banned from competition exploit a loophole to attempt a comeback as a pairs team.
ABSTRACT
Wild child Chazz Michael Michaels and perfectionist Jimmy McElroy, elite male figure skaters and bitter rivals, break out into a fight at the 2002 Winter Olympics that results in a lifetime ban from Olympic competition. Desperate to compete for a gold medal once more, the two exploit a loophole in the rulebook to return as figure skating's first-ever male pair, charting an unlikely course together in a lowbrow comedy filled with gay stereotypes and sight gags.
REVIEWS
Review by Sabina Ahmatovic (posted on 7-Jul-2007)
Sorry to sound childish but this was a AWSOME movie. I loved it. It had so many hilarious scenes which will always make me laugh everytime I think about it. The skating theme was wonderful, I love skating normally but ice skating is alot more competitive and beautiful. Will Ferall was "the ladies man" and Jon Heder was the clean, pristiene (sorry if I spelt it wrong) little daddies boy. On the final scene with the razor blade I was left on the edge of my seat as Jimmy (Jon Heder) came so close to cutting Chazzes'(Will Ferall) head of. I was frightened to death it was extremely scary. And that is what I thought of the movie. It is a modern day inspiration in the form of comedy.
---
Do you know something we don't?
Submit a correction or make a comment about this profile

Copyright ©2019 Soylent Communications