The Devil's Advocate (17-Oct-1997)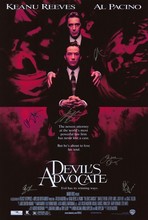 Director: Taylor Hackford
Writers: Tony Gilroy; Jonathan Lemkin
From novel: The Devil's Advocate by Andrew Neiderman
Keywords: Thriller, Devil, Bible




Kevin Lomax, Florida attorney who has never lost a case even with obviously guilty clients, accepts a job from the Manhattan-based Milton, Chadwick, Waters, a mysterious firm with interests everywhere in the world. It opens a life of luxury to him and his wife, but the drive to win his cases consumes Kevin, altering all of the relationships in his life. His boss, John Milton, is literally the Devil.
REVIEWS
Review by anonymous (posted on 10-Feb-2005)
Pacino at his best! The Devil's Advocate tells a thrilling tale. This movie is packed with psychological thrill rides and encounters of evil. The movie is visually exciting. It is an interesting plot, and has an ending like no other.
---
Do you know something we don't?
Submit a correction or make a comment about this profile

Copyright ©2019 Soylent Communications