Glenn Beck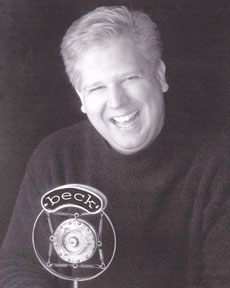 AKA Glenn Lee Beck
Born: 10-Feb-1964
Birthplace: Seattle, WA

Gender: Male
Religion: Mormon
Race or Ethnicity: White
Sexual orientation: Straight
Occupation: TV Personality, Radio Personality
Party Affiliation: See Note [1]
Nationality: United States
Executive summary: Conservative TV and talk radio host
Glenn Beck had an hour on Fox News five nights a week for several years, and has a radio program that is still syndicated on more than 200 US stations. He grew up in Mount Vernon, Washington, a small town about sixty miles north of Seattle, and started on radio by winning an hour of airtime in a contest. While still in high school, Beck worked as a late-night and weekend disc jockey at a station about forty miles from Seattle, until he was fired for missing scheduled shifts. He went straight from high school to full-time radio work, and by his mid-20s he was a successful radio DJ.
With his early success, Beck became an alcoholic and daily drug user. After his first marriage ended in divorce, he kicked his addictions with help from Alcoholics Anonymous. Now sober for years, Beck says he still suffers back pain from an injury incurred when, intoxicated or high, he tumbled through a window.
Beck suffers from Attention-Deficit Hyperactivity Disorder (ADHD), so his shows are always fast-paced. Fans describe him as quick-witted, well-informed, an independent thinker, and a good Christian. Sarah Palin has called him "America's professor of common sense". He is a Mormon with self-described libertarian leanings, big on conservative politics and traditional family values. He has described Jimmy Carter as "a waste of skin", Cindy Sheehan as "a pretty big prostitute", and fantasized on the air about strangling to death Michael Moore.
In the build-up to America's 2003 war on Iraq, Beck countered anti-war protests by using his radio show to organize dozens of pro-war rallies across the nation, and he promised he would never question the cause, "no matter how unpopular this war gets." In 2014, he said on his radio show that he had reconsidered: "Now, in spite of the things I felt at the time when we went into war, liberals said: We shouldn't get involved. We shouldn't nation-build. And [they said] there was no indication the people of Iraq had the will to be free. I thought that was insulting at the time. Everybody wants to be free. They said we couldn't force freedom on people. Let me lead with my mistakes. You are right. Liberals, you were right. We shouldn't have."
Beck is also the founder and editor of Fusion, a magazine of conservative political perspective, where a regular feature is the magazine's humorous "future obituaries" of prominent liberals, celebrities, and terrorists. In its September 2006 issue, Fusion solemnly commemorated the fifth anniversary of September 11 with a cover drawing of Beck standing in front of the twin towers. In a segment that would be bizarre even on Fox News programs, he asserted that the architecture of Manhattan's Rockefeller Center, built during the Great Depression, is rife with communist symbolism. On the cover of his 2009 book Arguing with Idiots, Beck posed wearing an East German military uniform.
After Barack Obama's election as President, Beck frequently predicted that the end of America was fast approaching. His show features a fondness for far-out conspiracies and some of the wildest hyperbole on American media. He has described President Obama as "a racist with a deep-seated hatred of white culture", and said that to him, the fringe philosophies of the John Birch Society are "starting to make more and more sense." On his TV show, he occasionally raged against the Obama administration while black-and-white footage of Nazi rallies rolled on the screen behind him.
One group frequently in Beck's crosshairs is the Tides Foundation, an obscure but well-funded San Francisco non-profit that has provided underwriting for progressive projects from People for the American Way to StopGlobalWarming.org. In Beck's broadcast lectures, Tides is portrayed as embedded with Bill Ayers, George Soros, ACORN, al-Qaeda, and President Obama in a conspiracy against capitalism. In July 2010, Byron Williams, a heavily armed felon in full body armor, was arrested after a freeway shoot-out with California Highway Patrol officers, later stating that he was on his way to kill staffers at Tides and the ACLU. Williams told investigators that "it was the things that [Beck] did, it was the things he exposed that blew my mind".
According to an April 2010 Forbes magazine interview: "I could give a flying crap about the political process. [...] We're an entertainment company."
---
[1] "I'm not a Republican, nor a Democrat. I'm a commonsense-thinking conservative." CNN (22-May-2007)

Father: William Beck
Mother: Mary (d. 15-May-1979 probable suicide)
Wife: Claire (div. 1994, two daughters)
Daughter: Mary (has cerebral palsy)
Daughter: Hannah (b. 1991)
Wife: Tania (m. 1999, one son, one daughter)
Son: Raphe (adopted 2004)
Daughter: Cheyenne Grace Beck (b. 30-Apr-2006)


High School: Sehome High School, Bellingham, WA (1982)
University: Yale University (took one class, dropped out)


CNN Talk Host (2006-08)
Alcoholics Anonymous
Converted to Mormonism 2000 (from Roman Catholicism)
Endorsement of foodinsurance.com 2010- (famine protection)
Endorsement of Select Comfort Sleep Number bed
Endorsement of Goldline 2009- (gold dealer)
Evolution Skeptics
Global Warming Skeptics
Hemorrhoid Operation 26-Dec-2007
Appendectomy 4-Nov-2009
Risk Factors: Hemorrhoids, Alcoholism, Marijuana, Cocaine, Obesity, Appendicitis


TELEVISION
Fox News Channel Talk Host (2008-11)


FILMOGRAPHY AS ACTOR
Divide and Conquer: The Story of Roger Ailes (9-Sep-2018) · Himself
Before the Flood (9-Sep-2016) · Himself
Atlas Shrugged III: Who Is John Galt? (12-Sep-2014)
Évocateur: The Morton Downey Jr. Movie (21-Apr-2012) · Himself


Official Website:
http://www.glennbeck.com/

Author of books:
The Real America: Messages from the Heart and Heartland‎ (2005)
An Inconvenient Book: Real Solutions to the World's Biggest Problems‎ (2007)
The Christmas Sweater (2008, novel)
Arguing with Idiots: How to Stop Small Minds and Big Government (2009)
Glenn Beck's Common Sense: The Case Against an Out-of-Control Government, Inspired by Thomas Paine (2009)
The Overton Window (2010, novel)
Broke: The Plan to Restore Our Trust, Truth and Treasure (2010)
The Seven Wonders That Will Change Your Life (2010, with Keith Ablow)





Requires Flash 7+ and Javascript.



Do you know something we don't?
Submit a correction or make a comment about this profile






Copyright ©2019 Soylent Communications