Stir Crazy (12-Dec-1980)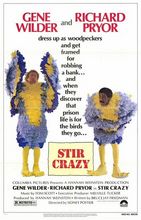 Director: Sidney Poitier
Writer: Bruce Jay Friedman
Music by: Tom Scott
Producer: Hannah Weinstein
Keywords: Crime/Comedy, Unjustly Accused, Rodeo




New York buddies Skip Donahue and Harry Monroe, both fired from their jobs on the same day, convince each other to take a road trip: destination Hollywood. In the backwater town of Glenboro, Arizona their van breaks down; they raise money taking odd jobs, here singing in ridiculous woodpecker costumes for a local bank. But after the bank is later robbed by men wearing those same costumes, Skip and Harry receive 125 year sentences from an unsympathetic judge. Along with Silver Streak (1976), one of the two best Wilder/Pryor pairings.
[watch trailer]
CAST
Gene Wilder
... Skip Donahue
Richard Pryor
... Harry Monroe
Also Starring
Georg Stanford Brown
... Rory Schultebrand
JoBeth Williams
... Meredith
Miguelangel Suárez
... Jesus Ramirez
Co-Starring
Craig T. Nelson
... Deputy Ward Wilson
Barry Corbin
... Warden Walter Beatty
Charles Weldon
... Blade
Nicolas Coster
... Warden Henry Sampson
Joel Brooks
... Len Garber
Jonathan Banks
... Jack Graham
Erland van Lidth de Jeude
... Grossberger
Lewis van Bergen
... Guard #1
Karmin Murcelo
... Teresa Ramirez
Franklyn Ajaye
... Young Man in Hospital
Estelle Omens
... Mrs. R. H. Broache
Peter Looney
... Kicker #1
Cedrick Hardman
... Big Mean
Doug Johnson
... Guard #2
Henry Kingi
... Ramon
Joseph Massengale
... Caesar Geronimo
Herman Poppe
... Alex
Luis Avalos
... Chico
Esther Sutherland
... Sissie
Pamela Poitier
... Cook's Helper
James Oscar Lee
... Kicker #2
Rod McCary
... Minister
Claudia Cron
... Joy
Bill Bailey
... Announcer
Donna Benz
... Nancy
Grand Bush
... Big Mean's Sidekick
Alvin Ing
... Korean Doctor
Thomas Moore
... Judge
Danna Hansen
... Mrs. Sampson
Gwen Van Dam
... Mrs. Beatty
Herb Armstrong
... County Jail Guard
Herbert Hirschman
... Man at Dinner Party
Don Circle
... Bank Teller
Madison Arnold
... Guard #3
Gene Earle
... Sheriff
Mickey Jones
... Guard #8
Tracy Lee Rowe
... Little Girl
Essex Smith
... Blade's Friend
Kenneth Menard
... Repairman
Billy Beck
... Flycatching Prisoner
REVIEWS
Review by Bruce Miller (posted on 24-Feb-2005)
This is one of my all time favorite films. From the "I'm bad I'm bad" scene to the warden saying "push my ass" at the end of the prison rodeo. Rich and Gene had a chemistry shared by few (maybe Gene Wilder and Cleavon Little.) The final scene with Jo Beth and Gene Wilder always chokes me up especially after hearing the "Nothing is gonna stop me now" song at the end.
---
Do you know something we don't?
Submit a correction or make a comment about this profile

Copyright ©2019 Soylent Communications