Roger Zelazny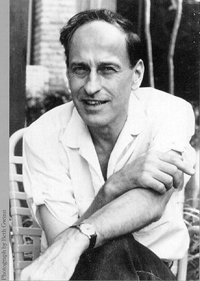 AKA Roger Joseph Zelazny
Born: 13-May-1937
Birthplace: Euclid, OH
Died: 14-Jun-1995
Location of death: Santa Fe, NM
Cause of death: Cancer - Colon
Remains: Cremated (ashes scattered)

Gender: Male
Race or Ethnicity: White
Sexual orientation: Straight
Occupation: Novelist
Nationality: United States
Executive summary: Damnation Alley
Military service: Ohio National Guard
One of the most influential writers of science fiction's New Wave era, author Roger Zelazny is best known for such works as Creatures of Light and Darkness (1969), Lord of Light (1967), Damnation Alley (translated to film in 1977), and his series Amber Chronicles. Like his peers Samuel R. Delany, Brian Aldiss, J. G. Ballard, and Thomas Disch, Zelazny brought a profoundly psychological twist to the characters and dramas of his fiction, but his unique gift was a powerful infusion of mythology. Together these two elements created not only a higher literary standard within science fiction, but they also helped Zelazny build worlds of remarkable believability, subtlety, and brilliance. Marrying as he did classic mythologies with technologically produced magics, Zelazny often referred to his works as "Science-Fantasy." His favorite character was the self-mocking, immortal jokester.
Zelazny's introduction to science fiction came at an early age, and by the time he was a young teen he had written and sold his first science fiction story. But despite this success he decided to set such things aside for a time, deeming himself too immature to produce characters or stories with any depth. After high school he enrolled at Western Reserve University, intending to study poetry and other subjects that would broaden his perspective. But it was not until 1962, after earning M.A. in Elizabethan and Jacobean drama from Columbia University, that he lifted his self-imposed ban on writing. The result, a short story entitled "Passion Play", soon found publication in Amazing Stories. Over the months that followed he produced (and read) an impressive quantity of science fiction, publishing seventeen more short stories by 1963.
Even as he was producing all this soon to be influential work, Zelazny was undergoing a great deal of transformation in his personal life. He entered into a brief marriage, took a position with the Social Security Administration, and began serving in the Army Reserve. By 1966 he had already finished both his military service, and his first marriage. He soon remarried, to Judy Callahan, and this relationship would prove considerably more stable, producing three children and lasting beyond their move (in the mid 70s) to New Mexico. By 1969 he was ready for another major change: with the success of his first full-length novel, Zelazny quit his position with the Social Security Administration to become a full time writer. By 1970, he had begun the enormously popular Amber series, which has since inspired both comic books and a computer game.
The decision to put his writing career on hold for a time proved to be a wise one. Although many science fiction writers before him had done just fine, starting out much younger, Zelazny's decision to wait and to become more experienced about life brought his fiction to a more sophisticated level, making his first impression that much more powerful. One clear influence Zelazny had acquired over the interim was his grasp of the mythology of various traditions. His Hugo-winning Lord of Light (1967) drew on the Hindu pantheon and the precepts of Buddhism, Creatures of Light and Darkness (1969) featured Egyptian gods and goddesses, while his ten Amber books reflected Arthurian legend along with elements from Tarot and Irish folklore. Later, Eye of the Cat (1982) drew upon Navajo religion and folklore. Just as earlier science fiction authors dabbled in strange new technologies, envisioned on the horizon, Zelazny and other New Wave authors experimented with belief structures, symbolism, and the metalevels of reality to which they referred.
Although Zelazny was much lauded for his part in introducing new styles of narrative into science fiction, as well as greater depth and literary merit, he was criticized in later years for having drifted toward a kind of mediocrity, producing well-written adventure stories of little originality. Nonetheless his contribution to the genre lived on through the inspiration granted to later writers, among them George R. R. Martin and Neil Gaiman. A prolific author, Zelazny generated some 50 novels and approximately 150 short works (as well as 3 collections of poetry), and among the many accolades awarded him were six Hugos and three Nebulas. Zelazny died in 1995 from kidney failure related to his long struggle with cancer.
Father: Joseph Frank Zelazny
Mother: Josephine Sweet
Wife: Sharon Steberl (m. 1964, div. 1966)
Wife: Judy Callahan (m. 1966, separated, three children)
Son: Trent
Son: Devin
Daughter: Shannon
Girlfriend: Jane Lindskold

University: BA English, Western Reserve University, Cleveland, OH (1959)
University: MA Drama, Columbia University (1962)

Hugo
Nebula
Irish Ancestry Maternal
Polish Ancestry Paternal
Risk Factors: Smoking

Author of books:
The Dream Master (1966, expansion of He Who Shapes)
Lord of Light (1967)
Creatures of Light and Darkness (1969)
Isle of the Dead (1969)
Damnation Alley (1969, also a 1977 film)
Jack of Shadows (1971)
Doorways in the Sand (1976)
Roadmarks (1979)
Changeling (1981)
Madwand (1981)
The Changing Land (1981)
Eye of Cat (1982)
The Black Throne (1990, with Fred Saberhagen)
A Night in the Lonesome October (1993)
The Mask of Loki (with Thomas T. Thomas)
Bring Me the Head of Prince Charming (1991)
If At Faust You Don't Succeed (1993)
A Farce to Be Reckoned With (1995)
Flare (1992, with Thomas T. Thomas)
Nine Princes in Amber (1970)
The Guns of Avalon (1972)
Sign of the Unicorn (1975)
The Hand of Oberon (1976)
The Courts of Chaos (1978)
Trumps of Doom (1985)
Blood of Amber (1986)
Sign of Chaos (1987)
Knight of Shadows (1989)
Prince of Chaos (1991)
Deus Irae (1976, with Philip K. Dick)
Psychoshop (1998, with Alfred Bester)

Do you know something we don't?
Submit a correction or make a comment about this profile

Copyright ©2019 Soylent Communications