Neil Gaiman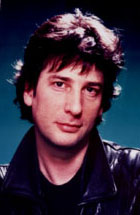 AKA Neil Richard Gaiman
Born: 10-Nov-1960
Birthplace: Portchester, England

Gender: Male
Religion: See Note [1]
Race or Ethnicity: White
Sexual orientation: Straight
Occupation: Cartoonist, Author
Nationality: England
Executive summary: DC Comics epic Sandman series
In 1985, Neil Gaiman co-edited Ghastly Beyond Belief, an amusing collection of bad bits and pieces from science fiction novels and films. He wrote Don't Panic, a biography of Hitchhiker's Guide to the Galaxy author Douglas Adams. He's mostly famous, though, for writing comic books as serious literature. His first was Violent Cases (1987; drawn by Dave McKean). His most famous work is the Sandman series, a collection of interwoven and allusion-filled horror tales that started as a DC comic book and ended up a series of lush, best-selling graphic novels. Norman Mailer called it "a comic strip for intellectuals", and Sandman #19 won the World Fantasy Award for best short story of 1991 -- the first and so far only comic book to win. He's won Hugos, Nebulas, and shelves full of other awards.
Gaiman wrote the English-language adaption of Princess Mononoke, and an episode of Babylon 5. He wrote Coraline, "a novel for strange little girls of all ages and genders", in which a young girl finds a path to an alternate universe with alternate parents. He's also written un-illustrated novels including Neverwhere and Good Omens. The latter, co-written by Terry Pratchett, is all about the end of the world and humanity, with the Four Horsemen as bikers searching for the Antichrist. (It's a comedy.) Gaiman worked with Todd McFarlane on Spawn, and later sued McFarlane and won, establishing that Gaiman created three Spawn characters, Medieval Spawn, Cogliostro and Angela. The verdict also said Gaiman owns MiracleMan. Gaiman gave his judgment, $45,000, to the Comic Book Legal Defense Fund.
Gaiman is pals with Tori Amos, who says they were also friends in a past life. She's mentioned him in at least three of her songs, and he's dropped her name into his fiction, and given her semi-psychic advice.
---
[1] Raised as a Scientologist, subsequently left the church.

Father: (businessman)
Mother: (pharmacist)
Wife: Mary McGrath (m. 1985, div., one son, two daughters)
Son: Michael Gaiman (b. 1983)
Daughter: Holly Gaiman (b. 1985)
Daughter: Maddy (b. 1997)
Wife: Amanda Palmer (singer/songwriter, m. 2-Jan-2011)


High School: Whiting School (1977)


Phi Alpha Tau Honorary
World Fantasy Award (1993) Best Short Story, for Sandman #19, "A Midsummer Night's Dream"
Hugo (2002) Best Novel, for American Gods
Nebula (2002) Best Novel, for American Gods
Hugo (2002) Best Novella, for Coraline
Nebula (2002) Best Novella, for Coraline
Hugo (2004) Best Short Story, for "A Study in Emerald"
Hugo (2009) Best Novel, for The Graveyard Book
Newbery Medal (2009) for The Graveyard Book
Nebula (2012) Outstanding Dramatic Presentation, for Doctor Who episode "The Doctor's Wife"
Hugo (2012) Best Dramatic Presentation, Short Form, for Doctor Who episode "The Doctor's Wife"


FILMOGRAPHY AS ACTOR
Going Clear: Scientology and the Prison of Belief (25-Jan-2015) · Himself
The People vs. George Lucas (14-Mar-2010) · Himself
Harlan Ellison: Dreams with Sharp Teeth (May-2008) · Himself


Official Website:
http://www.neilgaiman.com/




Requires Flash 7+ and Javascript.



Do you know something we don't?
Submit a correction or make a comment about this profile






Copyright ©2019 Soylent Communications