Alfred Bester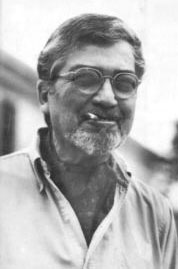 Born: 18-Dec-1913
Birthplace: New York City
Died: 30-Sep-1987
Location of death: Doylestown, PA
Cause of death: unspecified

Gender: Male
Race or Ethnicity: White
Sexual orientation: Straight
Occupation: Novelist
Nationality: United States
Executive summary: The Stars My Destination
Author Alfred Bester produced some of the most innovative and truly original works in the history of the science fiction genre. His most notable short fiction pieces were "Disappearing Act" (1953), "Fondly Fahrenheit" (1954), and "The Men Who Murdered Mohammed" (1958). His novel The Demolished Man (1953) won the very first Hugo Award for best novel. A later novel Tiger! Tiger! (released in the U. S. as The Stars My Destination) is identified by some as a forerunner of cyberpunk. Bester got his start in science fiction when his short story "The Broken Axiom," (1939) won the amateur short-story contest sponsored by Thrilling Wonder Stories magazine.
Called by science fiction author Harlan Ellison "the preeminent Class Act of imaginative literature", Bester had a penchant for imagining fantastic gadgets and scenarios and mixing them together with bold adventure and psychological drama. Itís not surprising therefore that he also moved back and forth from fiction to the medias of comic books and radio serials. Bester worked on such DC Comics notables as Superman, Batman, Captain Marvel, and The Green Lantern, even originating the Green Lantern Oath. His radio scripting work included both the Charlie Chan series and The Shadow. Impressively, Bester also managed the cross over into television, writing for Tom Corbett: Space Cadet.
Writing features for Holiday magazine, Bester eventually became literary editor. When the magazine ceased publication in the early 70s, Bester returned to science fiction writing, but his work never quite rivaled earlier triumphs like The Demolished Man. And it is generally agreed that the 1950s was the period of his best work.
In addition to all of the above, Bester also produced one mainstream novel (The Rat Race, in 1953), a collection of poems (The Black Nebulea, 1959), as well as a large number of essays, articles, and book reviews (many for Fantasy & Science Fiction ). In 1991 a radio adaptation of his novel Tiger! Tiger! was broadcast on BBC Radio 4.
Wife: Rolly Goulko (m. 16-Sep-1936)

University: University of Pennsylvania

Hugo 1953 Best Novel, for The Demolished Man
Science Fiction Museum and Hall of Fame 2001

Author of books:
Who He? (1953, novel)
The Demolished Man (1953, novel)
The Stars My Destination (1955, novel)
Starburst (1958, short stories)
The Dark Side of the Earth (1964, short stories)
An Alfred Bester Omnibus (1967, short stories)
The Computer Connection (1975, novel)
The Light Fantastic (1976, short stories)
Starlight: The Great Short Fiction of Alfred Bester (1976, short stories)
Star Light, Star Bright (1976, short stories)
Golem 100 (1980, novel)
The Deceivers (1982, novel)
Tender Loving Rage (1991, fiction)
Virtual Unrealities (1997, short stories)
Redemolished (2000, short stories)

Do you know something we don't?
Submit a correction or make a comment about this profile

Copyright ©2019 Soylent Communications