Samuel R. Delany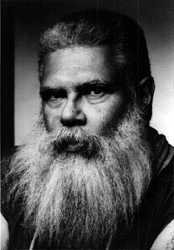 Born: 1-Apr-1942
Birthplace: New York City

Gender: Male
Race or Ethnicity: Black
Sexual orientation: Bisexual [1]
Occupation: Author
Nationality: United States
Executive summary: Triton
One of the most discussed and influential authors of science fiction, Samuel R. Delany is also considered to be the first major black author of American science fiction, and the first to be openly bisexual. Also a professor and literary critic, he has produced some three dozen books, including two pornographic works (only one of which was published). He is noted for his explorations of social and moral issues as well as language structure and mythology. His best known works include the novels Einstein Intersection, Nova, Dhalgren, Babel-17, and Triton as well as the short fiction anthology Driftglass. He has won two Hugo awards and four Nebulas.
Born in Harlem in 1942, Delany was the son of a funeral parlor owner and the nephew of the Delany sisters immortalized in the book (and play) "Having Our Say". Although raised in Harlem, he had the financial wherewithal to cultivate interests in theatre and books as well as math, science, and music. He was further distinguished, at least inwardly, by an emerging sexual interest in other boys. By age 13, he began a novel, and the following year composed and orchestrated a violin concerto.
As a teen Delany attended the Bronx High School of Science, but his college career was shortlived. He dropped out of City College after only one semester. Nonetheless by the time he was 20 he had published his first novel, The Jewels of Aptor, an even more remarkable feat considering it was his first-ever science fiction publication. Now called the young "sci-fi prodigy", he immersed himself in the social experimentation of the East Village. Like an outcropping of an alien civilization it (and the strange subcultures belched out by the city thereafter) would prove the impetus for much of his later fantastic imaginings. He was also immersed in folk music, singing with The Harbor Singers, Waldo & Oversoul, and later the folk-pop group The Heavenly Breakfast (though none of them ever recorded).
Proving that the first novel was no fluke, Delany followed it up with a steady stream of work, issuing eight novels between the ages of 20 and 27 -- though the first five had been completed before he was 22. Nor was he simply cranking out light, fluffy swordplay/spaceship sagas; rather his works were informed by literary sensitivity and deep interest in and knowledge of mythology. And they were challenging. Sexual roles, racial stereotypes, morality, and even the structure of language and narration were all played with, to varying effect. But he seemed to hit the peak of shock value in the mid-1970s, a time when he was also branching out as a literary critic, with his novels The Tides of Lust (1973), Dhalgren (1975), and Triton (1976).
Although the two preceding novels, Einstein Intersection (1967) and Nova (1968), are often judged his best works, it was these later three that sharply challenged public sensibility and the sci-fi community's hitherto status quo. The Tides of Lust was unequivocally deemed pornographic. Dhalgren experimented wildly with viewpoint and stream of consciousness storytelling to present a gritty apocalyptic youth culture peppered with bisexuality. And Triton, subtitled An Ambiguous Heterotopia, explored a bewildering array of unusual social and sexual relationships and erotic forms.
Like others identified with the New Wave of science fiction (Brian Aldiss, Michael Moorcock, and J. G. Ballard), Delany became synonymous with a new type of science fiction, one that dealt less with hard science, space adventures, and little green men and more with a kind of poking at the edges of the social reality taken for granted. With Delany this naturally included going beyond mainstream culture's cherished heterosexuality and its limited sense of "natural" relationships. He dipped not only into the realms of homoeroticism and bisexuality, but also into sadomasochism and other even more exotic sensualities.
In his personal life meanwhile, Delany managed to confound social norms with equal flourish. In 1961, despite his interest in men, he fathered a child -– with a young, white, Jewish girl, Marilyn Hacker, who was herself bisexual. Local law however forbid interracial marriage and designated Hacker as beneath the age of consent, so the pair to took a Greyhound to Michigan where laws were more amenable. They divorced in 1980. Delany later founded Gay Fathers of the Upper West Side.
In 1975 he began teaching at various universities, eventually settling in 1988 at the University of Massachusetts where he is now a tenured professor. Despite this income, and despite his success as an author, Delany lives in modest circumstances -- no doubt due in part to the fact that so many of his books were allowed to go out of print. However, recent trends in publishing, and in public taste, have motivated publishers to reissue his work, in many cases presenting the first complete version ever released (as with Jewels of Aptor, which had long been missing no less than a third of the book).
Delany's literary honors include Nebula Awards for his novels Babel-17 (1966) and The Einstein Intersection (1967) and for the short story "Aye, and Gomorrah". He was awarded the Nebula and the Hugo for his novelette "Time Considered as a Helix of Semi-Precious Stones", and he received the Hugo for his eyebrow-raising memoir The Motion of Light in Water. One of his novels, Triton, has generated college courses dedicated to its study and explication, and a number of books have been published about Delany and his fiction.
His grandfather, Henry Beard Delany (1858-1928), was the first African-American bishop in the Episcopal church.
---
[1] See his memoir, The Motion of Light in Water (1988). Delany personally identifies as gay.

Wife: Marilyn Hacker (poet, b. 1942, m. 21-Aug-1961, div. 1980, 1 daughter)
Daughter: Iva Hacker-Delany (physician, b. 14-Jan-1974)


High School: Bronx High School of Science, Bronx, NY
Professor: English, Temple University (2000-)


Camp: Rising Sun
Risk Factors: Aviophobia


Author of books:
The Jewels of Aptor (1962, novel)
Captives of the Flame (1963, novel)
The Towers of Toron (1964, novel)
City of a Thousand Suns (1965, novel)
The Ballad of Beta-2 (1965, novel)
Empire Star (1966, novel)
Babel-17 (1966, novel)
Einstein Intersection (1967, novel)
Nova (1968, novel)
Driftglass (1971, collection)
The Tides of Lust (1973, novel)
Dhalgren (1975, novel)
Triton (1976, novel)
The Jewel-Hinged Jaw: Notes on the Language of Science Fiction (1977, collection, non-fiction)
Stars in My Pocket Like Grains of Sand (1984, novel)
The Motion of Light in Water: Sex and Science Fiction Writing in the East Village: 1957-65 (1988, memoir)
Silent Interviews (1994, nonfiction)
Atlantis: Three Tales (1995, novel)
Longer Views (1996, nonfiction)
The Mad Man (1996, novel)
Times Square Red / Times Square Blue (1999, nonfiction)
Shorter Views (1999, nonfiction)
1984: Selected Letters (2002, letters)
Aye, and Gomorrah and Other Stories (2003, stories)
Phallos (2004, novel)





Requires Flash 7+ and Javascript.



Do you know something we don't?
Submit a correction or make a comment about this profile






Copyright ©2019 Soylent Communications