George R. R. Martin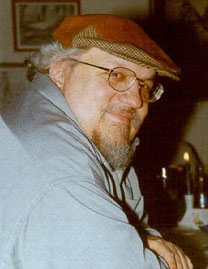 AKA George Raymond Richard Martin
Born: 20-Sep-1948
Birthplace: Bayonne, NJ

Gender: Male
Race or Ethnicity: White
Sexual orientation: Straight
Occupation: Novelist
Nationality: United States
Executive summary: Song of Ice and Fire series
Although author George R. R. Martin may be best known for his historical fiction/fantasy saga A Song of Ice And Fire -- the series that includes A Game of Thrones (1996), A Clash of Kings (1999), and A Storm of Swords (2000) -- he has also written horror and science fiction and served as editor of the Wild Cards science fiction series. During his period as a Hollywood screenwriter, he contributed to episodes of the new Twilight Zone as well as the Beauty and the Beast series. He has garnered praise over the years for his short fiction, especially A Song for Lya (Hugo, 1974), Sandkings (Hugo & Nebula, 1979), The Way of Cross and Dragon (Hugo, 1979), and Portraits of His Children (Nebula, 1985).
As a young boy, Martin wrote monster stories which he sold to neighborhood children. By high school he had become a fan and collector of comic books and began to write for comic fanzines. His first professional level publication was "The Hero", sold to Galaxy magazine in 1970 (published February 1971). Though Martin would continue to write part-time over the next several years, other more pressing concerns soon loomed on his horizon. After graduating from Northwestern University in 1971 with a Masters Degree in Journalism, he registered as a conscientious objector to the Vietnam War. He served with VISTA and was attached to the Cook County Legal Assistance Foundation. He directed chess tournaments for a time (1973-1976) for the Continental Chess Association. Finally, in 1976, Martin took a position at Journalism Instructor at Clarke College in Dubuque, Iowa. Two years later he was writer-in-residence at Clarke.
In 1979, the same year in which ended his brief 4-year marriage to Gale Burnick, Martin made the transition to full-time writer. He worked in Hollywood during the 1980s, writing and producing not only for Twilight Zone and Beauty and the Beast, but also for a number of other programs, many of which never aired. Frustrated with Hollywood's frequent creative dead ends, Martin returned to the world of print, publishing the first installment in his A Song of Ice And Fire saga, A Game of Thrones, in 1996. Martin has since published numerous short stories and novels and has been nominated for literally scores of awards for both his short and long fiction. He has won several Hugos and two Nebulas as well as the Bram Stoker Award, a World Fantasy Award, a Balrog Award and a number of others as well. In 1987 his short story "Nightflyers" was adapted and released as a feature film starring Catherine Mary Stewart and Michael Praed. Martin currently lives in Santa Fe, New Mexico.
Father: Raymond Collins Martin (longshoreman)
Mother: Margaret Brady Martin
Sister: Darleen Martin Lapinski
Sister: Janet Martin Patten
Wife: Gale Burnick (m. 1975, div. 1979)

High School: Marist High School
University: BS Journalism, Northwestern University, IL (1970)
University: MS Journalism, Northwestern University, IL (1971)

Hugo 1974 for A Song for Lya
Hugo 1979 for Sandkings
Hugo 1979 for The Way of Cross and Dragon
Nebula 1979 for Sandkings
Nebula 1985 for Portraits of His Children

FILMOGRAPHY AS ACTOR
Sharknado 3: Oh Hell No! (22-Jul-2015)

Official Website:
http://www.georgerrmartin.com/
Author of books:
Dying of the Light (1977)
Windhaven (1980, with Lisa Tuttle)
Fevre Dream (1982)
The Armageddon Rag (1983)
A Game of Thrones (1996)
A Clash of Kings (1998)
A Storm of Swords (2000)
A Feast for Crows (2004)
The Hedge Knight (2004)

Do you know something we don't?
Submit a correction or make a comment about this profile

Copyright ©2019 Soylent Communications