Angelina Jolie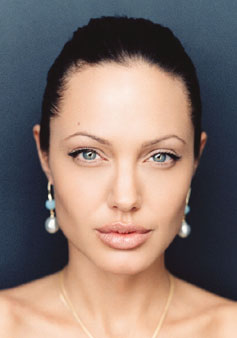 AKA Angelina Jolie Voight
Born: 4-Jun-1975
Birthplace: Los Angeles, CA

Gender: Female
Religion: Buddhist
Race or Ethnicity: White
Sexual orientation: Bisexual
Occupation: Actor, Activist
Party Affiliation: Independent [1]
Nationality: United States
Executive summary: Tomb Raider
Actress, activist, and occasional oddity Angelina Jolie is the daughter of 1970s movie star Jon Voight. Her first movie was her father's Lookin' to Get Out with Burt Young in 1982, but curious Jolie fans are advised: She was only six years old, and while she was the best thing in that otherwise droll film, she appeared only in the movie's last few minutes.
Her parents divorced when she was an infant, and Jolie was raised by her mother not quite in poverty, but embarrassingly poor compared to her classmates at Beverly Hills High School. In adolescence she sought work as a professional model, but being somewhat gangly she was rarely hired. She took acting lessons and has said she dreamed of becoming a funeral director. Desperately low on self-esteem, she could not stand to be touched during those years, and in severe depression she once tried to hire a hit man to kill her. He declined.
Jolie, which is actually her middle name, is a French word that means beautiful, and by the age of 16 she had grown into the name. She appeared in music videos by Meat Loaf and Lenny Kravitz, and at 17 she played a half-human in the abysmal Cyborg 2 with Elias Koteas. Her first semi-hit was Hackers with Matthew Lillard, and her first good reviews came for the 1998 HBO film Gia, a biography of doomed supermodel Gia Carangi.
She had a widely-publicized affair with lesbian supermodel Jenny Shimizu, her co-star in the action film Foxfire. Shimizu says their time together included at least one visit to an S & M dungeon. The two women have remained friends, and have been intimate numerous times between Jolie's relationships with men. Openly bisexual, Jolie has said she prefers to play women she would be willing to date.
Her breakthrough role was Girl, Interrupted with Winona Ryder, where Jolie played a chronically depressed mental patient not far removed from herself, and won the Oscar for Best Supporting Actress. She attended the awards ceremony with her brother, actor James Haven, and sparked worldwide gasps when she said in her acceptance speech, "I am so in love with my brother," and then proceeded to kiss him full on the lips.
She married Jonny Lee Miller, her co-star from Hackers, in a ceremony where she wore black rubber pants and a shirt with his name scrawled across it in her blood. Divorced from Miller after just three years of marriage, she then married Billy Bob Thornton, her co-star from Pushing Tin. He was twenty years older than Jolie and publicly announced that he wore her underwear. They told reporters that when work kept them apart, they each wore a vial of the other's blood around their necks. But her second marriage, like her first, ended in divorce after three years.
Jolie's career sputtered as she starred in two generally successful films based on the Lara Croft: Tomb Raider video games, but also made lackluster duds like Original Sin with Antonio Banderas (memorable mostly for Jolie's work without clothes) and the poorly-received Life or Something Like It with Edward Burns. In Sky Captain and the World of Tomorrow she played the pirate-like pilot, and in Alexander she played Colin Farrell's mother, though she is only one year older than him. She voiced a fish in Shark Tale, then had her biggest commercial success with Mr and Mrs Smith in 2005, co-starring Brad Pitt. The movie was filmed and released amid rumors that Pitt, who was then married to Jennifer Aniston, was having an affair with Jolie. They denied everything, but Pitt and Aniston were soon divorced, and Jolie and Pitt have been gossip fodder ever since.
Jolie has volunteered as a Goodwill Ambassador for the United Nations High Commission for Refugees since 2001, and seems to take her UN work very seriously. She has made trips to Sierra Leone, Tanzania, Pakistan, Thailand, and Chechnya, and donated $5 million to a wildlife sanctuary in Cambodia. She adopted a Cambodian orphan in 2002, and an Ethiopian orphan in 2005. In early 2006 Pitt adopted both children, changing their last names to Jolie-Pitt. Several months later, Jolie and Pitt had a daughter in a more traditional manner.
Jolie's mother was model and occasional actress Marcheline Bertrand, who was part-Iroquois. Jolie and her mother produced the 2005 documentary Trudell, about the Native American poet and activist John Trudell. Jolie's godparents are actress Jacqueline Bisset and actor Maximilian Schell. Voight played her father in the first Lara Croft movie, but father and daughter were estranged for several years during and after Jolie's stormy marriage to Thornton, describing Jolie as "mentally deranged" and suggesting on TV that she seek professional help.
Jolie has been tattooed more than a dozen times, although several of these were later laser-erased. She says she treats her body as a diary, using tattoos to mark particularly good times. Among the tattoos she has spoken of publicly, she has a Tennessee Williams quote on her left forearm, a prayer of protection etched in Buddhist Sanskrit on her right shoulder, a black cross, two Native American symbols, and "What nourishes me also destroys me" is engraved in Latin on her stomach. Her "Billy Bob" tattoo was removed after her divorce from Thornton.
---
[1] "I think people assume I'm a Democrat. But I'm registered independent."

Father: Jon Voight (actor, b. 29-Dec-1938)
Mother: Marcheline Bertrand (model-actress, Jolie's manager, b. 1950, d. 2007)
Brother: James Haven (actor, b. 11-May-1973)
Husband: Jonny Lee Miller (actor, dated 1995-96, m. Mar-1996, div. 3-Feb-1999, dated 2003)
Husband: Billy Bob Thornton (actor/director; m. 5-May-2000, div. 27-May-2003)
Girlfriend: Jenny Shimizu (model-actress, dated 1994-95, 1999-2000)
Boyfriend: Timothy Hutton (dated 1998-99)
Boyfriend: Val Kilmer (actor, dated 2003-04)
Husband: Brad Pitt (cohabiting since 2005, m. 23-Aug-2014, three sons, three daughters)
Son: Maddox Chivan Jolie-Pitt (Cambodian orphan, b. 5-Aug-2001, adopted by Jolie Mar-2002, adopted by Pitt 2006)
Daughter: Zahara Marley Jolie-Pitt (Ethiopian orphan, b. 2005, adopted by Jolie 2005, adopted by Pitt 2006))
Daughter: Shiloh Nouvel Jolie-Pitt (b. 27-May-2006)
Son: Pax Thien Jolie-Pitt (Vietnamese orphan, adopted 2007)
Son: Knox Leon Jolie-Pitt (twin b. 12-Jul-2008)
Daughter: Vivienne Marcheline Jolie-Pitt (twin b. 12-Jul-2008)


High School: Beverly Hills High School, Beverly Hills, CA
High School: Moreno High School, Beverly Hills, CA


Oscar for Best Supporting Actress 2000 for Girl, Interrupted
Golden Globe 1998 for George Wallace (television)
Golden Globe 1999 for Gia (miniseries)
Golden Globe 2000 for Girl, Interrupted
Council on Foreign Relations
Objectivists
Endorsement of LVMH 2011
Fainted on the set of Salt, New York City (2009)
Mastectomy double (2013)
Surgery Removal of ovaries (2015)
Audience with the Pope Pope Francis (Jan-2015)
Risk Factors: Smoking, Cocaine, Heroin, Marijuana, LSD, Yoga


FILMOGRAPHY AS DIRECTOR
First They Killed My Father (18-Feb-2017)
Down By the Sea (5-Nov-2015)
Unbroken (17-Nov-2014)
In the Land of Blood and Honey (23-Dec-2011)


FILMOGRAPHY AS ACTOR
Kung Fu Panda 3 (23-Jan-2016) [VOICE]
Down By the Sea (5-Nov-2015)
Maleficent (28-May-2014)
Kung Fu Panda 2 (26-May-2011) · Tigress [VOICE]
The Tourist (8-Dec-2010) · Elise Clifton-Ward
Salt (21-Jul-2010) · Evelyn Salt
Wanted (12-Jun-2008)
Changeling (20-May-2008)
Kung Fu Panda (15-May-2008) [VOICE]
Beowulf (14-Nov-2007)
A Mighty Heart (21-May-2007) · Mariane
The Good Shepherd (11-Dec-2006)
Mr. and Mrs. Smith (9-Jun-2005) · Jane Smith
Sledge: The Untold Story (23-Jan-2005) · Herself
Alexander (5-Nov-2004)
The Fever (24-Sep-2004) · Herself
Sky Captain and the World of Tomorrow (14-Sep-2004) · Franky
Shark Tale (10-Sep-2004) · Lola [VOICE]
Taking Lives (16-Mar-2004) · Illeana
Beyond Borders (24-Oct-2003) · Sarah Jordan
Lara Croft Tomb Raider: The Cradle of Life (21-Jul-2003) · Lara Croft
Life or Something Like It (26-Apr-2002)
Original Sin (11-Jul-2001) · Julia Russell
Lara Croft: Tomb Raider (11-Jun-2001)
Gone in 60 Seconds (5-Jun-2000)
Girl, Interrupted (8-Dec-1999) · Lisa
The Bone Collector (29-Aug-1999) · Amelia Donaghy
Pushing Tin (23-Apr-1999) · Mary Bell
Playing by Heart (30-Dec-1998)
Hell's Kitchen (11-Sep-1998)
Gia (31-Jan-1998)
Playing God (17-Oct-1997)
George Wallace (24-Aug-1997)
True Women (18-May-1997)
Foxfire (23-Aug-1996)
Love Is All There Is (10-May-1996)
Mojave Moon (1996) · Ellie
Hackers (15-Sep-1995) · Kate
Without Evidence (1995) · Jodie Swearingen
Cyborg 2 (24-Nov-1993) · Cash
Lookin' to Get Out (8-Oct-1982)


Appears on the cover of:
People, 4-Aug-2003, DETAILS: (with baby) My Baby Saved My Life
Entertainment Weekly, 18-Jul-2003, DETAILS: The New Angelina Jolie -- Tots, Tattoos, and Tomb Raider 2 (photo by Martin Schoeller of Jolie suggestively peeling an apple)





Requires Flash 7+ and Javascript.



Do you know something we don't?
Submit a correction or make a comment about this profile






Copyright ©2019 Soylent Communications