Gia (31-Jan-1998)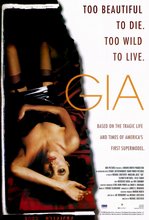 Director: Michael Cristofer
Writers: Michael Cristofer; Jay McInerney
Keywords: Drama, Heroin, Biography, Lesbian, Rape, Models, Cocaine




Biographical drama examines the tragic life and career of fashion model Gia Carangi.
ABSTRACT
Beautiful, sassy would-be model Gia Carangi moves to New York City to pursue her dream; she is noticed by agent Wilhelmina Cooper, who sets about turning her into an industry phenomenon on the strength of her looks and refreshing "rock-star" attitude. Tragedy brought about by Wilhelmina's death and the pressures of overnight fame drive young Gia to an untimely grave as a growing heroin addiction results in her contracting AIDS from a dirty needle.
REVIEWS
Review by Abbas Ali Massah (posted on 18-May-2005)
One of the best from Hollywood and the best of obviously Angelina Jolie. She has never acted better to date.. other than in the Bone Collector .. though here she is fabulous. Its a sad story of one lady who could have had the world but was destined to die alone and having lost all that she had and could have much much more. Though could have been better but well made and shot. TRULY A MUST FOR LOVERS OF CINEMA.
---
Do you know something we don't?
Submit a correction or make a comment about this profile

Copyright ©2019 Soylent Communications