Girl, Interrupted (8-Dec-1999)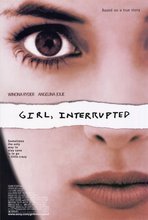 Director: James Mangold
Writers: James Mangold; Lisa Loomer; Anna Hamilton Phelan
Based on a book: Girl, Interrupted by Susanna Kaysen
Music Composed by: Mychael Danna
Producers: Douglas Wick; Cathy Konrad




Biographical drama depicts writer Susanna Kaysen's year-and-a-half-long stay in a mental hospital.
ABSTRACT
Adapted from the best-selling 1993 Susanna Kaysen memoir of the same name, Girl, Interrupted follows a fictionalized version of the author as an eighteen-year old girl inadvertently checking herself into a hospital following an aspirin overdose. Committed to a psych ward after her ordeal is interpreted as a suicide attempt, Susanna embarks on an offbeat stay in Claymoore Hospital's facilities, befriending some fellow patients and struggling to co-exist with others as she sits under near-constant psychiatric evaluation.
CAST
Starring
Winona Ryder
... Susanna
Angelina Jolie
... Lisa
Clea DuVall
... Georgina
Brittany Murphy
... Daisy
Elisabeth Moss
... Polly
Jared Leto
... Tobias Jacobs
Jeffrey Tambor
... Dr. Potts
Travis Fine
... John
Jillian Armenante
... Cynthia
Angela Bettis
... Janet
with
Vanessa Redgrave
... Dr. Wick
Whoopi Goldberg
... Valerie
Drucie McDaniel
... M-G
Alison Claire
... Gretta
Christina Myers
... Margie
Joanna Kerns
... Annette
Gloria Barnhart
... Older Catatonic
Josie Gammell
... Mrs. McWilley
Bruce Altman
... Prof. Gilcrest
Mary Kay Place
... Mrs. Gilcrest
Ray Baker
... Mr. Kaysen
KaDee Strickland
... Bonnie Gilcrest
Christian Monroe
... Ronny
Kurtwood Smith
... Dr. Crumble
David Scott Taylor
... Cabby -- Monty Hoover
Janet Pryce
... ER Nurse
C. Scott Grimaldi
... ER Resident
Ginny Graham
... Arleen
Richard Domeier
... Art Teacher
John Kirkman
... Jack
Sally Bowman
... Maureen
Misha Collins
... Tony
John Lumia
... Van Driver
Marilyn Brett
... Italian Shop Keeper
Alex Rubin
... Josh
Marilyn Spanier
... Miss Plimack
Linda Gilvear
... Miss Paisley
Allen Strange
... Principal
Spencer Gates
... British Teacher
Rebecca Derrick
... Lillian
Anne Connors
... Nurse
Steve Altes
... Medic
Joe Gerety
... Cop
Anne Lewis
... Dance Therapist
Donny Martino, Jr.
... Naked Man
John Levin
... ER Doctor
Irene Longshore
... Connie
Katie Rimmer
... Tiffany
Jonathan Martin Spirk
... Tough Guy
REVIEWS
Review by Walter Frith (posted on 9-Jun-2007)
'Girl, Interrupted' asks us to recall the feelings we have for another film about mental illness and the institutions that thrive on it and that film is, of course, 'One Flew Over the Cuckoo's Nest'. Anyone who doesn't have a re-collection of that film before, during or after 'Girl, Interrupted', is not a movie fan or has a very short memory. This film is taken at a mental institution in the 60's. So was 'Cuckoo's Nest' (although it was made in 1975). This film has a large supporting cast aside from the main lead and supporting character. So did 'Cuckoo's Nest'. This film has a field trip where the characters are briefly free from the rules. Ditto for 'Cuckoo's Nest'. This film has a head nurse who looks after the patients along with a mousy assistant. So did 'Cuckoo's Nest'. So what's the attraction? Primarily that 'Girl, Interrupted' is a true story, although it is a thin one with all the trappings you would expect from a writer whom I suspect, took liberties with the truth because some of the things we see in this film are in direct relation to 'Cuckoo's Nest'. All right, enough about the Jack Nicholson/Milos Forman classic and let's get down to business. Winona Ryder plays Susanna Kaysen, a young woman who displays suicidal tendencies by downing a bottle of aspirin with a bottle of alcoholic. She checks into a mental hospital and begins therapy where she is diagnosed by her physician as having Borderline Personality Disorder. Oh, the irony of it all. Throughout it all, we wonder if this is really the case or if Susanna is just a mixed up young woman who simply is succumbing to the pressure of sorting out her chaotic life with pressure from her upper middle class family not making it any easier for her. Among the many people Susanna meets is Lisa (Angelina Jolie) who has a bumpy first encounter with Susanna. Susanna is given a room where a friend of Lisa's used to reside. Lisa is brought back to the institution after being gone for a long period of time (she escaped) and violently confronts Susanna as to why she is taking up the space occupied by her friend. We learn that the friend committed suicide and Susanna has taken her place. Lisa displays psychotic qualities that make her a danger to the outside world. She has no regard for peace and tranquility. She is a psychotic. Her body is in a constant state of anarchy. She has to be restrained at several points in the film and threatens at one point to kill herself but gives in easily, making her mental disorder all the more bizarre. Like any film that has some sort of plot about mental illness, 'Girl, Interrupted' forces us to take a look at ourselves and ask if, perhaps, we need to evaluate our own lives. In Canada, 25% of the population at some point in life, will suffer from some sort of mental illness. Many don't realize that this DOESN'T mean being crazy. It simply means suffering a certain dismal aspect on the part of the mind. Some suffer from depression, some paranoia and some from sharp and severe mood swings. Actually, Winona Ryder's portrayal of Susanna seems quite normal compared to her friends in the institution. Director James Mangold ('Copland') directs the film in a pretty even fashion, building his climax to a satisfying, if somewhat "all seen before" conclusion. The film is written by Mangold, Lisa Loomer and Anna Hamilton Phelan based on the novel by Susanna Kaysen. To its obvious credit, the saving grace in 'Girl, Interrupted', comes from its bonding of the characters involved. There is a genuine goodness in the fact that deep down inside many of them are little girls living inside the bodies of grown women. The film, while diving right into the subject of mental illness, also has a certain innocence about it that makes it warm and likable to a large extent. It is no classic but it is a film that is of high social merit and has to its further credit the ability to pace itself at a good level and it avoids being pretentious. Visit FILM FOLLOW-UP by Walter Frith
---
Review by anonymous (posted on 27-Jul-2005)
Well the girl was interrupted, indeed. The turn of events was quite exciting when the overdose, hippie drafted boyfriend, and insane enemy slash friend keep poping up involuntarily between the lines. "Whip lash girl child in the dark" sort of effect hits when a traumatized little girl slash woman is having panic attacks over her childhood experience in the madhouse... by the way, most of the time Winona Rider, the main character, is either trying to run away from, or solve her interruptions in, an institution for the insane. And so the crazy captive Angelina Jolie, flashing her stick thin figure, escapes with the "good girl" Ryder into a world of sex drugs and rock and roll, only to find out that the madhouse is actually in their head, and there is no escape from pushing each other's buttons. The flashbacks of O.D.ing on random pills and alcohol that got her into the institution on the first place put Ryder's characters into a daze, feeling betrayed by her mother who talked the family into "turning her in". Eventually the crazy constipated girl that is let go from the madhouse and lives under a roof supported by her chicken-giving father gets a knock on the door and, having to surpress her feelings towards Jolie who pushes everyone's buttons, lets them in. In the morning, there is no chicken under the bed, but there is a hanging body from the ceiling. In turn of the tragic event(s), Ryder is inspired to become a writer after being caught and returned to live in the institution. It's romantic, with a touch of adventure and sentimental longing for a better life. Overall, Ryder, Woopie Goldburg (who plays the sympathetic nurse that wouldn't let Ryder shave her legs), and Jolie had parts made for them, gaving the movie a pscychological thrill. The movie also had the sixties feel to it, also portraying the relationship between different types of women as realistically as it gets.
---
Do you know something we don't?
Submit a correction or make a comment about this profile

Copyright ©2019 Soylent Communications