John Landis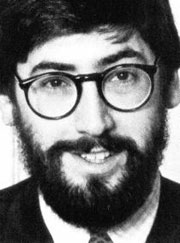 AKA John David Landis
Born: 3-Aug-1950
Birthplace: Chicago, IL

Gender: Male
Religion: Jewish
Race or Ethnicity: White
Sexual orientation: Straight
Occupation: Film Director
Nationality: United States
Executive summary: An American Werewolf in London
John Landis started as a mailroom clerk at 20th Century Fox, and worked in Europe for several years as a stunt man -- you can see him shot or maimed in such late-1960s fare as Charge of the Light Brigade, Once Upon a Time in the West, and numerous European films, most of which never played in America. When the bruises got the best of him, he decided to pursue his dream of directing.
With funding from family and friends, he made Schlock, also released as The Banana Monster, a pun-laden horror comedy starring Landis himself as the monster. Schlock was no hit, playing mostly at drive-ins and college theaters, but it was appreciated by Jim Abrahams and David and Jerry Zucker as they concocted their Kentucky Fried Movie. Landis came aboard to direct it with exactly the right manic slapstick sensibility, and he seemed like the right man to helm a low-budget college comedy starring a TV comedian, John Belushi.
Animal House, of course, was a success beyond the studio's wildest dreams, and Landis was suddenly the golden boy of Hollywood. Given a generally free hand, he turned out several big hits, including The Blues Brothers with Dan Aykroyd and Belushi, An American Werewolf in London with David Naughton and Griffin Dunne, and Trading Places with Aykroyd and Eddie Murphy.
Disaster struck while Landis was directing the war story segment that opened Twilight Zone: The Movie. A special effects explosion threw debris upward into a helicopter, causing a crash that killed two child actors and the segment's star, Vic Morrow. Landis and three technicians who had worked on the set were charged with involuntary manslaughter, and all of them were eventually acquitted, but the court case lasted almost a decade.
Landis has had occasional success since the accident, but in retrospect, the Twilight Zone tragedy marks the end of his Midas touch. He scored a major hit with Murphy's Coming to America, and turned out a few very funny films that never quite found their audience, including Spies Like Us with Aykroyd and Chevy Chase and íThree Amigos! with Chase, Steve Martin, and Martin Short. He directed Michael Jackson's video for "Thriller," and produced HBO's Dream On, but most of Landis's recent films have been poorly received, including Blues Brothers 2000 with Aykroyd and John Goodman, and Susan's Plan with Nastassja Kinski.
He has worked as an actor, early in his career to pay the bills, and later just for fun. He played a nun and served as an assistant director in the war comedy Kelly's Heroes with Clint Eastwood and Don Rickles. If you look closely, you can spot Landis in Battle for the Planet of the Apes, 1941, The Blues Brothers, Eating Raoul, and Spider-Man 2. He has also worked as a puppeteer, performing as Grover in The Muppet Movie.
Father: Marshall David Landis
Mother: Shirley Levine
Father: Walter Levine (stepfather)
Wife: Deborah Nadoolman (m. 27-Jul-1980)
Daughter: Rachel Landis (b. 1982)
Son: Max Landis (b. 3-Aug-1985)

Manslaughter 23-Jul-1982, acquitted

FILMOGRAPHY AS DIRECTOR
Burke & Hare (29-Oct-2010)
Mr. Warmth: The Don Rickles Project (13-Oct-2007)
Slasher (15-Mar-2004)
Susan's Plan (29-Oct-1998)
Blues Brothers 2000 (6-Feb-1998)
Michael Jackson: HIStory on Film - Volume II (1997)
The Stupids (8-Aug-1996)
Michael Jackson: Video Greatest Hits - HIStory (16-Jun-1995)
Beverly Hills Cop III (25-May-1994)
Innocent Blood (25-Sep-1992)
Oscar (26-Apr-1991)
Coming to America (29-Jun-1988)
Amazon Women on the Moon (18-Sep-1987)
íThree Amigos! (12-Dec-1986)
Spies Like Us (6-Dec-1985)
Into the Night (15-Feb-1985)
Twilight Zone: The Movie (24-Jun-1983)
Trading Places (8-Jun-1983)
An American Werewolf in London (21-Aug-1981)
The Blues Brothers (16-Jun-1980)
Animal House (28-Jul-1978)
The Kentucky Fried Movie (10-Aug-1977)
Schlock (Mar-1973)

FILMOGRAPHY AS ACTOR
Tales of Halloween (24-Jul-2015)
Attack of the 50 Foot Cheerleader (2012)
Ray Harryhausen: Special Effects Titan (27-Nov-2011) · Himself
Nightmare Factory (27-Oct-2011) · Himself
Machete Maidens Unleashed! (24-Jul-2010) · Himself
American Grindhouse (13-Mar-2010) · Himself
The Scenesters (31-Aug-2009) · Judge Paxton B. Johnson
The Boys: The Sherman Brothers' Story (24-Apr-2009) · Himself
Parasomnia (17-Oct-2008) · Dept. Store Manager
Spine Tingler! The William Castle Story (8-Nov-2007) · Himself
Mr. Warmth: The Don Rickles Project (13-Oct-2007) · Himself
Look (Jun-2007) · Himself
Torrente 3: The Protector (30-Sep-2005)
The Ax (2-Mar-2005)
Spider-Man 2 (30-Jun-2004)
The American Nightmare (11-Sep-2000) · Himself
Freeway II: Confessions of a Trickbaby (19-Oct-1999)
Diamonds (6-Sep-1999) · Gambler
Mad City (10-Oct-1997)
Quicksilver Highway (13-May-1997)
Vampirella (10-Apr-1997)
Michael Jackson: Video Greatest Hits - HIStory (16-Jun-1995)
The Silence of the Hams (13-Jul-1994)
Venice/Venice (12-Sep-1992)
Body Chemistry 2: Voice of a Stranger (5-Aug-1992)
Sleepwalkers (10-Apr-1992)
Psycho IV: The Beginning (10-Nov-1990)
Darkman (24-Aug-1990) · Physician
Spontaneous Combustion (23-Feb-1990)
Into the Night (15-Feb-1985)
The Muppets Take Manhattan (13-Jul-1984) · Surprise Cameo
The Blues Brothers (16-Jun-1980) · Trooper La Fong
1941 (14-Dec-1979) · Mizerany
Death Race 2000 (27-Apr-1975) · Mechanic
Battle for the Planet of the Apes (15-Jun-1973) · Jake's Friend
Schlock (Mar-1973)

Do you know something we don't?
Submit a correction or make a comment about this profile

Copyright ©2019 Soylent Communications