An American Werewolf in London (21-Aug-1981)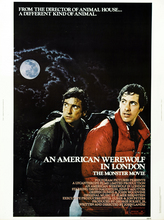 Director: John Landis
Writer: John Landis
Original Music by: Elmer Bernstein
Producer: George Folsey, Jr.
Keywords: Horror/Comedy, Werewolf




Two American backpackers traipsing across England's moors are attacked by a wild animal; Jack is killed and David survives with injuries. Recuperating in hospital, the dead and decomposing Jack visits advising David to kill himself, or face life as a werewolf. David obtains release, on the evening of a full moon. Won Oscar for Best Makeup.
| Name | Occupation | Birth | Death | Known for |
| --- | --- | --- | --- | --- |
| Jenny Agutter | Actor | 20-Dec-1952 | | Jessica 6 in Logan's Run |
| Griffin Dunne | Actor | 8-Jun-1955 | | An American Werewolf in London |
| Alan Ford | Actor | 23-Feb-1938 | | Lock, Stock and Two Smoking Barrels |
| Brian Glover | Actor | 2-Apr-1934 | 24-Jul-1997 | Lugg on Campion |
| Rik Mayall | Actor | 7-Mar-1958 | 9-Jun-2014 | Rick on The Young Ones |
| David Naughton | Actor | 13-Feb-1951 | | An American Werewolf in London |
| Frank Oz | Actor | 25-May-1944 | | Yoda, Miss Piggy, and The Stepford Wives |
CAST
Starring
David Naughton
... David Kessler
Jenny Agutter
... Alex Price
Griffin Dunne
... Jack Goodman
John Woodvine
... Dr. Hirsch
with
Brian Glover
... Chess Player
Lila Kaye
... Barmaid
David Schofield
... Dart Player
Paul Kember
... Sgt. McManus
Frank Oz
... Mr. Collins
Don McKillop
... Insp. Villiers
Joe Belcher
... Truck Driver
Rik Mayall
... 2nd Chess Player
Sean Baker
... 2nd Dart Player
Paddy Ryan
... First Werewolf
Anne-Marie Davies
... Nurse Gallagher
Colin Fernandes
... Benjamin
Albert Moses
... Hospital Porter
Kermit the Frog
... Himself
Miss Piggy
... Herself
Michele Brisigotti
... Rachel Kessler
Mark Fisher
... Max Kessler
Gordon Sterne
... Mr. Kessler
Paula Jacobs
... Mrs. Kessler
Claudine Bowyer
... Creepy Little Girl
Johanna Crayden
... Creepy Little Girl
Nina Carter
... Naughty Nina
Geoffrey Burridge
... Harry Berman
Brenda Cavendish
... Judith Browns
Christopher Scoular
... Sean
Mary Tempest
... Sean's Wife
Cynthia Powell
... Sister Hobbs
Sydney Bromley
... Alf
Frank Singuineau
... Ted
Will Leighton
... Joseph
Michael Carter
... Gerald Bringsley
Elizabeth Bradley
... Woman in Zoo
Rufus Deakin
... Little Boy with Balloons
Lesley Ward
... Little Boy's Mother
George Hilsdon
... News-Vendor
Gerry Lewis
... Man in Bus Queue
Dennis Fraser
... 2nd Man in Bus Queue
Alan Ford
... Taxi Driver
Peter Ellis
... Bobby in Trafalgar Square
Denise Stephens
... Girl in Trafalgar Square
Christine Hargreaves
... Ticket Lady
"See You Next Wednesday" Cast
Linzi Drew
... Brenda Bristols
Lucienne Morgan
... Lance Boyle
Gypsy Dave Cooper
... Chris Bailey
Susan Spencer
... Georgia Bailey
Bob Babenia
... Usher
Ken Sicklen
... Bobby at Cinema
John Salthouse
... Bobby at Cinema
John Altman
... Police
Keith Hodiak
... Police
John Owens
... Police
Roger Rowland
... Police
REVIEWS
Review by Sam Dawson (posted on 19-Feb-2005)
They don't make horror films like this anymore. Even today, nothing much can top John Landis's 1981 classic. The story is of two American backpackers (David Naughton & Griffin Dunne), who arrive in Yorkshire for a three-month European jaunt.
When they are thrown out of a pub, they are going to continue their journey across the moors, when they have an encounter with a mythical beast. After Griffin Dunne's character, Jack Goodman, is half-eaten, and David Naughton's character, David Kessler, is scraped by the creature, it is hunted down and shot -- but it's too late for David.
David wakes up two weeks after the attack, where he befriends a doctor (John Woodvine), a foxy nurse (Jenny Agutter) and after having chilling, realistic dreams, his badly mutilated, dead friend Jack suddenly turns up in the ward David is staying in, and gives him the chilling warning that they were attacked by a werewolf, and that David himself is a werwolf after the attack.
Nevertheless, even though Jack revisits David from beyond the grave a second time, David transforms at the full moon. The future for David looks grim: what will happen in the end?
Highly recommended to anyone with a taste for pure horror.
---
Do you know something we don't?
Submit a correction or make a comment about this profile

Copyright ©2019 Soylent Communications