The Aristocrats (Jan-2005)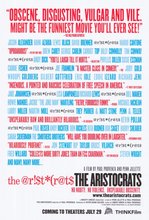 Director: Paul Provenza
Music: Gary Stockdale
Producer: Peter Adam Golden
Keywords: Documentary




A dirty joke, told by a parade of name comedians. All tellings fit the same structure, with the Oreo center of the joke varying widely, but inevitably vulgar filth. The punchline never changes. They have done this as an in-joke among funny men for over a century; some relate the joke with infinite finesse, and others fail miserably and painfully. Brilliant film.
REVIEWS
Review by TShepDogg (posted on 17-Sep-2005)
The Aristocrats is an explosive stream-of-conscious documentary that interviews many, many famous (as well as not-so-famous) comedians and writers, all of them talking about or telling one very filthy joke. The joke has been reprinted elsewhere and is not essential to this review; in and of itself terribly interesting or funny. At its most bare-bones level only takes about a minute to tell. Comedians, however, consider it to be excellent warm-up material, and have over the years delighted in telling it to one-another -- though never to their audiences, since as George Carlin observes, most comedians don't "tell jokes" per se -- each putting his or her own spin on the material, sometimes stretching it for over an hour, according to some writers in the film.
It's considered to be a trade secret of sorts, supposedly dating back to vaudeville, and is highly revered in the comedy world. The general rule is to try to crank up the filth and offensiveness with each telling, and much of the film is committed to recordings of various comedians themselves telling the joke. Themes touched upon in the various tellings include: human waste and eating human waste, oral sex, rape, (including brutally violent child rapes, specifically in versions by Paul Reiser and Bob Saget), incest, fisting, pedophelia, vomiting/consumption of vomit, jokes about victims of 9/11, and, in one case, the anal rape of a pregnant mother and the infant in her womb. There are also countless anti-Semitic, homophobic, racist and sexist jokes-within-the-joke. Several very unusual and entertaining versions are told, including one by a mime, one told entirely within an impersonation of Christopher Walken, one told by the characters of South Park, one using a magic act, one in a juggling act and one told using a deck of cards.
The comedians and writers involved, in addition to sometimes performing the joke, take the chance to hold forth on the implications of the joke. Why it's funny, why it can be funny, why jokes are funny, what the nature of a joke is, as well as some interesting dissections of the finer points of telling the joke. Chris Rock has some interesting thoughts about black comics' place in "dirty" comedy historically, and Phyllis Diller and Lisa Lampanelli talk about whether female comedians can get away with such jokes. One participant comments that Seinfeld is funny without using dirty language. By analyzying this one joke so thoroughly, the film peers into human nature, comedy and the nature of humor itself. Oh, and it's also very entertaining.
---
Review by anonymous (posted on 18-Mar-2006)
When did this cross the line from being a conversation between two middle school nerd boys in the bathroom to a great DVD rental? I mean, damn, growing up (I'm only 27 by the way) the people who made you laugh had talent. So lets get one thing straight, letting a word that would upset the Pope would fly for the purpose of making a lame story a riot is okay every once in a while. That being said... Damn! This movie was pure, 100%, grade "A", CRAP. I was shocked that TRUE comedians like Tim Conway and the Smothers Brothers even wasted their time to show up. Watch the movie a few times, it's not the language that pisses me off, it's the fact that people who are NOT funny try to stay alive by using it, just to have a rutine. Look at people like W.C. Fields, Steven Wright, and Brian Regan. These people are funny, they have talent and don't have to rely on shock value and a small vocabulary to get a laugh. Adults who don't want to raise their kids to yell and scream in a trailer park one day are showing their kids videos of classic comedians like them. Years down the road, there will be NEW Brian Regan fans and New W.C. Fields fans. What bothered me the most about this film made me so angry, I really wanted a public hanging. They just had to put Johnny Carson's name on it. Johnny had class, he would have told Penn and Teller to go hire Andrew Dice Clay. Johnny Carson would push it to the point of crossing the line and let your mind cross it for him. He never did it on his own. He was smart. That's what made him great. Thats why we all loved him. His comedy was well thought out, even on the spur of the moment. There is a shortage of comedians like Johnny Carson and the rest that have a system of morals and values. Thats why we all miss him. To me, this movie tried to tear down everything that Johnny taught the world about getting a TRUE LAUGH. Brent Womack
---
Do you know something we don't?
Submit a correction or make a comment about this profile

Copyright ©2019 Soylent Communications