Bill Maher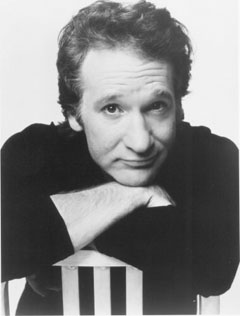 AKA William Maher, Jr.
Born: 20-Jan-1956
Birthplace: New York City

Gender: Male
Religion: Agnostic [1]
Race or Ethnicity: White
Sexual orientation: Straight
Occupation: Talk Show Host
Nationality: United States
Executive summary: Politically Incorrect
Bill Maher was born in New York City, and grew up in New Jersey. His father was Catholic, a newsman with a sense of humor who told jokes around the house. His mother was Jewish, a nurse, generally quiet and serious. As a young boy, Maher was too shy to make many friends. While attending college at Cornell, Maher tried stand-up at New York's famous Catch a Rising Star night club. He was terrified and not terribly funny, but it wasn't a disaster. He hung out at the club for several years, getting to know the comedy business, and getting better at it. Maher eventually landed the emcee job at the club, which quickly got him noticed by a talent scout for Johnny Carson's Tonight Show. He made numerous appearances on Tonight, always funny and always invited back, but Maher felt constrained by the show's rules -- every comedian's material was vetted in advance down to the smallest detail, and anything political had to be inoffensive to every important demographic. The banter between guest and host was largely based on pre-interviews with staff members. Maher had an itch to try something more spontaneous.
In 1993, Maher found a format that fit his talents: Politically Incorrect debuted on Comedy Central, with Maher and celebrity guests discussing political issues of the day, but with a sense of humor and few constraints. Maher's perspective was and remains mostly libertarian, and his show was bizarrely open-minded by mainstream network TV standards, with guests ranging from pinkos to the conservative extreme. It was The McLaughlin Group without the pretentiousness, and the ratings were good enough to get ABC's attention. The show jumped from cable to the network in 1997. Yet Politically Incorrect died in 2002, a lingering casualty of its own political incorrectness. In the immediate aftermath of September 11, it was supposed to be unanimous that the terrorists were simply cowards who hated American freedoms. But only six days after the attacks, Maher and the East Indian conservative Dinesh D'Souza had this conversation on the show:
D'SOUZA: Bill, there's another piece of political correctness I want to mention. And, although I think Bush has been doing a great job, one of the themes we hear constantly is that the people who did this are cowards.

MAHER: Not true.

D'SOUZA: Not true. Look at what they did. First of all, you have a whole bunch of guys who are willing to give their life. None of them backed out. All of them slammed themselves into pieces of concrete.

MAHER: Exactly.

D'SOUZA: These are warriors. And we have to realize that the principles of our way of life are in conflict with people in the world. And so -- I mean, I'm all for understanding the sociological causes of this, but we should not blame the victim. Americans shouldn't blame themselves because other people want to bomb them.

MAHER: But also, we should -- we have been the cowards lobbing cruise missiles from 2,000 miles away. That's cowardly. Staying in the airplane when it hits the building, say what you want about it, it's not cowardly. You're right.
Sears and Federal Express immediately yanked their ads from the show, and 17 local ABC stations stopped airing Politically Incorrect. Instead of making its usual profit for the network, Maher's show was suddenly costing more than it earned. Maher made a semi-apology to people who had misconstrued his remarks, and the show limped along for several months before the axe quietly fell.
Maher quickly started a similar show on HBO, Real Time, aired live for an hour weekly. The new show sports Maher still saying what he thinks, with three guests instead of four -- and no sponsors or affiliates to offend.
---
[1] Interview with Jon Stewart, The Daily Show, 30 September 2008: "I don't say there's no God, I'm not an atheist because I find atheism to be a mirror of the certainty of religion and I don't like certainty about the next world because we can't know... What I say is I don't know."

Father: Bill Maher (editor, NBC News, d. 1992 cancer)
Mother: Julie Maher (nurse)
Sister: Kathy Maher (teacher)
Girlfriend: Heather Hunter
Girlfriend: Ann Coulter (irrational columnist)
Girlfriend: Nancy Johnson ("Coco Johnsen", together 2003-04)
Girlfriend: Stacie (1988-93)
Girlfriend: Karrine Steffans (the "Video Vixen", dated in 2006)


High School: Pascack Hills High School, Montvale, NJ
University: BA English, Cornell University (1978)


Al Franken for Senate
John Edwards for President
Marijuana Policy Project Advisory Board
National Organization for the Reform of Marijuana Laws
People for the Ethical Treatment of Animals
Priorities USA $1 million (28-Feb-2012)
Assault May-2004, according to Coco Johnsen's palimony lawsuit
Battery May-2004, according to Coco Johnsen's palimony lawsuit
Hollywood Walk of Fame 2010 (1634 Vine St.)
Sued by Donald Trump $5 million (4-Feb-2013)
Irish Ancestry Paternal
Jewish Ancestry Maternal
Risk Factors: Former Smoker


SPORTS FRANCHISE HISTORY
New York Mets Minority Owner (2012-)


TELEVISION
Real Time With Bill Maher Host (2003-)
Politically Incorrect Host (1994-2002)
Sara Marty Lang (1985)


FILMOGRAPHY AS ACTOR
Late Night (25-Jan-2019)
Fahrenheit 11/9 (6-Sep-2018) · Himself
Gringo (8-Mar-2018)
Weiner (24-Jan-2016) · Himself
Delivery Man (21-Nov-2013) · Himself
Iron Man 3 (18-Apr-2013) · Himself
Occupy Unmasked (21-Sep-2012) · Himself
The Campaign (4-Aug-2012) · Himself
Hugh Hefner: Playboy, Activist and Rebel (12-Sep-2009) · Himself
Religulous (6-Sep-2008) · Himself
Swing Vote (20-May-2008) · Himself
a/k/a Tommy Chong (14-Jun-2006) · Himself
Fuck (7-Nov-2005) · Himself
Inside Deep Throat (11-Feb-2005) · Himself
The Aristocrats (Jan-2005) · Himself
Pauly Shore Is Dead (2003) · Himself
John Q (15-Feb-2002) · Himself
Last Party 2000 (2-Nov-2001) · Himself
Ed TV (26-Mar-1999) · Himself
Primary Colors (20-Mar-1998) · Himself
Pizza Man (6-Dec-1991)
Cannibal Women in the Avocado Jungle of Death (15-Mar-1989)
House II: The Second Story (15-May-1987)
Ratboy (17-Oct-1986)
Club Med (19-Jan-1986)
Rags to Riches (1986)
D.C. Cab (16-Dec-1983) · Baba


Official Website:
http://www.billmaher.com/

Author of books:
True Story: A Comedy Novel (1994, novel)
Does Anybody Have A Problem with That? Politically Incorrect's Greatest Hits (1996)
When You Ride Alone, You Ride With Bin Laden: What The Government Should Be Telling Us To Fight The War On Terrorism (2002)
New Rules: Polite Musings from a Timid Observer (2005)





Requires Flash 7+ and Javascript.



Do you know something we don't?
Submit a correction or make a comment about this profile






Copyright ©2019 Soylent Communications