Trey Parker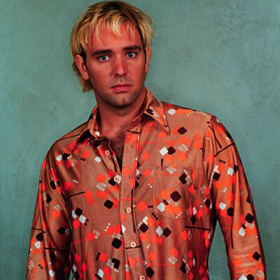 AKA Randolph Severn Parker III
Born: 19-Oct-1969
Birthplace: Conifer, CO

Gender: Male
Race or Ethnicity: White
Sexual orientation: Straight
Occupation: Cartoonist
Party Affiliation: See Note [1]
Nationality: United States
Executive summary: South Park
At 15, Trey Parker and a friend wrote and recorded a comedy-music album titled "Immature: A Collection of Love Ballads For The '80's Man". Parker went on to the University of Colorado at Boulder, where he made his first short films, The Giant Beaver of Southern Sri Lanka (1989), First Date (1990), and the 5½ minute American History (1991). The latter film, animated with cardboard and construction paper, won Parker a Silver Medal in student competition, and featured a crude (of course) cartoon recreation of President George H.W. Bush vomiting on the Japanese Premier. Parker met his collaborator Matt Stone at the University of Colorado. Together they made the live-action Cannibal! The Musical, telling the true story of Alferd Packer. Parker was majoring in music and Japanese when he was kicked out of UC, having been absent from virtually all his classes while making Cannibal!.
In 1992, for the sheer fun of it, Parker and Stone crafted a video Christmas card, The Spirit of Christmas: Jesus vs. Frosty. By 1995, Brian Graden, a producer at Fox, got ahold of a copy, and paid Parker & Stone $2,000 to rework the cartoon. They spent $750 making a crude five-minute cartoon called The Spirit of Christmas: Jesus vs. Santa. With four cardboard and construction paper kids spouting foul language and farting, it looked a lot like what would later become South Park.
Over the next year, Parker & Stone made Orgazmo, a low-budget live-action comedy about a Mormon porn star, and meanwhile, The Spirit of Christmas quickly became an underground hit in Hollywood. Steven Spielberg, George Clooney, and Tom Cruise had copies, and when they started mentioning it in their cocktail conversations, it added to Parker & Stone's growing buzz. The Spirit of Christmas also won an award from the Los Angeles Film Critics Association. As an official show biz "flavor of the month", Parker & Stone took myriad meetings and heard and made many proposals, before Comedy Central gave South Park a green light. With Graden aboard as executive producer, the show premiered on 13 August 1997. Vulgar, subversive, and inappropriate for children, it was an immediate hit.
Parker & Stone expanded the cartoon to a feature film in 1999's South Park: Bigger, Longer, & Uncut. Parker was nominated for an Oscar for the song "Blame Canada", but he lost to Phil Collins, who wrote some piece of fluff for Disney's Tarzan. In 2004, Parker & Stone made a marionette movie, Team America: World Police, poking fun at all elements of the war on terror.
---
[1] At one time a registered Republican, but apparently no longer. See John Tierney, "South Park Refugees", The New York Times, 29 August 2006. Both South Park creators are often cited as being Libertarian but it has never been clear if this meant the Libertarian Party or libertarian ideology. "Stone and Parker said that if you had to put a label on them, they were libertarian -- and that didn't mean Republican to this crowd." Parker offered an additional complaint, "The Republicans [previously] didn't want the government to run your life, because Jesus should. That was really part of their thing: less government, more Jesus. Now it's like, how about more government and Jesus?"

Father: Randy Parker (geologist)
Mother: Sharon Parker (insurance saleswoman)
Sister: Shelly Parker
Girlfriend: Liane Adamo (ex-girlfriend, reportedly inspiration for South Park's Wendy Testaburger)
Girlfriend: Lisa Faulkner (British actress, Murder in Suburbia, reportedly dated in 2000)
Wife: Emma Sugiyama (m. 2006)


High School: Evergreen High School, Evergreen, CO (1987)
University: Berklee College of Music (dropped out)
University: University of Colorado at Boulder (expelled)


D.V.D.A. Singer
Pizza Hut
Tony Best Musical for The Book of Mormon (2011)
Expelled from School
Risk Factors: LSD


TELEVISION
South Park
That's My Bush!


FILMOGRAPHY AS DIRECTOR
Team America: World Police (14-Oct-2004)
South Park: Bigger Longer & Uncut (30-Jun-1999)
Orgazmo (6-Sep-1997)
Cannibal: The Musical (1996)


FILMOGRAPHY AS ACTOR
Despicable Me 3 (14-Jun-2017) [VOICE]
The Aristocrats (Jan-2005) [VOICE]
Team America: World Police (14-Oct-2004) [VOICE]
Tales from the Crapper (29-Jan-2004)
Run Ronnie Run! (16-Sep-2003) · Himself
South Park: Bigger Longer & Uncut (30-Jun-1999) [VOICE]
BASEketball (28-Jul-1998) · Joe Cooper
Orgazmo (6-Sep-1997) · Joe Young
Cannibal: The Musical (1996) · Alferd Packer
It's the Monty Python Story (1993) · Himself


Wrote plays:
The Book of Mormon (2011, with Matt Stone)





Requires Flash 7+ and Javascript.



Do you know something we don't?
Submit a correction or make a comment about this profile






Copyright ©2019 Soylent Communications