Andy Dick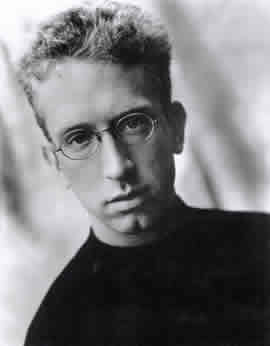 AKA Andrew Ryan Dick
Born: 21-Dec-1965
Birthplace: Charleston, SC

Gender: Male
Race or Ethnicity: White
Sexual orientation: Bisexual [1]
Occupation: Comic, Actor
Nationality: United States
Executive summary: Matthew from NewsRadio
Andy Dick was adopted as a newborn by a military family, and raised in Connecticut, Pennsylvania, New York, Yugoslavia, and Illinois. Always the new kid in school, he learned that he could make friends fast if he acted crazy. In high school, he was elected homecoming king when he ran on the motto, "Don't vote for a jock, vote for A. Dick". After dropping out of college twice, he joined the Second City troupe in Chicago, and by his early 20s he was performing comedy for low or no pay at open mikes. He worked odd jobs and lived in his car for a while, and became good friends with fellow comic Ben Stiller, leading to Dick's first national exposure on Stiller's short-lived but Emmy-winning 1992 sketch comedy show.
In later TV roles, he played the bumbling son of bumbling spies Don Adams and Barbara Feldon on an ill-advised revival of Get Smart, the weasely cub reporter and office assistant Matthew on NewsRadio, the crazed drama teacher on the high school comedy Go Fish, and a wisecracking office supply clerk on Less Than Perfect. He also had his own Andy Dick Show on MTV, with recurring bits including Anus & Andy, Kid Christ, Question Mark Guy, and Zitty McGee, who wants to be a model but has a bad bout of acne. He spoofed Donald Trump in The Assistant, a satirical reality television show where contestants scrubbed vomit to get their shot at Hollywood success.
In movies, Dick's first major role was in Stiller's Reality Bites. He played the sheriff in the Unabomber comedy Ted, a gay best friend in Advice from a Caterpillar, Olga the Masseuse in Stiller's Zoolander, and Santa's scheming son in The Hebrew Hammer, but it remains that his biggest successes have come on television.
After his divorce, Dick and his ex-wife continued living in the same house to raise their children, and eventually his new girlfriend and his ex-wife's new boyfriend moved in. By the mid-1990s, Dick was widely known to be a heavy drug user. He joined Alcoholics Anonymous in 1997, but dropped out when his AA sponsor and friend Chris Farley died of an overdose. He called in to The Howard Stern Show while doing lines of coke and announced his bisexuality on the air. Six months later, Phil Hartman, Dick's close friend and co-star on NewsRadio, was murdered by his wife. In 1999, Del Close, the long-time overseer at Second City who had been Dick's mentor, died of emphysema. Only weeks after that, Dick went bar-hopping in Vegas with his friend David Strickland, who promptly checked into a hotel and hanged himself with bedsheets. About a month and a half later, Dick smashed his car into a telephone pole while high on cocaine and marijuana, and reportedly tried to run from the scene of the wreck, but was tackled and held by a witness until police arrived.
As all this played out very publicly, Dick became more a punchline than a comedian, the butt of jokes on Saturday Night Live, The Simpsons, South Park, and David Letterman's Late Show. In a court deal to wipe away the charges, Dick went into rehab, after which he claimed to be clean and sober, with his career seemingly back on track.
Still, there is evidence to suggest that all is not well in Dick's world. He reportedly acted "berserk" backstage at a 2006 celebrity roast for William Shatner, licking Farrah Fawcett and Carrie Fisher, then fondling and biting a journalist and offering to supply her with cocaine. In February 2007, he was booted from the set of Jimmy Kimmel Live after groping Ivanka Trump. In July 2008 he pulled down a 17-year-old girl's tank top at a chicken wings restaurant in Murrieta, California. And on 23 January 2010 he was arrested in West Virginia on two counts of felony sexual abuse.
---
[1] Hariette Surovell, "You Don't Know Dick", Salon, 22 September 1998.

Father: Allen Dick (adoptive, d.)
Mother: Sue Dick (adoptive, d.)
Girlfriend: Kim Donatz (b. 1973, dated)
Wife: Ivone Kowalczyk (artist, m. 1986, div. 1990, cohabited through late 1990s, one son)
Son: Lucas Dick (stand-up comic, b. 1988)
Girlfriend: Lena Sved (artist, cohabited since mid-1990s, one son, one daughter)
Son: Jacob (b. 1994)
Daughter: Meg (b. 1997)


High School: Joliet West High School, Joliet, IL (1984)
University: Illinois Wesleyan University (dropped out)
University: Columbia College Chicago (dropped out)


Adopted
Alcoholics Anonymous sponsored by Chris Farley
People for the Ethical Treatment of Animals
Promises
Driving While Intoxicated 15-May-1999
Leaving the Scene of an Accident 15-May-1999
Drug Possession: Cocaine 15-May-1999 (charge dropped)
Drug Possession: Marijuana 15-May-1999 (charge dropped)
Drug Paraphernalia Possession 15-May-1999 (charge dropped)
Drug Possession: Marijuana 2-May-2004 (Coachella Music Festival in Indio, CA)
Public Urination 2007 (citation, Columbus, OH)
Sexual Battery 16-Jul-2008 (bargained down to battery, Murrieta, CA)
Battery 16-Jul-2008 (pled guilty, Murrieta, CA)
Drug Possession: Marijuana 16-Jul-2008 (pled guilty, Murrieta, CA)
Sexual Abuse 23-Jan-2010 (arrested, Huntington, WV)
Sexual Abuse 24-Jan-2012 (sued, Huntington, WV)
Drunk and Disorderly 2-May-2011 (arrested, Temecula, CA)
Grand Theft 7-Nov-2014 (arrested, Los Angeles, CA)
Risk Factors: Alcoholism, Marijuana, Cocaine


TELEVISION
The Ben Stiller Show 1992-93
Get Smart Zach Smart (1995 retooling)
NewsRadio Matthew Brock (1995-99)
Less Than Perfect Owen Kronsky (2002-06)


FILMOGRAPHY AS DIRECTOR
Danny Roane: First Time Director (2006)


FILMOGRAPHY AS ACTOR
Jim & Andy: The Great Beyond (5-Sep-2017) · Himself
Sharknado 2: The Second One (30-Jun-2014)
The Reef 2: High Tide (30-Oct-2012) [VOICE]
Freaky Deaky (22-Apr-2012)
Hoodwinked Too! Hood vs. Evil (29-Apr-2011) · Boingo the Bunny [VOICE]
Funny People (20-Jul-2009) · Himself
Rock Slyde (31-Mar-2009) · Gay Pirate #7
Blonde Ambition (21-Dec-2007) · Freddy
The Comebacks (19-Oct-2007)
Fired! (2-Feb-2007) · Himself
Happily N'Ever After (5-Jan-2007) [VOICE]
Employee of the Month (6-Oct-2006)
Shark Bait (7-Jul-2006) [VOICE]
Queer Duck: The Movie (4-Jun-2006) [VOICE]
Danny Roane: First Time Director (2006) · Danny Roane
High Hopes (2-Apr-2005) · Patrick
The Aristocrats (Jan-2005) · Himself
Hoodwinked (16-May-2004) [VOICE]
Being Ron Jeremy (10-Oct-2003) · Himself
The Hebrew Hammer (23-Jan-2003) · Santa "Damien"
Pauly Shore Is Dead (2003) · Himself
Zoolander (28-Sep-2001)
Dr. Dolittle 2 (19-Jun-2001) · Lennie the Weasel [VOICE]
Scotland, Pa. (22-Jan-2001)
Loser (20-Jul-2000) · Another City Worker
Picking Up the Pieces (26-May-2000)
Road Trip (11-May-2000)
The Independent (12-Mar-2000)
Inspector Gadget (18-Jul-1999)
Advice from a Caterpillar (1999)
The Lion King II: Simba's Pride (27-Oct-1998) [VOICE]
Best Men (17-Oct-1997) · Teddy
Who's the Caboose? (1997) · Jason Reemer
Bongwater (1997)
The Cable Guy (14-Jun-1996) · Medieval Host
Double Dragon (4-Nov-1994) · Smogcaster
In the Army Now (12-Aug-1994)
Reality Bites (18-Feb-1994) · Rock
...And God Spoke (14-Sep-1993) · Abel


Official Website:
http://www.andydick.com/




Requires Flash 7+ and Javascript.



Do you know something we don't?
Submit a correction or make a comment about this profile






Copyright ©2019 Soylent Communications