Joe Franklin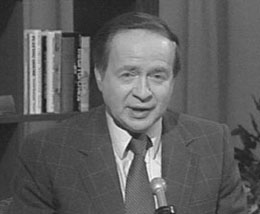 AKA Joseph Fortgang
Born: 9-Mar-1926
Birthplace: Bronx, NY
Died: 24-Jan-2015
Location of death: Manhattan, NY
Cause of death: Cancer - Prostate

Gender: Male
Race or Ethnicity: White
Sexual orientation: Straight
Occupation: Talk Show Host
Nationality: United States
Executive summary: Pioneer talk show host
Military service: US Army (1944-46)
Joe Franklin started in radio when he was 17, as a record librarian at a New York City's WNEW. Even then, he knew his oddball trivia, and the station soon gave him a 15-minute show dedicated to nostalgia about vaudeville. Franklin started in the new medium of television in 1950, pretty much inventing the talk show.
The Joe Franklin Show was the longest-running talk show in TV when it ended in 1990, though it has since been eclipsed in longevity by The Tonight Show. Franklin said that he did more than 28,000 episodes of the show, which works out to about 1.9 episodes per day over 40 years, so it must be the longest run for one show with one host. Which is not to say The Joe Franklin Show was quality TV. As an interviewer, Franklin often interrupted guests just as they were getting interesting, or asked nonsensical questions. He was satirized by Billy Crystal on Saturday Night Live in the 1980s.
Franklin always welcomed people just starting out in show business -- which often led to really boring interviews, but also meant his show was the first TV exposure for some eventual stars (Sammy Davis, Jr., Bill Cosby and Woody Allen). His show was also the last place where washed-up semi-celebrities could be seen on their way to obscurity. "My show was often like a zoo," Franklin said. "I'd mix Margaret Mead with the man who whistled through his nose, or Richard Nixon with the tap-dancing dentist."
Franklin described himself as the "King of Entertainment, schtick and patter; the last of the organic talk show hosts". He estimated that he interviewed about 300,000 people on the air, including so many stand-up comics he wrote a book about them, Joe Franklin's Encyclopedia of Comedians. He was always a huge nostalgia and trivia buff, and here's an odd bit of trivia: his best friend in childhood was Bernard Schwartz, who grew up to be Tony Curtis.
In the 1980s, under the banner When Movies Were Movies, Franklin hosted a long-running series of old movies interspersed with Franklin-esque trivia once a week on New York City's Channel 9. In 1994, he was a guest on Space Ghost. Toward the end of his life he hosted a weekly radio show called Memory Lane, and his "museum of nostalgia and ephemera" was housed at Joe Franklin's Memory Lane Bar & Restaurant in New York. He died in 2015.
Wife: Lois Meridan (m. 13-Dec-1952, until his death)

Risk Factors: Cancer

FILMOGRAPHY AS ACTOR
American Swing (5-Sep-2008) · Himself
The Aristocrats (Jan-2005) · Himself
The Signs of the Cross (2005) · Himself
Gigantic (A Tale of Two Johns) (10-Mar-2002) · Himself
Terror Firmer (29-Oct-1999) · Himself
29th Street (1-Nov-1991) · Himself
That's Adequate (Jan-1989) · Himself
Ghostbusters (8-Jun-1984) · Himself
Broadway Danny Rose (27-Jan-1984) · Himself
The Comeback Trail (1974) · Himself

Official Website:
http://www.joefranklin.com/
Author of books:
A Gift for People (1978, memoir)
Joe Franklin's Encyclopedia of Comedians (1979)
Joe Franklin's Awfully Corny Joke Book (1980)
Up Late with Joe Franklin (1995, memoir)

Do you know something we don't?
Submit a correction or make a comment about this profile

Copyright ©2019 Soylent Communications