Teri Garr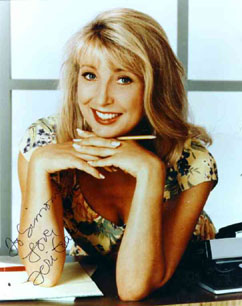 AKA Terry Ann Garr
Born: 11-Dec-1947 [1]
Birthplace: Lakewood, OH

Gender: Female
Race or Ethnicity: White
Sexual orientation: Straight
Occupation: Actor
Nationality: United States
Executive summary: Inga in Young Frankenstein
Teri Garr is a pretty blonde character actress best known for playing somewhat ditzy but not quite dim women. She began working as a professional dancer in her early teens, performing first for the San Francisco Ballet and later dancing in several Elvis Presley movies. When dancers were employed on prime time variety shows, she worked regularly on TV's 1960s Shindig.
She made her first non-dancing film appearance in 1967, with a small role in The Mystery of the Chinese Junk, a Hardy Boys movie starring a very young Tim Matheson. In her first memorable roles, she asked Mike Nesmith to suck it in The Monkees' Head, and she played a suspicious secretary in a very short mini-skirt on an episode of Star Trek, when the crew of the Enterprise time warped to the 1960s to watch a rocket launch.
In her first significant movie roles, she played Gene Wilder's Bavarian lab assistant -- "What knockers!" -- in Mel Brooks' Young Frankenstein, and Gene Hackman's wife in the eavesdropping drama The Conversation. Among her many memorable movies, she played the long-suffering wife of reluctant prophet John Denver in Oh God, the bewildered wife of spaceman-hunting Richard Dreyfuss in Close Encounters of the Third Kind, and the waitress who slept surrounded by mousetraps in After Hours with Griffin Dunne. She was Oscar-nominated as Dustin Hoffman's forgotten on-again off-again girlfriend in Tootsie, and she splendidly danced with Raul Julia in One from the Heart, fell for cocaine-dealing Peter Weller in Firstborn, and played Thora Birch's father's perky girlfriend in Ghost World.
On TV, she played the scheming femme fatale in Good and Evil with 17-year-old Seth Green as her son, she was Shelley Long's ditzy sister on Good Advice, and she worked for Congresswoman Delta Burke in Woman of the House. She was also a memorable foil for David Letterman, with numerous combative appearances on his show in the 1980s, and she played Lisa Kudrow's even-kookier mother on Friends.
Troubled by multiple sclerosis since the early 1980s, Garr went public with her diagnosis in 2002, and has worked to raise public awareness of the disease ever since. In 2006 she underwent surgery to treat a brain aneurysm.
Her mother, Phyllis Garr, was one of the original Rockettes at Radio City Music Hall, and later became a costume designer and wardrobe manager for movies from Hurry Sundown with Jane Fonda to The In-Laws with Alan Arkin and Peter Falk. Her father was Eddie Garr, a vaudeville comedian who occasionally appeared in films and on television. He sang and danced on Broadway in Strike Me Pink with Jimmy Durante, and played the boyfriend of Marilyn Monroe's mother in her first starring film, Ladies of the Chorus.
---
[1] Teri Garr's year of birth has varied in different sources, given as any year from 1944 to 1949, and sometimes as late as 1952. Most early biographies give 1944, while more recent ones give 1949. Garr mentions in her autobiography Speedbumps that she was 17 years old at the time of Viva Las Vegas's release in 1964, implying 1946 or 1947.

Father: Eddie Garr (comedian, b. 15-Apr-1900, d. 3-Sep-1956 heart attack)
Mother: Phyllis Garr (dancer, b. 14-Apr-1909, d. 6 Aug-1999)
Boyfriend: Roger Birnbaum (film producer, dated and cohabited 1979-83)
Boyfriend: David Kipper (physician, dated 1983-90)
Husband: John O'Neil (contractor, m. Nov-1993, div. 1996, one daughter)
Daughter: Molly O'Neil (b. Nov-1993 adopted)


High School: North Hollywood High School, North Hollywood, CA (1962)
University: California State University, Northridge, CA (attended)


Disneyland
Hollywood Women's Political Committee
Risk Factors: Multiple Sclerosis, Smoking


TELEVISION
Good Advice Paige (1994)
Good & Evil Denise Sandler (1991)


FILMOGRAPHY AS ACTOR
Kabluey (25-Jun-2007) · Suze
Searching for Debra Winger (16-May-2002) · Herself
Life Without Dick (5-Feb-2002)
Batman Beyond: Return of the Joker (12-Dec-2000) [VOICE]
The Sky Is Falling (2000)
Batman Beyond: The Movie (21-Dec-1999) [VOICE]
Dick (23-Jul-1999)
Kill the Man (24-Jan-1999)
Casper Meets Wendy (8-Sep-1998)
A Simple Wish (11-Jul-1997) · Rena
NightScream (14-Apr-1997)
Ronnie & Julie (30-Mar-1997)
Murder Live! (9-Mar-1997)
Changing Habits (1997)
Michael (25-Dec-1996)
Double Jeopardy (30-Jan-1996)
Perfect Alibi (1995)
Prêt-à-Porter (25-Dec-1994) · Louise Hamilton
Dumb and Dumber (16-Dec-1994) · Helen Swanson
Mom and Dad Save the World (24-Jul-1992) · Marge Nelson
The Player (3-Apr-1992) · Herself
Waiting for the Light (11-Sep-1990)
Mother Goose Rock 'n' Rhyme (19-May-1990)
Short Time (4-May-1990)
Let It Ride (18-Aug-1989) · Pam
Out Cold (3-Mar-1989) · Sunny
Full Moon in Blue Water (23-Nov-1988)
Fresno (16-Nov-1986)
Intimate Strangers (1-Jan-1986)
Miracles (1986) · Jean
After Hours (13-Sep-1985)
Firstborn (26-Oct-1984)
Mr. Mom (22-Jul-1983) · Caroline
The Black Stallion Returns (25-Mar-1983)
The Sting II (18-Feb-1983) · Veronica
Tootsie (17-Dec-1982) · Sandy
The Escape Artist (28-May-1982) · Arlene
One From the Heart (11-Feb-1982) · Frannie
Honky Tonk Freeway (21-Aug-1981)
Witches' Brew (1980)
The Black Stallion (17-Oct-1979) · Alec's Mother
Mr. Mike's Mondo Video (1979) · Herself
Close Encounters of the Third Kind (16-Nov-1977) · Ronnie Neary
Oh, God! (7-Oct-1977)
Won Ton Ton, the Dog Who Saved Hollywood (26-May-1976)
Young Frankenstein (15-Dec-1974) · Inga
The Conversation (7-Apr-1974) · Amy
The Moonshine War (Jul-1970)
Head (6-Nov-1968) · Testy True
Maryjane (Feb-1968) · Terri
John Goldfarb, Please Come Home (24-Mar-1965)
Pajama Party (11-Nov-1964) · Pajama Girl


Author of books:
Speedbumps: Flooring It Through Hollywood (2005, memoir)





Requires Flash 7+ and Javascript.



Do you know something we don't?
Submit a correction or make a comment about this profile






Copyright ©2019 Soylent Communications