Gene Wilder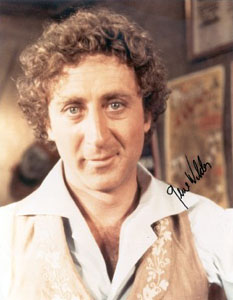 AKA Jerome Silberman
Born: 11-Jun-1933
Birthplace: Milwaukee, WI [1]
Died: 28-Aug-2016
Location of death: Stamford, CT
Cause of death: Alzheimer's

Gender: Male
Religion: Jewish
Race or Ethnicity: White
Sexual orientation: Straight
Occupation: Actor, Film Director
Nationality: United States
Executive summary: Willy Wonka and the Chocolate Factory
Military service: US Army (1956-58, medical corps)
Blue-eyed and kinky-haired, Gene Wilder has the look of a nebbish accountant, but absurdity always simmered behind his eyes. He was one of America's favorite funny men through the 1970s, at his best when he collaborated with Mel Brooks on some on the funniest films of the 1960s and '70s. He is also remembered for several amusing comedies with Richard Pryor in the late 1970s and 1980s.
Wilder briefly attended military school as a teen, where he was beaten by classmates for being Jewish. In college he competed on the fencing team and studied drama, and before acting paid the bills he worked as a toy salesman, limousine chauffeur, and a fencing choreographer for stage productions of Twelfth Night and Macbeth. In his twenties, Wilder has said he was deeply religious, often submerging himself in prayer for hours at a time and once kneeling for eight consecutive hours of prayer in an Iowa cornfield. After his mother's death his religious fervor faded, and he began devoting his attention to women instead of God.
In the early 1960s Wilder got a few occasional roles on TV shows, and appeared as stuttering Billy Bibbit in the original Broadway cast of One Flew Over the Cuckoo's Nest with Kirk Douglas. In The White House, a Broadway musical, he played Presidents John Quincy Adams, John Tyler, and Rutherford B. Hayes, and in 1966 he played the neighbor's son in a excellent CBS staging of Death of a Salesman with Lee J. Cobb as Willy Loman.
The next year, Wilder had his first film role, playing the kidnapped undertaker in Bonnie and Clyde with Faye Dunaway and Warren Beatty. Wilder's comedy career began in 1968, when he starred with Zero Mostel in Brooks' original The Producers. He gave perhaps his most endearing performance in 1971, as the eccentric candymaker in Willy Wonka and the Chocolate Factory, had sex with a sheep in Woody Allen's Everything You Always Wanted to Know About Sex But Were Afraid to Ask, and starred with Mostel again in the bizarre fantasy of urban insanity Rhinoceros. Remarkably, though, none of these comedies did particularly well at the box office.
In 1974, Brooks' Blazing Saddles made Wilder a star, and later the same year Brooks and Wilder co-wrote Young Frankenstein, another huge hit. After that, though, for whatever reason, Brooks and Wilder went their separate ways and never worked together again, and most critics agree that neither was ever again as funny as they had been together. Wilder's subsequent high points include Silver Streak and Stir Crazy with Pryor, and The Frisco Kid with a young Harrison Ford.
In 1982, Wilder met Gilda Radner when they worked together in Hanky Panky, an engaging comedy of mistaken identity. They were inseparable after that, and married in 1984. They made three films together, and Wilder was devastated at her death in 1989, from ovarian cancer. He stepped away from show business for almost a year, and founded Gilda's Club, an organization to raise awareness of the disease.
Wilder also directed several films, all comedies and all starring Wilder, the most successful of which was The Woman in Red with Kelly LeBrock as a married man's temptation. He also starred in a mid-1990s sitcom that generally failed to click, Something Wilder.
In 1999, he was diagnosed with non-Hodgkin's lymphoma, and began undergoing chemotherapy. In 2000, doctors told him he had beaten the disease. Until his death from complications of Alzheimer's, Wilder lived in Connecticut with his fourth wife, speech pathologist Karen Boyer, in an 18th-Century house Radner left to him in her will.
---
[1] Mount Sinai Hospital, Milwaukee, WI.

Father: William J. Silberman (original first name "Velvel", b. 8-May-1900, d. 30-May-1973)
Mother: Jeanne Baer (b. 29-Aug-1907, d. 18-Nov-1957)
Sister: Corinne Ruth Silberman (b. 1929)
Wife: Mary Mercier (actress, m. 22-Jul-1960, div. 1965)
Wife: Mary Joan Schutz (m. 27-Oct-1967, div. 1974, one daughter adopted)
Daughter: Katharine Anastasia Wilder (adopted)
Wife: Gilda Radner (actress, m. 18-Sep-1984, d. 20-May-1989)
Wife: Karen Boyer (speech pathologist, m. 8-Sep-1991)


High School: Washington High School, Milwaukee, WI (1951)
University: BA Theater Arts, University of Iowa (1955)
Conservatory: Bristol Old Vic Theatre School


Democratic Senatorial Campaign Committee
Obama for America
Alpha Epsilon Pi Fraternity
Nebula 1975 for Young Frankenstein (Best Dramatic Presentation)
Russian Ancestry
Jewish Ancestry
Risk Factors: Lymphoma


TELEVISION
Something Wilder Gene Bergman (1994-95)


FILMOGRAPHY AS DIRECTOR
Haunted Honeymoon (25-Jul-1986)
The Woman in Red (15-Aug-1984)
Sunday Lovers (31-Oct-1980)
The World's Greatest Lover (18-Dec-1977)
The Adventure of Sherlock Holmes' Smarter Brother (14-Dec-1975)


FILMOGRAPHY AS ACTOR
Love, Gilda (18-Apr-2018) · Himself
The Lady in Question (12-Dec-1999)
Alice in Wonderland (28-Feb-1999) · Mock Turtle
Murder in a Small Town (10-Jan-1999)
Another You (26-Jul-1991)
Funny About Love (21-Sep-1990)
See No Evil, Hear No Evil (12-May-1989) · Dave
Haunted Honeymoon (25-Jul-1986) · Larry Abbot
The Woman in Red (15-Aug-1984) · Theodore Pierce
Hanky Panky (4-Jun-1982)
Stir Crazy (12-Dec-1980) · Skip Donahue
Sunday Lovers (31-Oct-1980)
The Frisco Kid (13-Jul-1979) · Avram
The World's Greatest Lover (18-Dec-1977) · Rudy Valentine
Silver Streak (3-Dec-1976) · George
The Adventure of Sherlock Holmes' Smarter Brother (14-Dec-1975)
Young Frankenstein (15-Dec-1974) · Dr. Frankenstein
The Little Prince (7-Nov-1974) · The Fox
Thursday's Game (14-Apr-1974)
Blazing Saddles (7-Feb-1974) · Jim
Rhinoceros (21-Jan-1974) · Stanley
Everything You Always Wanted to Know About Sex But Were Afraid to Ask (6-Aug-1972)
The Scarecrow (10-Jan-1972)
Willy Wonka & the Chocolate Factory (30-Jun-1971)
Quackser Fortune Has a Cousin in the Bronx (13-Jul-1970)
Start the Revolution Without Me (4-Feb-1970)
The Producers (18-Mar-1968) · Leo Bloom
Bonnie and Clyde (13-Aug-1967) · Eugene Grizzard
Death of a Salesman (8-May-1966)


Author of books:
Kiss Me Like a Stranger: My Search for Love and Art (2005, memoir)
My French Whore (2007, novel)
What Is This Thing Called Love? (2010, short stories)





Requires Flash 7+ and Javascript.



Do you know something we don't?
Submit a correction or make a comment about this profile






Copyright ©2019 Soylent Communications