Michael Gough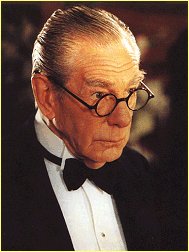 Born: 23-Nov-1917
Birthplace: Kuala Lumpur, Malaya
Died: 17-Mar-2011
Cause of death: Illness

Gender: Male
Race or Ethnicity: White
Sexual orientation: Straight
Occupation: Actor
Nationality: England
Executive summary: Alfred in Batman films
Modern audiences knew Michael Gough as Alfred the wise butler in the Batman films of the 1980s and '90s. He was a successful actor decades before that, however, primarily known for numerous fondly-remembered horror films.
Gough was Holmwood in perhaps the finest film adaptation of Dracula, 1958's Horror of Dracula. He also played the murderous crime reporter in Horrors of the Black Museum, the mad scientist in Konga, the deranged zookeeper in Black Zoo, the practical joking artist in Dr Terror's House of Horrors, the master of the moon in They Came from Beyond Space, the horsewhipping father in Crucible of Horror, and the voice of common sense ("Kill the monster!") in Joan Crawford's disastrous last film Trog. In his best film, he had a supporting but crucial role as the mill owner in the low-key science fiction classic The Man in the White Suit with Alec Guinness.
He also had a long-running connection to Doctor Who, with goofy guest appearances in 1966 and 1983. His then-wife, Anneke Wills, played the Doctor's companion Polly in numerous mid-1960s episodes with Patrick Troughton.
In a bit of an odd coincidence, Gough was friends for decades with Alan Napier, the British actor who played Alfred in the 1970s TV series of Batman. They often worked together on the British stage, and both appeared in the ancient epic mini-series QB VII.
Late in his career, Gough worked in two of Tim Burton's films, Sleepy Hollow and Corpse Bride, as Burton's homage to Gough's early work.
Wife: Anne Leon (actress, div.)
Wife: Diana Graves (actress, div.)
Son: Simon Gough (actor)
Wife: Anneke Wills (actress, b. 20-Oct-1941, m. 1962, div. 1979, one daughter, one son)
Daughter: Polly (biological father Anthony Newley, b. 1963, d. 1982)
Son: Jasper (b. 1965)
Wife: Henrietta (until his death)

FILMOGRAPHY AS ACTOR
Alice in Wonderland (3-Mar-2010) · Dodo Bird [VOICE]
Corpse Bride (8-Sep-2005) [VOICE]
Sleepy Hollow (17-Nov-1999)
The Cherry Orchard (13-Nov-1999) · Feers
St. Ives (22-Oct-1998)
What Rats Won't Do (1-Jul-1998) · Justice Tomlin
Batman & Robin (20-Jun-1997)
The Haunting of Helen Walker (3-Dec-1995)
Batman Forever (16-Jun-1995) · Alfred Pennyworth
Nostradamus (18-Aug-1994)
Uncovered (May-1994)
The Hour of the Pig (25-Sep-1993) · Magistrate Boniface
The Age of Innocence (17-Sep-1993) · Henry van der Luyden
Wittgenstein (10-Sep-1993)
Batman Returns (19-Jun-1992) · Alfred
Let Him Have It (12-Sep-1991)
The Garden (1990)
The Shell Seekers (3-Dec-1989)
Batman (23-Jun-1989) · Alfred
Strapless (14-May-1989)
The Serpent and the Rainbow (15-Jan-1988) · Schoonbacher
The Fourth Protocol (28-Aug-1987)
Caravaggio (Feb-1986)
Out of Africa (10-Dec-1985) · Delamere
Lace II (5-May-1985)
A Christmas Carol (Nov-1984) · Mr. Poole
Mistral's Daughter (24-Sep-1984)
Oxford Blues (24-Aug-1984) · Dr. Ambrose
Top Secret! (8-Jun-1984)
Memed, My Hawk (May-1984)
The Dresser (6-Dec-1983)
To the Lighthouse (23-Mar-1983)
Witness for the Prosecution (4-Dec-1982) · Judge
Smiley's People (20-Sep-1982)
Inside the Third Reich (9-May-1982)
Venom (19-Jan-1982)
The Boys From Brazil (5-Oct-1978)
Satan's Slave (3-May-1978)
Galileo (27-Jan-1975) · Sagredo
Horror Hospital (1973)
Savage Messiah (Sep-1972) · Monsieur Gaudier
Henry VIII and His Six Wives (1972)
The Go-Between (Dec-1970)
Trog (Sep-1970)
Julius Caesar (4-Jun-1970)
Crucible of Horror (1970)
A Walk with Love and Death (5-Oct-1969)
Women in Love (Sep-1969)
Berserk! (11-Jan-1968) · Dorando
Curse of the Crimson Altar (1968)
They Came From Beyond Space (1967)
The Skull (9-Jun-1965)
Dr. Terror's House of Horrors (28-Feb-1965)
Tamahine (30-Jul-1963) · Cartwright
Black Zoo (15-May-1963)
The Phantom of the Opera (25-Jun-1962)
What a Carve Up! (15-Sep-1961)
Konga (3-May-1961)
I Like Money (4-Apr-1961)
Horrors of the Black Museum (29-Apr-1959)
The Horse's Mouth (11-Nov-1958) · Abel
Horror of Dracula (8-May-1958) · Arthur
Ill Met by Moonlight (4-Mar-1957) · Andoni Zoidakis
Reach for the Sky (15-Oct-1956) · Flying Instructor Pearson
Richard III (16-Apr-1955) · Dighton -- Murderer
Rob Roy, the Highland Rogue (26-Oct-1953)
The Sword and the Rose (23-Jul-1953)
The Man in the White Suit (28-Jan-1952) · Michael Corland
Blackmailed (30-Jan-1951)
The Small Back Room (21-Feb-1949)
Saraband for Dead Lovers (4-Oct-1948) · Prince Charles
Blanche Fury (19-Feb-1948) · Laurence Fury
Anna Karenina (22-Jan-1948) · Nicholai

Do you know something we don't?
Submit a correction or make a comment about this profile

Copyright ©2019 Soylent Communications