The Boys From Brazil (5-Oct-1978)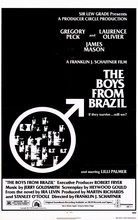 Director: Franklin J. Schaffner
Writer: Heywood Gould
From novel: The Boys From Brazil by Ira Levin
Keywords: Thriller, Nazis, Clones




An American college student discovers Dr. Josef Mengele hiding in South America; he informs skeptical Nazi hunter Ezra Lieberman but is murdered before he can give full details. Later, Lieberman is able to learn that Mengele has authorized the killings of civil servants around the world, all aged 65, all of whom are fathers who have adopted a child. Received Oscar nominations for Best Actor, Best Score, and Best Editing.
REVIEWS
Review by movievikinglady (posted on 8-Feb-2005)
With human cloning in the news... and becoming more of a medical reality, this 1970's movie still clicks today.
Real life Dr. Mengele (played by Gregory Peck) is inserted into a fictional scenario. This 1970's Mengele has cloned and adopted out some baby Hitlers from Der Fuehrer's tissue taken years earler.
Dr. Mengele's Brazil laboratory, complete with mangled persons he has clearly experimented on, is clearly reminiscent of "Dr. Moreau's Island", the Victorian H. G. Wells sci-fi story about a mad doctor who manipulates human tissue for his own evil schemes...
Yes, fiction and fact meet... I am totally confident the real Mengele would have LOVED to have cloned Hitler, were the technology available to him.
This producer got great actors for this movie... For instance, Sir Laurence Olivier is Lieberman, the fictional Nazi hunter (based on real life Simon Wiesenthal) who tries to stop Mengele's evil plot... and James Mason is the quiet, genteel, cultured man -- who once ran Nazi death camps.
The movie score for this movie sounds like Strauss on Drugs... a kind of Viennese waltz that seems to spin out of control.
Note: The DVD unedited movie means that there is a gratuituous nude murder scene with a young woman (irrelevant to the basic plot -- not missed in the edited TV version) and also some other violence, particularly from one of the young teen Hitlers... but that's what your "skip scene" on your remote is for...
Watch and be chilled by the real life horror possible from human cloning...
---
Do you know something we don't?
Submit a correction or make a comment about this profile

Copyright ©2019 Soylent Communications