Ray Harryhausen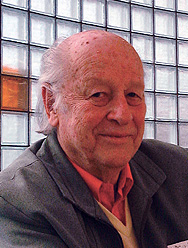 AKA Raymond Frederick Harryhausen
Born: 29-Jun-1920
Birthplace: Los Angeles, CA
Died: 7-May-2013
Location of death: London, England [1]
Cause of death: unspecified

Gender: Male
Race or Ethnicity: White
Sexual orientation: Straight
Occupation: Artist, Film Director
Nationality: United States
Executive summary: Stop-motion genius
Military service: US Army
The original 1933 film of King Kong used stop-motion to make the great ape seem alive and menacing, and Ray Harryhausen was 13 when that film was released. He was awestruck, and to state the obvious, the film changed his life. He went to the library to research King Kong's special effects, and wrote a letter to the film's effects chief, Willis O'Brien. Within a few years, young Harryhausen had purchased his own cameras, constructed his own models, and completed his first short film, a fight between a bear and a dinosaur. Harryhausen's bear got its fur from his mother's coat, without her permission and much to her dismay.
In the Army, Harryhausen was officially a combat cameraman, but he used the stop-motion technique to make training films such as How to Bridge a Gorge and Guadalcanal. A colleague at Eastman-Kodak showed Harryhausen's films to Frank Capra, and Capra passed them along to George Pal, who hired Harryhausen to help with some of Pal's early puppetoon work.
Over his long career, perhaps the most famous Harryhausen moment -- a moment that took him months of work -- was the extended swordfight sequence featuring an army of skeletons, in his 1963 masterpiece, Jason and the Argonauts. Harryhausen gave life to wooly mammoths and giant crabs, cyclops and flying harpies, all manner of ancient monsters and creatures from outer space. He took audiences into outer space in First Men in the Moon, and endangered Raquel Welch with pterodactyl talons in One Million Years B.C. He worked on a series of "Sinbad" features that, decades later, are still popular with geek audiences: The 7th Voyage of Sinbad, The Golden Voyage of Sinbad with John Phillip Law, Sinbad and the Eye of the Tiger with Jane Seymour. In The Valley of Gwangi, cowboys lassoed a dinosaur, and in It Came from Beneath the Sea, Harryhausen destroyed San Francisco.
To save some of the time required for model-building, Harryhausen would sometimes re-use pieces from one film's models -- a torso here, arms or legs there -- to construct new models needed for a subsequent film. "It always breaks my heart to have to cannibalize my models", he once said. "It's like losing a close friend". When a Harryhausen dinosaur rampaged across the screen, its tail would sweep from side to side, toppling trees and smashing cars. Such flourishes might add weeks to a film's production, but they also added immeasurably to an audience's enjoyment.
Among many others, Ray Bradbury, Tim Burton, James Cameron, Wes Craven, Frank Darabont, Irvin Kershner, John Landis, George Lucas, Dennis Muren, and Henry Selick have all mentioned Harryhausen as an early spark that led to their interest in special effects moviemaking. In Pixar's Monsters Inc., one scene is set at a sushi bar called Harryhausen's, a tribute to the master. A more tangible tribute, the Gordon E. Sawyer Award, was presented at the 1992 Oscar ceremony. Moviemaker Peter Jackson once told Harryhausen, "Without you, there would be no Lord of the Rings".
He was mostly retired after his 1981 epic Clash of the Titans, and died in 2013. Meanwhile, special effects technology has changed, and the patient, lovingly detailed work of masters like Harryhausen will probably never again be in demand on Hollywood sets. Moviemakers now use computer-generated imagery (CGI), which provides a seamless on-screen authenticity that stop-motion monsters never could achieve. But for Harryhausen and his fans, CGI somehow misses the point.
When Spielberg's CGI dinosaurs walk gracefully across the screen, they are inarguably impressive and scary, but they seem as plastic as their human co-stars. The effects look so real, they tend to become blasť instead of special effects. It lacks the innate otherworldliness of Harryhausen's stop-motion, the subconscious signal that still tells audiences that Sinbad's opponents are more than merely monstrous or mean -- that they came from a place beyond reality.
---
[1] Hammersmith Hospital, London, England

Father: Fred Harryhausen (machinist)
Mother: Martha (Reske) Harryhausen
Wife: Diana Bruce (m. Oct-1962, great-granddaughter of David Livingstone)
Daughter: Vanessa Harryhausen (b. 1964)


High School: Manual Arts High School, Los Angeles, CA
University: Los Angeles City College, Los Angeles, CA
University: University of Southern California


Oscar, Gordon E. Sawyer Award 1992
Hollywood Walk of Fame 10-Jun-2003 at 6840 Hollywood Blvd.


FILMOGRAPHY AS ACTOR
Ray Harryhausen: Special Effects Titan (27-Nov-2011) · Himself
The People vs. George Lucas (14-Mar-2010) · Himself
Comic Book: The Movie (27-Jan-2004) · Himself
Elf (7-Nov-2003) · Voice of Polar Bear Cub [VOICE]
Mighty Joe Young (25-Dec-1998) · Gentleman at Party
Beverly Hills Cop III (25-May-1994) · Bar Patron
Spies Like Us (6-Dec-1985)


Official Website:
http://www.rayharryhausen.com/





Do you know something we don't?
Submit a correction or make a comment about this profile






Copyright ©2019 Soylent Communications