Peter Jackson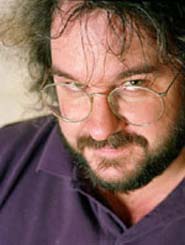 AKA Peter Robert Jackson
Born: 31-Oct-1961
Birthplace: Wellington, New Zealand

Gender: Male
Race or Ethnicity: White
Sexual orientation: Straight
Occupation: Film Director
Nationality: New Zealand
Executive summary: The Lord of the Rings trilogy
Peter Jackson grew up in tiny Pukerua Bay, a New Zealand community of about a thousand residents. He was eight years old when his parents purchased a super-8 movie camera, intending only to film family moments for nostalgia's sake. The camera became Peter's by default when he decided to become a filmmaker. His decision was made, he says, while watching a telecast of the original King Kong.
During his teen years Jackson tinkered with stop-motion animation, created other special effects on a teenager's budget, and filmed numerous short films with his parents' camera and his friends' help. He attended high school at Kapiti College and at 17, he applied for an entry-level job at a New Zealand film production company called The Film Unit. When they would not hire him, he dropped out of school to take a job in the photo shop at the local newspaper, but during his spare time Jackson continued working on his amateur films.
After upgrading to a spring-wound Bolex 16mm camera, he spent four years filming on weekends to complete his first low-budget feature film: Bad Taste, starring friends, family, and Jackson himself. He financed the film with his newspaper paychecks, purchasing another camera, building his own dolly tracks and crane, and handcrafting his film's special effects. Bad Taste was well-received in New Zealand, screened at the Cannes Film Festival, and made it as far as America, where it was screened for midnight shows at adventurous theaters in university towns.
While making Bad Taste, Jackson got his foot into professional filmmaking when he asked his girlfriend, writer Frances Walsh, if he could accompany her to the set of Worzel Gummidge, a children's TV show she wrote for. Soon Jackson was on the show's informal staff, crafting some of the program's special effects. When a bit player failed to show up one morning, Jackson played a farmer in one episode.
Within a few years, he married the girlfriend, and she has co-written all of Jackson's films since 1989's bloody puppet comedy Meet the Feebles. Their films include the over-the-top gorefest Braindead, the adolescent murder tale Heavenly Creatures, the supernatural thriller-comedy The Frighteners, the 2005 remake of Jackson's beloved King Kong, and the Lord of the Rings trilogy, which everyone knew could never be filmed and which won Oscars for Jackson and Walsh). The one-time DIY moviemaker reportedly spent $275-million making the Lord of the Rings films, and was hailed by audiences and critics for remaining faithful to the philosophy and general plot of J. R. R. Tolkien's novels. Including theatrical, home video, and TV broadcast rights, the films earned about $6 billion, and 17 Oscars.
Jackson has never considered leaving New Zealand, and films all his movies there. With his earnings from the first Lord of the Rings picture, he purchased The Film Unit -- the company that had declined to hire him so many years earlier. Jackson has since upgraded TFU's facilities and equipment, putting it in the same class with George Lucas's Industrial Light & Magic. At present he is filming The Hobbit, using an innovative new 48-frame per second format -- twice the rate of ordinary film, which promises clarity of image never before seen at the cinema.
Father: William Jackson (d.)
Mother: Joan Jackson (d.)
Wife: Frances Walsh (screenwriter, b. 10-Jan-1959, m. 1987)
Son: Billy Jackson (b. 1995)
Daughter: Katie Jackson (b. 1996)

High School: Kapiti College, Raumati Beach, New Zealand (dropped out)

Hugo Best Dramatic Presentation, for The Lord of the Rings: The Two Towers (2003)
Golden Globe Best Director, for The Lord of the Rings: The Return of the King (2004)
Oscar for Best Director The Lord of the Rings: The Return of the King (2004)
Knighthood 2009 (New Zealand)
New Zealand Order of Merit
Laser Eye Surgery
Risk Factors: Obesity

FILMOGRAPHY AS DIRECTOR
The Hobbit: The Battle of the Five Armies (1-Dec-2014)
The Hobbit: The Desolation of Smaug (2-Dec-2013)
The Hobbit: An Unexpected Journey (28-Nov-2012)
The Lovely Bones (24-Nov-2009)
King Kong (13-Dec-2005)
The Lord of the Rings: The Return of the King (1-Dec-2003)
The Lord of the Rings: The Two Towers (5-Dec-2002)
The Lord of the Rings: The Fellowship of the Ring (10-Dec-2001)
The Frighteners (19-Jul-1996)
Forgotten Silver (28-Oct-1995)
Heavenly Creatures (12-Sep-1994)
Braindead (17-Sep-1992)
Meet the Feebles (1989)
Bad Taste (Dec-1987)

FILMOGRAPHY AS ACTOR
Ray Harryhausen: Special Effects Titan (27-Nov-2011) · Himself
King Kong (13-Dec-2005)
Forgotten Silver (28-Oct-1995) · Himself
Braindead (17-Sep-1992) · Undertaker's Assistant
Bad Taste (Dec-1987)

Do you know something we don't?
Submit a correction or make a comment about this profile

Copyright ©2019 Soylent Communications