James Cameron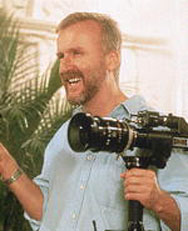 AKA James Francis Cameron
Born: 16-Aug-1954
Birthplace: Kapuskasing, Ontario, Canada

Gender: Male
Religion: Atheist [1]
Race or Ethnicity: White
Sexual orientation: Straight
Occupation: Film Director, Screenwriter, Film/TV Producer
Nationality: Canada
Executive summary: Terminator, Titanic, and Avatar
When his Titanic won eleven Oscars in 2000, James Cameron kept traipsing onto the stage to say thanks, eventually asking for a moment of silence in honor of the 1,500 who died when the ship sank in 1912. Then, after the audience had been hushed, Cameron shouted, "Now let's party till dawn!" On another trip to the stage for another Oscar, he mimicked Leonardo DiCaprio's line from the film, "I'm the king of the world!", which was a lot more endearing when DiCaprio said it. "I don't know about you", said Cameron, "but I'm having a really great time."
It is fair to surmise, modesty is not Cameron's strong suit. He is widely considered "difficult", and often described as a demanding perfectionist, or an egomaniac. Of course, he has made some jawdropping movies, including The Terminator and Terminator 2, Aliens with Sigourney Weaver (a rare quality sequel that didn't seem like a remake or rip-off of the original), and Titanic with DiCaprio and Kate Winslet. His Abyss, with Ed Harris and Mary Elizabeth Mastrantonio, was based on a story Cameron had written when he was 12, and audiences found it confusing and disappointing, but Cameron himself returned to that film several years later and edited a "director's cut" that deserves mention among the greatest science fiction films. (As for Terminator 3, Cameron is innocent; he was not involved.)
Cameron was 14 when Stanley Kubrick's 2001: A Space Odyssey was released, and he went to see it at least a dozen times. He soon got a cheap movie camera and started experimenting with filmmaking, but unlike Steven Spielberg or George Lucas, Cameron eventually lost interest. He went to college and majored in physics, but flunked out and married a waitress who worked at Bob's Big Boy restaurant.
He was 23 and working as a machinist and truck driver when Star Wars came out, and again Cameron was stirred. He saw the movie again and again, and decided that driving a truck was not his purpose in life. A year later, Cameron had co-written, directed, edited, designed sets and done all the camerawork for his science-fiction short Xenogenesis. It was no 2001, but it got him a job with legendary low-budget filmmaker Roger Corman.
Cameron designed sets and operated the camera for Corman's Battle Beyond the Stars, which was basically Seven Samurai in outer space. He was promoted to unit director on Corman's next film, Galaxy of Terror with Edward Albert and Erin Moran. He did the special effects for John Carpenter's classic Escape from New York. He directed Piranha 2 with Lance Henriksen, but by all accounts Cameron was never given real control of the film, and it stank like dead fish. It was two years before he was able to land another movie job, doing special effects and design work on Klaus Kinski's forgettable Android in 1983.
Everything came together for Cameron with The Terminator in 1984, written by Cameron and sold to producer Gale Anne Hurd for a dollar, with the stipulation that Cameron would direct. With a budget of only $6 million but a perfectly robotic performance by Arnold Schwarzenegger, The Terminator made both Schwarzenegger and Cameron bankable names in Hollywood. His credits as a writer include Rambo: First Blood Part II with Sylvester Stallone, and most of the films Cameron has directed.
While Cameron was doing interviews to publicize The Terminator, he was asked what inspired the storyline, and he frequently mentioned two episodes of the original Outer Limits, "Demon with a Glass Hand" and "Soldier". What Cameron may not have noticed, but science-fiction author Harlan Ellison certainly did, was that Ellison had written both those episodes -- and their disparate plotlines, merged together, had a hell of a lot in common with the story Cameron had written. Ellison sued, and the case was quickly settled for an undisclosed amount and an amended "acknowledgement to the works of Harlan Ellison" in the movie's credits.
Critics say Cameron is largely responsible for the spiraling budget of Hollywood's biggest action films. His True Lies with Arnold Schwarzenegger was the first film that cost more than $100 million to make. His Titanic was the first that cost more than $200 million, and it had horrid pre-release word-of-mouth. If it had been anything less than the biggest box office success ever, it easily could have bankrupted the studio. But of course, it was the biggest box-office success ever, earning $470 million within three months of its release.
After the success of Titanic, Cameron produced Jessica Alba's innovative but eventually tedious action series Dark Angel. He made several documentaries, most using the underwater cameras he and his brother invented for The Abyss, but spent most of a decade making his next movie, the enormously expensive and technologically innovative 3-D science fiction epic Avatar. With a budget bigger than some nations' gross domestic product and literally years of build-up, the film drew whispered worries during its production, as some Hollywood insiders expressed fears that it could be a colossal financial disaster along the lines of Heaven's Gate or Ishtar. In another triumph for Cameron, of course, Avatar drew strong reviews and enormous box office, and in mere weeks it topped Titanic to become the highest-grossing motion picture of all time.
Among his five wives, Cameron married and divorced Hurd, his Terminator and Abyss producer, and The Terminator's female lead, Linda Hamilton, who eventually left him for another woman. He wrote Strange Days for then-wife Kathryn Bigelow, and he married Titanic bit player Suzy Amis, who played decrepit survivor Gloria Stuart's granddaughter.
---
[1] Quoted in The Futurist: The Life and Films of James Cameron, 2009: "I've sworn off agnosticism, which I now call cowardly atheism. I've come to the position that in the complete absence of any supporting data whatsover for the persistence of the individual in some spiritual form, it is necessary to operate under the provisional conclusion that there is no afterlife and then be ready to amend that if I find out otherwise."

Father: Phillip Cameron (electrician)
Mother: Shirley Cameron (artist)
Brother: Mike Cameron (aeronautical engineer, stuntman)
Wife: Sharon Williams (waitress; m. 14-Feb-1978, div. 1984)
Wife: Gale Anne Hurd (film producer, m. 1985, div. 1989)
Wife: Kathryn Bigelow (film director, m. 17-Aug-1989, div. 1991)
Wife: Linda Hamilton (actress, dated 1991-94, m. 26-Jul-1997, div. 1999, one daughter)
Daughter: Josephine Archer Cameron (b. 15-Feb-1993)
Wife: Suzy Amis (actress, m. 4-Jun-2000, two daughters, one son)
Daughter: Claire Cameron (b. 4-Apr-2001)
Son: James Quinn Cameron ("Quinn", b. 9-Sep-2003)
Daughter: Elizabeth Rose (b. 29-Dec-2006)


University: Fullerton College (now California State University, Fullerton; dropped out)


Oscar for Best Director 1998, for Titanic
Oscar for Best Film Editing 1998, for Titanic (shared)
Oscar for Best Picture 1998, for Titanic (shared with Jon Landau)
Golden Globe 1998, Best Director for Titanic
Golden Globe 2010, Best Director for Avatar
Hollywood Walk of Fame 6712 Hollywood Blvd. (motion pictures)
Academy of Achievement (1998)
Explorers Club


FILMOGRAPHY AS DIRECTOR
Avatar (10-Dec-2009)
Aliens of the Deep (28-Jan-2005)
Ghosts of the Abyss (31-Mar-2003)
Expedition: Bismarck (8-Dec-2002)
Titanic (1-Nov-1997)
True Lies (15-Jul-1994)
Terminator 2: Judgment Day (1-Jul-1991)
The Abyss (9-Aug-1989)
Aliens (18-Jul-1986)
The Terminator (26-Oct-1984)
Piranha Part Two: The Spawning (1981)


FILMOGRAPHY AS ACTOR
Deepsea Challenge 3D (8-Aug-2014) · Himself
Mission Blue (30-Jan-2014) · Himself
Side by Side (Feb-2012) · Himself
Ray Harryhausen: Special Effects Titan (27-Nov-2011) · Himself
Aliens of the Deep (28-Jan-2005) · Himself
Ghosts of the Abyss (31-Mar-2003) · Himself
Expedition: Bismarck (8-Dec-2002) · Himself
The Muse (27-Aug-1999) · Himself





Requires Flash 7+ and Javascript.



Do you know something we don't?
Submit a correction or make a comment about this profile






Copyright ©2019 Soylent Communications