Jack Nicholson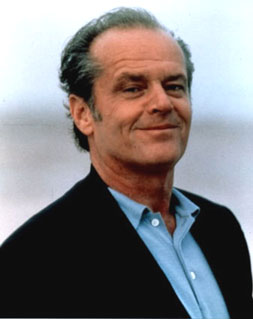 AKA John Joseph Nicholson
Born: 22-Apr-1937
Birthplace: New York City [1]

Gender: Male
Religion: Atheist
Race or Ethnicity: White
Sexual orientation: Straight
Occupation: Actor
Party Affiliation: Democratic
Nationality: United States
Executive summary: Chinatown
Military service: US Air National Guard
After decades among Hollywood's most respected actors, Jack Nicholson has become a movie icon on a par with such old-time stars as Humphrey Bogart or John Wayne. His 12 Oscar nominations run second only to Meryl Streep's 13. He has won the trophy three times, for One Flew Over the Cuckoo's Nest in 1975, Terms of Endearment in 1983, and As Good as It Gets in 1997.
Nicholson thought he had a fairly normal upbringing, with a hard-working mother and a hard-drinking father who sometimes took young Jack to the movies, sometimes to the bar. But like the plot of a good Nicholson movie, nothing was what it seemed. The girl Nicholson thought was his sister was actually his mother, who had become pregnant in high school. The woman he thought was his mother was really his grandmother. And in a heartwrenching twist to the tale, Nicholson says he never knew any of this until he became famous -- after both women were dead -- when Time Magazine published an exposé of his past.
In his teens, Nicholson was a paradox in school. He was voted "most optimistic" in his class -- and "most pessimistic." He was a troublemaker, always being sent to the principal's office for swearing, smoking, talking back to teachers, or pranks and practical jokes. But he was also a straight-A student. Smart -- but subversive, in keeping with what was to follow.
When he first came to Hollywood, Nicholson worked as an office boy, delivering packages and flirting with the secretaries at Metro-Goldwyn-Mayer by day, and spending his evenings in acting class or on stage in local plays. He was soon hired by moviemaking tightwad Roger Corman, who gave Nicholson his first film work -- the title role in The Cry Baby Killer, playing a juvenile delinquent who thinks he can get out of trouble by taking hostages.
He worked in several more movies for Corman, most notably the original Little Shop of Horrors, where Nicholson played the masochistic dental patient who requested, "No novocaine. It dulls the senses." By the mid-1960s Nicholson was a familiar face in low-budget films, a semi-regular on TV's Dr Kildare with Richard Chamberlain, and a frequent user of illegal drugs.
In a long-running burst of creativity, Nicholson wrote numerous screenplays in the mid-1960s, of which four were filmed, and all are worth the trouble of seeking out. Thunder Island is a political thriller set in a banana republic, Flight to Fury is an enjoyable treasure hunt set in the Philippines, Ride in the Whirlwind is a stark, thoughtful, existential western, and The Trip has to be seen to be believed. It is the best of a short-lived genre of 1960s and '70s drug movies, with Peter Fonda playing a depressed director of TV commercials who decides to try LSD and takes the audience with him. Nicholson wrote expertly of the drug's effect, and his script wastes little effort on the now-standard "say no to drugs" moralizing. He wrote a role for himself as Fonda's friend and 'guide' to the paths of altered consciousness, but Nicholson did not yet have the clout to make any demands, so the role went to Bruce Dern instead.
When The Monkees saw their sitcom cancelled in 1968, the unemployed band made a surreal, almost psychedelic movie, Head, with Annette Funicello, Victor Mature, and Frank Zappa -- written by Nicholson and Bob Rafelson. He also directed a pretty good movie about basketball, Drive, He Said, starring Dern as a college coach, but of course Nicholson's fame came as an actor, not a writer or director.
In 1969, Nicholson was a last-minute replacement for Rip Torn in the motorcycles-and-drugs classic Easy Rider. His performance as a somewhat sotted Southern lawyer earned Nicholson rave reviews, and he became a major star playing the rebellious pianist in Five Easy Pieces with Karen Black. After Chinatown with Faye Dunaway, Carnal Knowledge with Ann-Margret, and One Flew Over the Cuckoo's Nest with Louise Fletcher, Nicholson had solidified his on-screen persona as an itchy, grumpy, lovably sly smartass.
In the 1980s he played the psychotic husband and father in The Shining with Shelley Duvall, playwright Eugene O'Neill in Warren Beatty's commie drama Reds, an assassin in love in Prizzi's Honor with Kathleen Turner, and Satan in The Witches of Eastwick with Cher, Susan Sarandon, and Michelle Pfeiffer. Nicholson went from rich to filthy rich when he signed for a percentage of the profits and played The Joker in Batman with Michael Keaton.
In the 1990s and 2000s Nicholson aged gracefully, playing a Marine cross-examined by Tom Cruise in A Few Good Men, the titular executive/werewolf in Wolf with James Spader, a heartless bastard in As Good As It Gets with Helen Hunt, the sad-sack salesman of About Schmidt with Kathy Bates, Adam Sandler's live-in therapist in Anger Management, and the vile villain Costello in The Departed with Leonardo DiCaprio and Matt Damon.
Nicholson has also been impressive in occasional hammy but entertaining supporting roles. He played Barbra Streisand's hipster doofus neighbor in On A Clear Day You Can See Forever; the singing doctor who diagnosed that deaf, dumb, and blind kid in the rock opera Tommy; the hard-drinking astronaut who fell for Shirley MacLaine in Terms of Endearment; and the superstar anchorman of Broadcast News with William Hurt and Holly Hunter.
Nicholson has a reputation as a playboy who enjoys fine wine, quality herb, and many beautiful women, but to dampen any exaggerated rumors he has explained that he has never had sex with more than two other people at the same time. He is also the Los Angeles Lakers' most famous season-ticket holder.
He is a longtime friend of character actor Harry Dean Stanton, who was best man when, in 1962, Nicholson married another struggling actor, Sandra Knight. Their marriage lasted only six years, and her career never went anywhere, but viewers who have seen Tower of London with Vincent Price have seen Knight's finest moment as an actress: She played a brief but gut-churning death scene on the rack.
Nicholson later had a 17-year romance with Anjelica Huston, who repeatedly looked the other way while he wandered, but she finally ended their relationship when Nicholson told her he had impregnated his daughter's best friend, Rebecca Broussard. After having two children with Broussard, Nicholson spent several years in the company of waifish actress Lara Flynn Boyle, another woman young enough to be his daughter.
In 1997, Nicholson was sued by prostitute Christine Sheehan, who alleged that Nicholson had refused to pay for services rendered and had instead assaulted her, and repeatedly smashed her head onto the floor of his Hollywood home. The lawsuit was settled with a substantial payment from Nicholson, but Sheehan later alleged that her injuries were worse than she had originally believed. At last report she was seeking an additional $500,000 from Nicholson.
---
[1] Nicholson's mother gave birth to him in a Manhattan hospital, to keep his illegitimate status hidden from friends and family in her home state of New Jersey. Records filed by his grandmother years later state that he was born in her home in Neptune, New Jersey.

Father: Donald Furcillo ("Donald Rose", beauty parlor operator, Nicholson's biological father, d. 1998)
Mother: June Frances Nicholson ("June Nilson", dancer, Nicholson's biological mother who posed as his sister, d. 1963 cervical cancer)
Father: John Joseph Nicholson (signmaker, Nicholson's grandfather who posed as his father, d. 1955 alcoholism)
Mother: Ethel May Nicholson (beautician, Nicholson's grandmother who posed as his mother, d. 1970)
Sister: Lorraine Nicholson (Nicholson's aunt who posed as his sister)
Sister: Pamela Hawley Liddicoat (half-sister, daughter of June Nicholson, b. 1946, d. 1994 murdered)
Sister: Donna Furcillo Rose (journalist, half-sister, daughter of Donald Furcillo)
Wife: Sandra Knight (actress, b. 1940, m. 17-Jun-1962, div. 8-Aug-1968)
Mistress: Mimi Machu (actress, dated mid- to late-1960s, while married to Knight)
Girlfriend: Susan Anspach (actress, one son)
Girlfriend: Anjelica Huston (actress, dated 1973-90)
Girlfriend: Winnie Hollman (model, dated early 1980s, one daughter, paternity disputed)
Girlfriend: Rebecca Broussard (actress, b. 1963, dated 1989-94)
Girlfriend: Lara Flynn Boyle (actress, dated 1999-2001)
Girlfriend: Rachel Ward
Girlfriend: Candice Bergen
Girlfriend: Joni Mitchell
Girlfriend: Karen Mayo-Chandler (actress)
Slept with: Janice Dickinson
Slept with: Margaret Trudeau (Canadian First Lady, wife of Prime Minister Pierre Trudeau)
Daughter: Jennifer Nicholson Norfleet (b. 1964 with Knight, retail store owner)
Son: Caleb Goddard Anspach (b. 1970 with Anspach)
Daughter: Honey Hollman (b. 1981, with Hollman, paternity disputed)
Daughter: Lorraine Nicholson (b. 1990 with Broussard)
Son: Ray Nicholson (b. 1992 with Broussard)


High School: Manasquan High School, Manasquan, NJ (1953)


Biden for President
Bill Bradley for President
Gore 2000
Kucinich for President
American Film Institute Life Achievement Award 1994
Kennedy Center Honor 2001
Oscar for Best Actor 1976 for One Flew Over the Cuckoo's Nest
Oscar for Best Supporting Actor 1984 for Terms of Endearment
Oscar for Best Actor 1997 for As Good as It Gets
Golden Globe 1976 for One Flew Over the Cuckoo's Nest
Golden Globe 1984 for Terms of Endearment
Golden Globe 1986 for Prizzi's Honor
Golden Globe 2003 for About Schmidt
Hollywood Walk of Fame 1997 at 6925 Hollywood Blvd.
Assault Studio City, CA (8-Feb-1994), lawsuit settled, charges dropped
Vandalism Studio City, CA (8-Feb-1994), lawsuit settled, charges dropped
Wedding: Michael Douglas and Catherine Zeta Jones (2000)
Funeral: Ted Kennedy (2009)
Irish Ancestry
Italian Ancestry
Risk Factors: Smoking, Alcoholism, Marijuana, Cocaine, LSD


FILMOGRAPHY AS DIRECTOR
The Two Jakes (10-Aug-1990)
Goin' South (2-Oct-1978)
Drive, He Said (13-Jun-1971)


FILMOGRAPHY AS ACTOR
Robin Williams: Come Inside My Mind (Jan-2018) · Himself
Birth of the Living Dead (18-Oct-2013) · Himself
Corman's World: Exploits of a Hollywood Rebel (21-Jan-2011) · Himself
How Do You Know (17-Dec-2010) · Charles
I'm Still Here (6-Sep-2010) · Himself
The Bucket List (16-Dec-2007)
The Departed (4-Oct-2006)
Something's Gotta Give (12-Dec-2003) · Harry Sanborn
Anger Management (5-Mar-2003) · Dr. Buddy Rydell
Easy Riders, Raging Bulls (18-Jan-2003) · Himself
About Schmidt (22-May-2002) · Warren Schmidt
America: A Tribute to Heroes (21-Sep-2001) · Himself
Stanley Kubrick: A Life in Pictures (17-Feb-2001) · Himself
The Pledge (9-Jan-2001) · Jerry Black
As Good As It Gets (19-Dec-1997) · Melvin Udall
Mars Attacks! (13-Dec-1996) · President Dale
The Evening Star (5-Dec-1996) · Garrett Breedlove
Blood and Wine (Sep-1996) · Alex
The Crossing Guard (10-Sep-1995) · Freddy Gale
Wolf (17-Jun-1994) · Will Randall
Hoffa (25-Dec-1992) · James R. Hoffa
A Few Good Men (11-Dec-1992)
Man Trouble (17-Jul-1992)
The Two Jakes (10-Aug-1990) · Jake Gittes
Batman (23-Jun-1989) · Joker
Ironweed (Feb-1988)
Broadcast News (16-Dec-1987) · Bill Rorich
The Witches of Eastwick (12-Jun-1987)
Heartburn (25-Jul-1986) · Mark
Live Aid (13-Jul-1985) · Himself
Prizzi's Honor (13-Jun-1985)
Terms of Endearment (23-Nov-1983) · Garrett Breedlove
The Border (12-Feb-1982) · Charlie
Reds (3-Dec-1981) · Eugene O'Neill
The Postman Always Rings Twice (20-Mar-1981)
The Shining (23-May-1980) · Jack Torrance
Goin' South (2-Oct-1978)
The Last Tycoon (15-Nov-1976) · Brimmer
The Missouri Breaks (19-May-1976) · Tom Logan
One Flew Over the Cuckoo's Nest (19-Nov-1975) · R. P. McMurphy
The Fortune (20-May-1975) · Oscar
Tommy (19-Mar-1975)
The Passenger (28-Feb-1975)
Chinatown (20-Jun-1974) · J. J. Gittes
The Last Detail (12-Dec-1973) · Buddusky
The King of Marvin Gardens (12-Oct-1972) · David Staebler
Carnal Knowledge (30-Jun-1971) · Jonathan
A Safe Place (1971)
Five Easy Pieces (11-Sep-1970) · Robert Eroica Dupea
On a Clear Day You Can See Forever (17-Jun-1970)
Rebel Rousers (15-Jun-1970)
Easy Rider (14-Jul-1969) · George Hanson
Psych-Out (6-Mar-1968)
Hells Angels on Wheels (26-Jul-1967)
The Shooting (1967)
Ride in the Whirlwind (1965)
Back Door to Hell (9-Dec-1964)
Flight to Fury (8-Aug-1964)
Ensign Pulver (31-Jul-1964) · Dolan
The Terror (17-Jun-1963) · Lt. André Duvalier
The Raven (25-Jan-1963) · Rexford
The Broken Land (1-Apr-1962)
The Little Shop of Horrors (14-Sep-1960) · Wilbur Force
Studs Lonigan (Sep-1960)
The Wild Ride (17-Jun-1960)
Too Soon to Love (Feb-1960)
The Cry Baby Killer (17-Aug-1958)


Rotten Library Page:
Jack Nicholson

Appears on the cover of:
Entertainment Weekly, 14-Feb-2003, DETAILS: The Year's Hottest Odd Couple -- Adam Sandler and Jack Nicholson in Anger Management (photo with Sandler)
Entertainment Weekly, 3-Jan-2003, DETAILS: Jack on Jack -- The King of Hollywood opens up about sex, money, fame, and the role of his life in About Schmidt





Requires Flash 7+ and Javascript.



Do you know something we don't?
Submit a correction or make a comment about this profile






Copyright ©2019 Soylent Communications