The Shining (23-May-1980)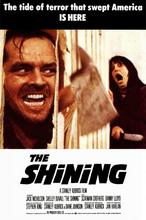 Director: Stanley Kubrick
Writers: Diane Johnson; Stanley Kubrick
From novel: The Shining by Stephen King




Writer Jack Torrance, suffering writer's block, becomes winter caretaker of the Overlook Hotel, closed for the season; he dismisses stories of a previous caretaker savagely butchering his family. Staying with him are his wife Wendy, son Danny, and Danny's imaginary friend Tony. Truly scary horror film heavy with mood and atmosphere; pioneering use of the Steadicam. Not particularly faithful to Stephen King's novel; he was sufficiently annoyed by Kubrick's Shining that he remade it as a miniseries, The Shining (1997).
CAST
| | |
| --- | --- |
| Jack Nicholson | ... Jack Torrance (husband) |
| Shelley Duvall | ... Wendy Torrance (wife) |
| Danny Lloyd | ... Danny Torrance (psychic son) |
| Scatman Crothers | ... Dick Hallorann |
| Barry Nelson | ... Stuart Ullman (hotel manager) |
| Philip Stone | ... Delbert Grady |
| Joe Turkel | ... Lloyd (bartender) |
| Anne Jackson | ... Doctor |
| Tony Burton | ... Larry Durkin |
| Lia Beldam | ... Young woman in bathtub |
| Billie Gibson | ... Old woman in bathtub |
| Barry Dennen | ... Bill Watson |
| David Baxt | ... Forest Ranger |
| Manning Redwood | ... Forest Ranger |
| Lisa Burns | ... Grady daughter |
| Louise Burns | ... Grady daughter |
| Robin Pappas | ... Nurse |
| Alison Coleridge | ... Suzie (secretary) |
| Burnell Tucker | ... Policeman |
| Jana Sheldon | ... Stewardess |
| Kate Phelps | ... Receptionist |
| Norman Gay | ... Injured Guest |
REVIEWS
Review by anonymous (posted on 3-Jun-2005)
What's the most terrifying thing you can think of? a ghost?, a monster?, or maybe it's your father, the man that raised you coming at you with an ax? That's the fear that director Stanley Kubrick hits you with in his chilling, horror epic based on the equally scary book of the same name by Stephen King. We are introduced to the Torrance family Jack (Jack Nicholson), Wendy (Shelley Duval), and Danny (Danny Lloyd) your normal nuclear family. Jack gets a job as caretaker of the huge Overlook Hotel during the winter, but the manager of the hotel Stuart Ullman warns Jack about what happened to the last caretaker; a man by the name of Grady was there with his wife and daughters and because of the isolation and "cabin fever" he mentally snapped. He killed his family with an ax, chopped them up into pieces, and blew his brains out with a shotgun. So Jack takes Wendy and Danny to the Overlook to have a look around, and each family member hopes that the hotel will help them in some way Jack with his writing, Wendy to help bring the family together, but Danny is afraid of it. Now Danny has a special gift a sort of sixth sense or ESP that allows him to see the evils of the Overlook Hotel, and while at the hotel before closing day he meets a black chef Dick Hallorann who also has this special gift. But as they spend more time in the hotel things start happening. Danny starts to see the ghosts of the Overlook and Jack, day-by-day starts going insane. I've read the book after I saw the movie and the movie is a complete reimagining of the book and that's not a bad thing. This is one of the scariest movies of all time because it's suspenseful, terrifying, and it stays with you.
---
Do you know something we don't?
Submit a correction or make a comment about this profile

Copyright ©2019 Soylent Communications