One Flew Over the Cuckoo's Nest (19-Nov-1975)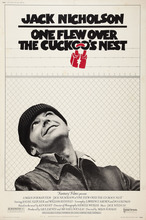 Director: Milos Forman
Writers: Lawrence Hauben; Bo Goldman
From novel: One Flew Over the Cuckoo's Nest by Ken Kesey
Producers: Saul Zaentz; Michael Douglas
Keywords: Drama, Insane Asylum, Retards




After a plea of insanity for rape, the fully sane Randle Patrick McMurphy receives a sentence to a mental institution. It is a small world where Nurse Ratched demands conformity; McMurphy engages in a series of small acts of rebellion, but eventually these come at great personal cost. Shot at Oregon State Hospital in Salem. Deservedly swept the Oscars, winning Best Actor, Best Actress, Best Director, Best Screenplay, and Best Picture; received nominations for four others.
[watch trailer]
CAST
Jack Nicholson
... R. P. McMurphy
starring
Louise Fletcher
... Nurse Ratched
William Redfield
... Harding
Michael Berryman
... Ellis (bald patient)
Peter Brocco
... Col. Matterson
Dean R. Brooks
... Dr. Spivey
Alonzo Brown
... Miller
Scatman Crothers
... Turkle (orderly)
Mwako Cumbuka
... Warren (attendant)
Danny DeVito
... Martini
William Duell
... Sefelt
Josip Elic
... Bancini
Lan Fendors
... Nurse Itsu
Nathan George
... Washington (attendant)
Ken Kenny
... Beans Garfield
Mel Lambert
... Harbor Master
Sydney Lassick
... Cheswick
Kay Lee
... Night Supervisor
Christopher Lloyd
... Taber
Dwight Marfield
... Ellsworth
Ted Markland
... Hap Arlich
Louisa Moritz
... Rose
Phil Roth
... Woolsey
Will Sampson
... Chief Bromden
Mimi Sarkisian
... Nurse Pilbow
Vincent Schiavelli
... Fredrickson
Marya Small
... Candy
Delos V. Smith, Jr.
... Scanlon
Tin Welch
... Ruckley
and introducing
Brad Dourif
... Billy Bibbit
REVIEWS
Review by Justin Scheuble (posted on 16-Mar-2005)
Not many book-based movies capture as much delight as the book, but One Flew Over the Cookoo's Nest has gone beyond the delight of reading the book. One of the most wonderful aspects of this movie is the limited settings. By mainly taking place in a quiet uninviting nut house, the audience can feel the enclosure and stranded feeling as portrayed by the movie's main characters. The characters are not let free from the nuthouse as the viewer is grabbed and not let go from the movie screen. Filled with ironic happenings, I found it difficult to not go through the entire movie break-free. It is hard to say if this film provideds a happy ending or a sad one (or even both). This movie can touch many viewers hearts and not let them forget. Jack Nicholson is a fantastic actor, and this movie dipicts his talent and charisma.
---
Do you know something we don't?
Submit a correction or make a comment about this profile

Copyright ©2019 Soylent Communications