Ann Rutherford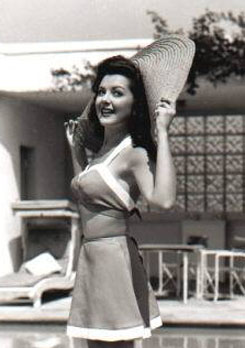 AKA Therese Ann Rutherford
Born: 2-Nov-1917
Birthplace: Vancouver, British Columbia, Canada
Died: 11-Jun-2012
Location of death: Beverly Hills, CA
Cause of death: unspecified
Remains: Buried, Holy Cross Cemetery, Culver City, CA

Gender: Female
Race or Ethnicity: White
Sexual orientation: Straight
Occupation: Actor
Nationality: United States
Executive summary: Andy Hardy's girlfriend Polly
Ann Rutherford was a lead actress in low-budget films in the 1930s and 1940s. She was raised in a show-business family, and worked as a child actress in radio and theatrical productions. If her birthdate is accurate (always iffy with actresses of her era) she was 15 when she starred in her first film, Waterfront Lady, in 1935. For several years, she worked at Republic Pictures, starring opposite Gene Autry in Melody Trail and The Singing Vagabond and John Wayne in The Lonely Trail and The Lawless Nineties.
Republic, though, was a low-prestige operation, so when her contract lapsed Rutherford jumped to MGM, where she played Polly, Mickey Rooney's object of chaste desire in a dozen "Andy Hardy" films that seem corny now, but were wildly popular in the late 1930s and '40s. She was often called "America's Sweetheart", featured in fawning profiles in celebrity magazines, and posed in ads for Cannon Hosiery and Royal Crown Cola. Rutherford also played sister of the leading lady in the classics Gone with the Wind and Pride and Prejudice, and starred opposite Red Skelton in the comedy-mystery Whistling in the Dark and two sequels, Whistling in Dixie and Whistling in Brooklyn.
She disappeared from films in the 1950s, but came out of retirement in the 1970s to occasionally play Suzanne Pleshette's mother on The Bob Newhart Show. Her last feature film was Won Ton Ton, The Dog Who Saved Hollywood, where she had a tiny role as Bruce Dern's secretary.
Rutherford's first husband was David May, about whom little is known. Her second husband, William Dozier, had formerly been married to Joan Fontaine, and was a film and TV producer with a taste for overblown action -- his credits range from the cheap mid-1950s science fiction series Rod Brown of the Rocket Rangers to The Green Hornet to the campy 1960s series Batman, on which Dozier was also the unseen narrator ("Same bat-time, same bat-channel). Her stepson Robert Dozier was a longtime TV writer for shows like Dan August and Harry O, and scripted Judy Garland's last and perhaps most melodramatic film, I Could Go On Singing.
Father: John Defferin Rutherford ("Juan Guilberty", opera singer)
Mother: Lucille Mansfield (stage actress)
Sister: Laurette Rutherford ("Judith Arlen", actress, b. 18-Mar-1914, d. 5-Jun-1968)
Husband: David May (m. 24-Dec-1942, div. 1953, two children)
Daughter: Gloria May (b. 1943)
Husband: William Dozier (producer, b. 1908, m. 6-Oct-1953, d. 23-Apr-1991)
Daughter: Deborah Dozier Potter (stepdaughter)
Son: Robert Dozier (stepson)

High School: Fairfax High School (Los Angeles, CA)

FILMOGRAPHY AS ACTOR
Won Ton Ton, the Dog Who Saved Hollywood (26-May-1976)
They Only Kill Their Masters (22-Nov-1972)
Operation Haylift (5-May-1950)
Adventures of Don Juan (1-Dec-1948) · Doņa Elena
The Secret Life of Walter Mitty (14-Aug-1947) · Gertrude Griswold
Inside Job (14-Jun-1946)
Murder in the Music Hall (10-Apr-1946)
Bedside Manner (14-Jun-1945) · Lola Cross
Two O'Clock Courage (13-Apr-1945) · Patty Mitchell
Bermuda Mystery (1-May-1944)
Whistling in Brooklyn (Dec-1943)
Happy Land (10-Nov-1943)
Whistling in Dixie (31-Dec-1942) · Carol Lambert
Andy Hardy's Double Life (Dec-1942) · Polly Benedict
Orchestra Wives (4-Sep-1942) · Connie Ward
The Courtship of Andy Hardy (Mar-1942)
This Time for Keeps (Mar-1942) · Katherine White
Life Begins for Andy Hardy (15-Aug-1941) · Polly Benedict
Whistling in the Dark (8-Aug-1941)
Washington Melodrama (18-Apr-1941) · Laurie Claymore
Andy Hardy's Private Secretary (21-Feb-1941) · Polly Benedict
Keeping Company (27-Dec-1940)
Wyoming (13-Sep-1940) · Lucy Kincaid
Pride and Prejudice (26-Jul-1940) · Lydia Bennet
Andy Hardy Meets Debutante (5-Jul-1940) · Polly Benedict
The Ghost Comes Home (8-Mar-1940) · Billie Adams
Judge Hardy and Son (22-Dec-1939) · Polly Benedict
Gone with the Wind (15-Dec-1939) · Carreen O'Hara
Dancing Co-Ed (29-Sep-1939)
These Glamour Girls (18-Aug-1939)
Andy Hardy Gets Spring Fever (18-Jul-1939) · Polly Benedict
The Hardys Ride High (14-Apr-1939)
Four Girls in White (27-Jan-1939) · Patricia Page
A Christmas Carol (16-Dec-1938) · Spirit of Christmas Past
Dramatic School (9-Dec-1938) · Yvonne
Out West with the Hardys (25-Nov-1938) · Polly Benedict
Love Finds Andy Hardy (22-Jul-1938) · Polly Benedict
Judge Hardy's Children (26-Mar-1938)
Of Human Hearts (5-Feb-1938) · Annie Hawks
You're Only Young Once (10-Dec-1937) · Polly Benedict
Public Cowboy No. 1 (23-Aug-1937) · Helen Morgan
The Lonely Trail (25-May-1936)
Comin' Round the Mountain (31-Mar-1936) · Dolores Moreno
The Lawless Nineties (15-Feb-1936)
The Singing Vagabond (16-Dec-1935) · Lettie Morgan
Melody Trail (21-Oct-1935) · Millicent Thomas

Do you know something we don't?
Submit a correction or make a comment about this profile

Copyright ©2019 Soylent Communications