Madonna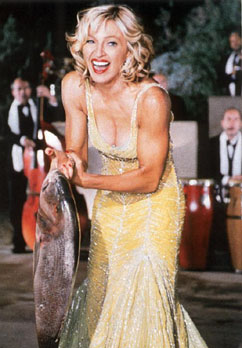 AKA Madonna Louise Veronica Ciccone
Born: 16-Aug-1958
Birthplace: Bay City, MI

Gender: Female
Religion: Roman Catholic [1]
Race or Ethnicity: White
Sexual orientation: Bisexual
Occupation: Singer/Songwriter, Actor
Party Affiliation: Democratic
Nationality: United States
Executive summary: Like a Virgin
Arguably the most enduring female performer on the international pop scene from the mid 80s to the early 00s -- and one of the few artists to maintain a presence in the youth-dominated charts well into her fifties -- Madonna Ciccone (known simply by her first name) has successfully managed to keep media attention on herself by continually updating her sound to fit emerging musical trends, and by regularly bumping against the conservative moral standards of the American mainstream.
The extravagant lifestyle of her adult years, however, contrasts sharply with her childhood in the suburbs of Detroit: the middle of six siblings born to a mixed Italian-American/French-Canadian family, Madonna was given a strict Catholic upbringing by her father, who was forced to raised his large family on his own after his wife succumbed to breast cancer in 1963. In addition to their Catholic studies, Sylvio "Tony" Ciccone also expected his children take music lessons, but after a months of piano studies he made an exception and allowed his eldest daughter to pursue her interest in ballet.
Madonna's father eventually remarried, aggravating the already strained relationship that existed between himself and his daughter. The independent, ambitious personality that made her restrictive home life more difficult to endure served her well in high school, where high grades -- as well as her sports and cheerleading activities -- ultimately qualified her for a scholarship. Upon graduating in 1976 she enrolled as a ballet student at the University of Michigan, but after only three semesters she dropped out in favor of moving to New York City to get her dance career underway. Success was far from instantaneous, and Madonna spent the next several years working menial jobs (and occasionally as a nude model) while she continued her dance training.
After working with various modern dance ensembles during the late 1970s, Madonna joined a tour with French singer Patrick Hernandez, primarily known for his 1978 song Born To Be Alive. It was at this time that she became involved with musician Dan Gilroy, who would later include her in the line-up to his band The Breakfast Club as a drummer and vocalist. By 1980 she had moved on to Emmy, a new project that also involved Breakfast Club bandmate Stephen Bray, but soon afterwards the the pair split off to create more club-oriented music, their demo recordings quickly earning a following within the New York disco scene and attracting the interest of local producer Mark Kamins. It was Kamins who subsequently connected the singer with Sire Records, producing her debut solo single Everybody for the label in 1982 and setting her pop career in motion. Both the single and its follow-up Burning Up (1983) did well enough in the dance charts to convince Sire to release a full album, and in 1983 her eponymous release positioned Madonna in the top 10 in several different countries including the US, the UK, France and Australia.
Three more singles from Madonna's debut -- Holiday, Borderline and Lucky Star -- were issued over the following year, each climbing higher than its successor, with Holiday peaking at #16 and Lucky Star reaching #4 in its ninth week. Her second album Like a Virgin (produced by Chic mastermind Nile Rodgers) was issued in November of 1984 and successfully maintained her presence in the upper reaches of the charts around the world with singles such as Material Girl, Angel, Into the Groove and of course the album's title track (her first mainstream #1 in the States). The album also gave Madonna her first significant bit of controversy: instigated in general by her raunchy performances and the sexual content of her lyrics, but focused in particular on Virgin's fourth single Dress You Up. It was this song that was included amongst the "Filthy Fifteen", a list assembled by a group of Washington wives calling themselves the Parent's Music Resource Center (PMRC) as a means to support their demand that the music industry adopt a system of ratings and censorship according to their personal moral standards.
In 1985 Madonna released her second #1 single Crazy For You, included as part of the soundtrack for the wrestling flick Vision Quest. The film also featured a brief appearance by the singer, foreshadowing her more prominent role later in the year opposite Rosanna Arquette in Susan Seidelman's Desperately Seeking Susan; Susan also made use of her track Into the Groove, previously released as the flipside of the Angel single and giving the record an added boost in sales. It was for this role that she would earn her most positive critical notices -- something that would remain elusive throughout her subsequent acting career. Madonna's enormous commercial success continued to grow in response to her third effort True Blue (1986), which spent 5 weeks at the top of the US album charts and launched three more #1 singles (Live to Tell, Papa Don't Preach, Open Your Heart) and two more top 5 singles (La Isla Bonita and the title track). It also continued the tradition of controversy established with Like a Virgin -- this time centering around her paen to teenage pregnancy Papa Don't Preach.
The next step in Madonna's film career was a leading role alongside then-husband Sean Penn in Shanghai Surprise (1986), a spectacular critical and commercial flop. The dissolution of their marriage four years later would command far more enthusiastic media attention. The singer continued her acting work with a leading role in Who's That Girl (1987), loosely adapted from the 1938 Katharine Hepburn comedy Bringing Up Baby. Although the film did not fare particularly well at the box office, the title song earned it's star yet another #1 single, while also lending it's name to a successful international tour. The Italian leg of the tour marked the first public attack on the singer by the Vatican, who opposed her use of Catholic symbolism in openly sexual contexts and aggressively discouraged attenance to her concerts; this adversarial relationship was only worsened by her next album Like a Prayer (1989), which took the sex/religion associations even further. Papal condemnation did little to diminish sales, however (accomplishing the opposite, in all likelihood), and yet another #1 album and single were added to the iniquitous performer's credits.
Despite her status as one of the most successful pop stars in the world, Madonna's acting endeavors continued to receive poor reviews. Her next movie project, the gangster comedy Bloodhounds Of Broadway (1989), was another commercial and critical disappointment, while her contribution to the financially lucrative comic adaptation Dick Tracy (1990) was still given a lukewarm reception. As usual, her soundtrack contributions fared much better: the latter film's associated release I'm Breathless spending several weeks in the top 5, and it's lead single Vogue (not from the movie) returning her to the top of the single charts. This was followed by the multi-platinum "greatest hits" compilation The Immaculate Collection (1990), whose new track Justify My Love earned her both another #1 and a fresh burst of controversy (in response to its overtly sexual/S&M-themed video).
A temporary reversal in the singer's dismal movie fortunes began in 1991 with the tour documentary Truth or Dare, which provided a candid look behind the scenes of her 1990 Blond Ambition Tour. Although panned by many critics, it earned itself respectable returns at the box office (attracting fans who wanted to watch her make fun of Kevin Costner). This was followed in the summer of 1992 by a prominent role in the successful baseball film A League of Their Own, also featuring Tom Hanks and Geena Davis. That same year saw the publication of Sex, a softcore photo collection that was a clear bid to maintain (and amplify) Madonna's reputation for controversy. The book served as a companion piece to her 6th full-length release Erotica, the title track of which was turned into a somewhat explicit video (although a milder version was also created for the US market); a world tour named The Girlie Show was subsequently launched in 1993, continuing the prominent use of nudity and overt sexuality that had been presented in the book and video. Her role in the erotic thriller Body of Evidence (1993) also continued this theme, but achieved little more than adding another entry to her list of unsuccessful movie projects. To cap off her "era of infamy" Madonna appeared on The Late Show with David Letterman in March of 1994, making a point of using the word "fuck" as much as possible during her interview, and setting a new record for censoring on network television as a result.
For her sixth studio release Bedtime Stories (1994) the singer backed away somewhat from the confrontation of sexual attitudes that had preoccupied her previous projects and enlisted producers Nellee Hooper and Dallas Austin (separately) to create songs with a more mainstream R&B sound. Untypically, only two of the album's four singles managed to reach the top 40 (the Bjork-co-written title track being her first not to do so since 1983's Burning Up), but the second single Take a Bow still managed to spend several weeks at the top of the US charts. A second "best of" collection titled Something to Remember (1995) arrived next, once again including several new songs -- amongst which was included a cover version of Marvin Gaye's I Want You, recorded in collaboration with Hooper and the British electronic ensemble Massive Attack. A role in the Allison Anders-directed segment of Four Rooms and a cameo in Paul Auster's Blue in the Face were added to her film credits that same year.
1996 witnessed a rare occurrence for the ambitious performer: a movie project that received as enthusiastic a response to her acting as to her soundtrack contributions. For the starring role in Alan Parker's film adaptation of the musical Evita, Madonna received a Golden Globe in the category of Best Actress in a Musical or Comedy, while both an Oscar and a Golden Globe for Best Original Song was awarded to You Must Love Me (composed for the film by Tim Rice and Andrew Lloyd Webber). Her next solo release Ray of Light (1998) also marked a particularly successful point in her career, exploring the popular techno styles of the day with the assistance of electronic producer/performer William Orbit. The album would earn Madonna some of her strongest reviews, as well as returning her high into the album and singles charts in the US, the UK, Australia, Europe and Japan.
After earning another worldwide hit single for Beautiful Stranger (1999) -- a track recorded for the Austin Powers: The Spy Who Shagged Me soundtrack -- Madonna continued the upward swing of her musical fortunes with her eighth studio release Music (2000), both the album and the title song quickly finding their way to the top of the charts in more than a dozen different countries. Her film career did not fare nearly as well, however, and her next project The Next Best Thing (2000) returned the performer to the familiar territory of bad reviews and poor box office. A similar fate also greeted her next film Swept Away (2002), directed by new husband Guy Ritchie. The uncomplimentary reviews continued for her brief role in the James Bond film Die Another Day -- although, as usual, her contribution to the soundtrack (the title song) still proved to be commercially viable, climbing to the top of the dance charts and reaching the #8 position as a mainstream single despite poor critical response.
In 2003 Madonna released American Life, an album whose sombre mood was in distinct contrast to the mostly upbeat, dance party tone of it's predecessor, while still retaining a similarly ambitious musical content (both albums featuring production input from French electronica composer Mirwais Ahmadza´). The record managed to jump to the top of the mainstream charts during it's first week, but quickly slid out of the top 40 in subsequent weeks, ending up as one of the least financially successful releases in her catalog. This poor outcome was blamed on a backlash against American Life's anti-war message, arriving as it did only a month after the US invasion of Iraq. This explanation would seem to be supported by the much warmer reception the record received in countries opposed to the invasion -- particularly France, where it remained at #1 and sold in larger quantities. Regardless of her unpopular political views, the Re-Invention world tour launched in 2004 demonstrated that Madonna still commanded an enormous following by earning the highest returns of any tour that year. It was during this period that Madonna initiated yet another facet to her carrer: that of an author of children's books. Her first two books The English Roses and Mr. Peabody's Apples arrived in 2003, followed by Yakov and the Seven Thieves and The Adventures of Abdi in 2004, and Lotsa de Casha in 2005. This new creative avenue was given a consistently positive critical reception, as well as repeatedly placing her on best-seller lists around the world.
A return to less serious fare for her next effort Confessions on a Dance Floor (2005) brought a corresponding return to chart success and platinum sales. Apparently unable to resist inviting a little more controversy into her life, for the concert tour in support of the album the singer created a routine that featured her hanging from a disco-mirror covered cross while wearing a crown of thorns during her performance of the song Live to Tell. The Christian religious community's response was predictable. I'm Going to Tell You a Secret, a live document of the earlier 2004 tour, was issued in 2006.
---
[1] Dabbling in Kaballah does not suddenly make Madonna "Jewish".

Father: Sylvio Ciccone ("Tony", automotive engineer)
Mother: Madonna Louise Fortin (b. 11-Jul-1932, d. 1-Dec-1963 breast cancer)
Brother: Martin Ciccone
Brother: Anthony Ciccone
Brother: Christopher Ciccone (designer)
Sister: Paula Mae Ciccone
Sister: Melanie Ciccone Henry (m. to singer-songwriter John Henry)
Brother: Mario Ciccone (half-brother, b. 1957)
Sister: Jennifer (half-sister)
Boyfriend: Jean-Michel Basquiat (artist), John Benitez ("Jellybean", musician),
Boyfriend: David Blaine (magician), John Enos III (actor), Mark Kamins (producer),
Boyfriend: Jesus Luz (model, 2009-10), Brahim Rachiki (choreographer, 2010),
Boyfriend: Dennis Rodman (basketball player), Alex Rodriguez (baseball player, 2008),
Boyfriend: Vanilla Ice (musician, 1991)
Girlfriend: Jenny Shimizu (model, according to published reports)
Slept with: Warren Beatty, Sandra Bernhard, John F. Kennedy, Jr., Lenny Kravitz
Husband: Sean Penn (actor, m. 16-Aug-1985, div. 14-Sep-1989)
Boyfriend: Carlos Leon (personal trainer, together 1990s, one daughter)
Daughter: Lourdes Maria Ciccone Leon (b. 14-Oct-1996 with Leon)
Husband: Guy Ritchie (film director, m. 22-Dec-2000, div. 2008, one son)
Son: Rocco Ritchie (b. 11-Aug-2000)
Son: David Banda ("interim adopted" in Malawi 12-Oct-2006)


High School: Rochester Adams High School (1976)
University: University of Michigan (3 semesters, dropout)


Madonna
The Breakfast Club Vocalist/Drummer (1979-80)
Dunkin' Donuts New York City
Endorsement of Macy's
Endorsement of Pepsi
Endorsement of Diageo Smirnoff Nightlife Exchange Project (2011)
Rock and Roll Hall of Fame 2008
Grammy Best Music Video, Long Form for Madonna - Blonde Ambition World Tour Live (1991)
Grammy Best Short Form Music Video for Ray of Light (1998)
Grammy Best Pop Album for Ray of Light (1998)
Grammy Best Dance Recording for Ray of Light (1998)
Grammy Best Song Written For A Motion Picture, Television Or Other Visual Media for Beautiful Stranger (1999)
Golden Globe Best Performance by an Actress in a Motion Picture, Musical or Comedy, for Evita (1997)
Golden Globe Best Original Song, for "Masterpiece" from W.E.
Abortion
Raped New York City
Hernia Operation Cedars Sinai, Los Angeles, CA (Feb-2006)
The PMRC Filthy Fifteen #8 Dress You Up
French-Canadian Ancestry Maternal
Italian Ancestry Paternal
Risk Factors: Smoking, Yoga


FILMOGRAPHY AS DIRECTOR
W.E. (1-Sep-2011)
Filth and Wisdom (13-Feb-2008)


FILMOGRAPHY AS ACTOR
Who the F**K Is Arthur Fogel (22-Mar-2013) · Herself
Bettie Page Reveals All (8-Sep-2012) · Herself
Swept Away (11-Oct-2002) · Amber
Madonna Live: Drowned World Tour 2001 (26-Aug-2001) · Herself
The Next Best Thing (3-Mar-2000)
Evita (20-Dec-1996) · Eva Perˇn
Girl 6 (22-Mar-1996) · Boss #3
Four Rooms (16-Sep-1995) · Elspeth
Blue in the Face (15-Sep-1995) · Singing Telegram
Madonna: The Girlie Show, Live Down Under (20-Nov-1993) · Herself
Dangerous Game (13-Oct-1993) · Sarah Jennings
Body of Evidence (15-Jan-1993) · Rebecca Carlson
A League of Their Own (1-Jul-1992)
Shadows and Fog (30-Mar-1992) · Marie
Madonna: Truth or Dare (10-May-1991) · Herself
Madonna: Blond Ambition World Tour Live (5-Aug-1990) · Herself
Dick Tracy (15-Jun-1990) · Breathless Mahoney
Bloodhounds of Broadway (3-Nov-1989)
Who's That Girl? (7-Aug-1987)
Shanghai Surprise (29-Aug-1986)
Live Aid (13-Jul-1985) · Herself
Desperately Seeking Susan (29-Mar-1985) · Susan
Vision Quest (15-Feb-1985) · Singer
A Certain Sacrifice (1985)


Official Website:
http://www.madonna.com/

Rotten Library Page:
Madonna

Appears on the cover of:
People, 28-Apr-2003, DETAILS: Madonna's Private World
Vanity Fair, October 1992, DETAILS: Madonna in Wonderland (p. 204), BYLINE: Steven Meisel


Author of books:
Sex (1992, photography)
The English Roses (2003, juvenile)
Mr. Peabody's Apples (2003, juvenile)
Yakov and the Seven Thieves (2004, juvenile)
The Adventures of Abdi (2004, juvenile)
Lotsa de Casha (2005, juvenile)





Requires Flash 7+ and Javascript.



Do you know something we don't?
Submit a correction or make a comment about this profile






Copyright ©2019 Soylent Communications