Dick Tracy (15-Jun-1990)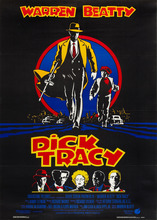 Director: Warren Beatty
Writers: Jim Cash; Jack Epps, Jr.
Music by: Danny Elfman
Producer: Warren Beatty
Keywords: Crime, Comic Strip, Dick Tracy




Police detective Dick Tracy battles an extensive underworld gang led by Big Boy Caprice. Expressed in limited palette of colors, giving a unique comic-book-like feel to the film, to which unfortunately the other aspects of the film fail to measure up. Won Oscars for Best Set Decoration, Best Makeup, and Best Original Song; received additional nominations for Best Supporting Actor, Best Cinematography, Best Costume Design and Best Sound.
CAST
Warren Beatty
... Dick Tracy
Charlie Korsmo
... The Kid
William Forsythe
... Flattop
Ed O'Ross
... Itchy
Glenne Headly
... Tess Trueheart
Seymour Cassel
... Sam Catchem
James Keane
... Pat Patton
Charles Durning
... Chief Brandon
Allen Garfield
... Reporter
Madonna
... Breathless Mahoney
Mandy Patinkin
... 88 Keys
Paul Sorvino
... Lips Manlis
Tom Signorelli
... Mike
Al Pacino
... Big Boy Caprice
James Tolkan
... Numbers
R. G. Armstrong
... Pruneface
Dustin Hoffman
... Mumbles
Dick Van Dyke
... D.A. Fletcher
Henry Silva
... Influence
James Caan
... Spaldoni
Michael J. Pollard
... Bug Bailey
Estelle Parsons
... Mrs. Trueheart
Michael Donovan O'Donnell
... McGillicuddy
Jim Wilkey
... Stooge
Stig Eldred
... Shoulders
Neil Summers
... The Rodent
Chuck Hicks
... The Brow
Lawrence Steven Meyers
... Little Face
Marvelee Cariaga
... Soprano
Michael Gallup
... Baritone
John Schuck
... Reporter
Charles Fleischer
... Reporter
Robert Costanzo
... Lips' Bodyguard
Jack Kehoe
... Customer at Raid
Marshall Bell
... Lips' Cop
Michael G. Hagerty
... Doorman
Lew Horn
... Lefty Moriarty
Arthur Malet
... Diner Patron
Tony Epper
... Steve the Tramp
Kathy Bates
... Mrs. Green
Jack Goode, Jr.
... Lab Technician
Ray Stoddard
... Lab Technician
Hamilton Camp
... Store Clerk
Ed McCready
... Cop at Tess'
Colm Meaney
... Cop at Tess'
Catherine O'Hara
... Texie Garcia
Robert Beecher
... Ribs Mocca
Bert Remsen
... Bartender
Frank Campanella
... Judge Harper
Sharmagne Leland-St. John
... Club Ritz Patron
Bing Russell
... Club Ritz Patron
Tom Finnegan
... Uniform Cop at Ritz
Billy Clevenger
... Newspaper Vendor
Ned Claflin
... Radio Announcer
John Moschitta, Jr.
... Radio Announcer
Neil Ross
... Radio Announcer
Walker Edmiston
... Radio Announcer
Ian Wolfe
... Forger
Mary Woronov
... Welfare Person
Henry Jones
... Night Clerk
Mike Mazurki
... Old Man at Hotel
Dancers
Rita Bland
... Dancer
Lada Boder
... Dancer
Dee Hengstler
... Dancer
Liz Imperio
... Dancer
Michelle Johnston
... Dancer
Karyne Ortega
... Dancer
Karen Russell
... Dancer
REVIEWS
Do you know something we don't?
Submit a correction or make a comment about this profile

Copyright ©2019 Soylent Communications