Four Rooms (16-Sep-1995)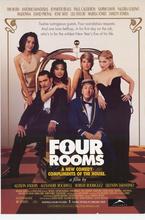 Directors: Allison Anders; Alexandre Rockwell; Robert Rodriguez; Quentin Tarantino
Writers: Allison Anders; Alexandre Rockwell; Robert Rodriguez; Quentin Tarantino
Music by: Combustible Edison
Producer: Lawrence Bender
Keywords: Comedy, Drama, New Year's Eve, Bellhop, Witch, Anthology




Anthology of four stories by four directors -- The Missing Ingredient, The Wrong Man, The Misbehavers, and The Man From Hollywood. All take place on New Year's Eve at the Mon Signor Hotel, which has seen better days, connected by Tim Roth as bellhop. Not particularly successful; the last two segments are the strongest.
CAST
REVIEWS
Review by Harley (posted on 11-Aug-2007)
Four Rooms is the movie with something for everyone. Theres Witchcraft, Bondage, Bellhops and Violance. It's really a foursome of great directors with Allison Anders, Alexandre Rockwell, Robert Rodriguez and Quentin Tarantino. A Film made for latchkey kids and folks that like something more than same old story. As for the actors Tim Roth is amazing, he does it all from being seuduced to threating small children. He does a fine job portraying a loveable bellhop left alone his first nite on the job. Theres an (almost) allstar cast including Antonio Banderas, Madonna, Kathy Griffin, Salma Hayek, Marisa Tomei, Jennifer Beals, and the very sexy Quentin Tarantino. In all this marvous flick will always be a classic and just another spectacular example of what a masterpiece can be created when Robert Rodriguez and Quentin Tarantino get together.
---
Do you know something we don't?
Submit a correction or make a comment about this profile

Copyright ©2019 Soylent Communications