Marvin Gaye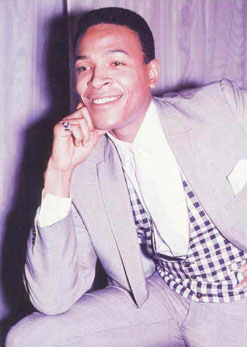 AKA Marvin Pentz Gay, Jr.
Born: 2-Apr-1939
Birthplace: Washington, DC
Died: 1-Apr-1984
Location of death: Los Angeles, CA [1]
Cause of death: Murder
Remains: Cremated (ashes scattered in the Pacific Ocean)

Gender: Male
Race or Ethnicity: Black
Sexual orientation: Straight
Occupation: Singer
Nationality: United States
Executive summary: Heard It Through the Grapevine
Military service: USAF
The son of an Apostolic minister, Marvin Gay, Jr., developed his love of music through the lively gatherings at his father's church. As a child he sang in the church choir and learned how to play both the piano and the drums, and by the age of 15 he had turned professional and joined the R&B outfit The Rainbows, abandoning his involvement in the church and seeking to escape his father's abusive tendencies. Before completing high school, Gay dropped out and enlisted in the Air Force, but it was not long before he was discharged and resumed his musical career. After a short period working with Bo Diddley as a member of The Marquees, he joined The Moonglows, a five-piece vocal group led by Harvey Fuqua. Fuqua assumed the role of mentor for the young singer, and after the dissolution of the group in 1960, it was he that brought Gay to Detroit and introduced him to Motown label head Berry Gordy. Gordy initially hired Gay as a session drummer and back-up vocalist, but by the following year (after marrying Gordy's sister Anna) he had secured a contract as a solo artist, adding an 'e' to his last name and releasing his first single Let Your Conscience Be Your Guide in May of 1961. A full-length album The Soulful Moods of Marvin Gaye arrived a month later.
Gaye's ambition was to establish himself as an interpreter of jazz standards in the vein of Nat King Cole, but his efforts in this direction during his first year at Motown were not particularly well-received. In 1962 he was convinced to change his direction towards mainstream R&B, and his first attempt -- Stubborn Kind Of Fellow -- was soon residing in the top ten. Gaye continued to build on this success as a solo performer with a consistent stream of hit songs, while also initiating a series of romantic duets with female vocalists (the first of these being Motown labelmate Mary Wells, later replaced by Kim Weston in 1964), expanding his role as a songwriter for other artists (co-writing Martha and the Vandellas' anthemic hit Dancing In The Streets), and working as a session musician for up-and-coming performers such as "Little" Stevie Wonder. By the arrival of 1965 and the release of the singles How Sweet It Is (To Be Loved By You) and Ain't That Peculiar, Gaye had established himself as Motown's top act and one of the most popular R&B performers in the world.
In 1967 Gaye was teamed up with his third singing partner, Tammi Terrell -- a Philadelphia native whose earlier output on Motown and various other labels had never quite managed to find an audience. The two quickly bonded on both a musical and personal (albeit platonic) level, and Gaye's long list of solo hits was soon supplemented with high-charting duet tracks like Ain't No Mountain High Enough and Ain't Nothing Like the Real Thing. Their pairing would prove to be short-lived, however, as Terrell's health began to deteriorate in 1968, eventually resulting in a collapse onstage during a performance with Gaye in Virginia. A subsequent examination revealed a tumor in her brain, which brought an immediate end to public appearances and steadily impaired her ability to perform in any context. The two still managed to collaborate in the studio for two more years, but by 1970 Terrell's battle with her cancer had been lost; her death plunged Gaye into a severe depression, and he abandoned all studio and stage work until 1971.
When Gaye at last resumed his musical activity, both the subject matter and style of his songs had undergone a marked change -- the former now concerning itself with social issues and the latter integrating jazz and classical influences to create a more sophisticated backdrop for his vocals. Motown initially resisted this direction and refused to release the material, but -- when the label at last relented later in the year -- the album What's Going On (1971) and its three singles became some of the most popular records in his catalogue. Yet another stylistic shift had taken place by the appearance of his next album Let's Get It On (1973), the singer now concerning himself with sexual rather than social matters, but once again Gaye's audience greeted the results with enthusiasm. He continued to maintain his popularity throughout the remainder of the decade with the albums I Want You (1976, a shift away from Motown soul and towards the current disco trends), Live at the Palladium (1977, also featuring the #1 dance single Got to Give It Up) and Here, My Dear (1978, a confessional, two-disc examination of his failed marriage); the arrival of the 1980s, however, found the singer overwhelmed by financial, marital and substance abuse problems that threatened to derail his career.
Gaye began work on his next effort (In Our Lifetime, 1981) in Europe, having been forced to leave the States due to problems with the Internal Revenue Service. The album was his least successful release in decades, and this, combined with the numerous conflicts that arose between the singer and Motown during its production, finally brought about the end of his long tenure with the label. Gaye then signed on with Columbia and immediately reversed the apparent decline in his fortunes with yet another hit single (Sexual Healing) and yet another highly popular album (Midnight Love). This improvement in his professional circumstances did not help with his personal difficulties, and the singer's cocaine addiction continued to impede his ability to create music. Plagued by depression and thoughts of suicide, Gaye returned to the U.S. in 1984, moving into his parent's home in Los Angeles with the intention of finally regaining control of his life. The relationship with his father had not improved much in the intervening years, and in April of that year, provoked by a verbal attack by Marvin Sr. against his mother, Gaye returned some of the physical abuse that the elder man had inflicted upon him during his childhood. Marvin Sr. responded by killing him with the handgun his son had given him several months earlier.
---
[1] 2201 S. Gramercy Place, Los Angeles, CA.

Father: Marvin Gay, Sr. (minister, d. 1998 in a rest home)
Brother: Frankie Gaye (musician, d. 2001)
Wife: Anna Gordy (sister of Berry Gordy, m. 1961, div. 1975, d. 31-Jan-2014)
Daughter: Nona Gaye (musician/actress, b. 1974)
Wife: Janis Hunter (m. 1977, div. 1981)


Marvin Gaye
Marvin Gaye and Mary Wells
Marvin Gaye and Kim Weston
Marvin Gaye and Tammi Terrell
The New Moonglows (1959-60)
Raped at age 15, by an uncle
Bankruptcy
Shot Los Angeles, CA (1-Apr-1984)
Died Intestate
Autopsy
Risk Factors: Depression, Cocaine


FILMOGRAPHY AS ACTOR
Chrome and Hot Leather (29-Sep-1971) · Jim
The Ballad of Andy Crocker (18-Nov-1969)
The T.A.M.I. Show (29-Dec-1964) · Himself





Requires Flash 7+ and Javascript.



Do you know something we don't?
Submit a correction or make a comment about this profile






Copyright ©2019 Soylent Communications