Nathan Lane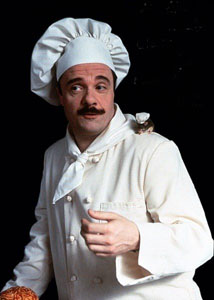 AKA Joseph Lane
Born: 3-Feb-1956
Birthplace: Jersey City, NJ

Gender: Male
Religion: Roman Catholic
Race or Ethnicity: White
Sexual orientation: Gay [1]
Occupation: Actor
Nationality: United States
Executive summary: The Producers
He was born Joseph Lane, and has described his childhood as something from a bad Eugene O'Neill play. His father was a truck driver who was rendered unemployable by eye disease, and eventually drank himself to death. His mother was a manic depressive whose mood swings grew progressively worse as her husband's health deteriorated, until she needed to be intermittently hospitalized. He was raised in large part by his older brother, the de facto man of the house, who encouraged his interest in theater. When he came out to his mother at 21, he says her immediate response was, "I'd rather you were dead."
Lane vividly remembers the first laughs he got on stage in a school play. It hit him like a much-needed hug, and he has spent his life honing his skill as a reliably funny comedic actor on stage and screen. On the strength of several high school plays, he earned a partial scholarship to study drama at St. Joseph's University in Philadelphia, but he was unable to come up with the rest of the required tuition. Instead he worked as a stand-up comic, auditioning and being rejected for small stage roles while supporting himself with a succession of odd jobs -- he was a bail bondsman, poll-taker, and delivered singing telegrams. After a few small parts in dinner theater and children's plays, he was finally hired for union work as an actor, but he needed a new name -- another actor was already billed as Joseph Lane. Borrowing from his favorite theatrical character, Nathan Detroit of the musical Guys and Dolls, he became Nathan Lane.
His big break was a TV sitcom, One of the Boys, with Mickey Rooney as a young-at-heart old-timer, Dana Carvey as his grandson, and Lane as their roommate. The show lasted only a few months but Lane was funny, and his increased visibility led to his first Broadway role, a revival of the comedy Present Laughter with George C. Scott.
In his first noteworthy film, he played a ghost in Ironweed with Jack Nicholson. He earned laughs with background roles in otherwise forgettable films like Joe Versus the Volcano with Tom Hanks and Meg Ryan and He Said, She Said with Kevin Bacon and Elizabeth Perkins. He voiced the feisty meerkat Timon, practically stealing Disney's cartoon The Lion King. Stardom came in drag in The Birdcage with Robin Williams, and again in the film adaptation of The Producers with Matthew Broderick.
Lane returned to TV for his second situation comedy in 1999, starring in Encore! Encore! with Joan Plowright as his mother. When the project was pitched, Lane was supposed to play a big-ego star who had just come out as gay, but when the program aired his character had been blanded down as a very heterosexual skirt-chaser. On Teacher's Pet, Lane voiced Spot, the dog who goes to school, and in 2003 he played a gay Senator in a CBS sitcom that was un-promoted and almost hidden on the schedule. Lane says working in television is reminiscent of the first 20 minutes of Saving Private Ryan.
Still primarily a stage actor, he has won two Tonys, for A Funny Thing Happened on the Way to the Forum and The Producers, both in roles originally played by Zero Mostel. He starred as his namesake Nathan Detroit in a hit 1992 Broadway revival of Guys and Dolls with Peter Gallagher, and had another long run as Oscar Madison in The Odd Couple, again opposite his Producers co-star Broderick.
---
[1] Toby Young, in How to Lose Friends and Alienate People (2003) relates a Vanity Fair interview where he asked Lane if he were Jewish, and then if he were gay. Lane walked out of the interview, and Graydon Carter confronted Young, reprimanding "What were you thinking? You can't ask Hollywood celebrities whether they're Jewish or gay. Just assume they're both Jewish and gay, okay?" For a later admission, see David Smith, "Bring on the Clown", The Observer, 7 November 2004, and also New York Times magazine of September 2001: "From the time I told my mother, I've been living openly. But really, I was born in 1956. I'm one of those old-fashioned homosexuals, not one of the newfangled ones who are born joining parades."

Father: Daniel Lane (truck driver, d. 1967 alcoholism)
Mother: Nora Lane (office worker)
Brother: Daniel Lane Jr.
Brother: Robert Lane


High School: St. Peter's Preparatory High School, Jersey City, NJ (1974)


Tony for A Funny Thing Happened On The Way To The Forum
Daytime Emmy 2001 for Teacher's Pet
Hollywood Walk of Fame 6801 Hollywood Boulevard
Risk Factors: Alcoholism


TELEVISION
George and Martha George (1999-2000)


FILMOGRAPHY AS ACTOR
Every Act of Life (23-Apr-2018) · Himself
The English Teacher (26-Apr-2013)
Elaine Stritch: Shoot Me (19-Apr-2013) · Himself
Mirror Mirror (15-Mar-2012)
The Nutcracker in 3D (24-Nov-2010)
Astro Boy (5-Oct-2009) · Hamegg [VOICE]
Swing Vote (20-May-2008)
Trumbo (10-Sep-2007) · Himself
Show Business: The Road to Broadway (19-Apr-2007) · Himself
The Producers (16-Dec-2005) · Max Bialystock
The Lion King 1½ (10-Feb-2004) [VOICE]
Win a Date with Tad Hamilton! (23-Jan-2004) · Richard Levy The Driven
Teacher's Pet (16-Jan-2004) [VOICE]
Nicholas Nickleby (27-Dec-2002) · Vincent Crummles
Austin Powers in Goldmember (22-Jul-2002) · Mysterious Disco Man
Stuart Little 2 (14-Jul-2002) [VOICE]
Laughter on the 23rd Floor (14-Jan-2001)
Trixie (28-Jun-2000)
Titan A.E. (13-Jun-2000) · Preed [VOICE]
Love's Labour's Lost (14-Feb-2000) · Costard
Isn't She Great (28-Jan-2000) · Irving Mansfield
Stuart Little (5-Dec-1999) · Voice of Snowbell [VOICE]
Get Bruce (24-Jan-1999) · Himself
At First Sight (12-Jan-1999) · Phil Webster
The Lion King II: Simba's Pride (27-Oct-1998) [VOICE]
Mouse Hunt (19-Dec-1997) · Ernie Smuntz
The Birdcage (8-Mar-1996) · Albert
The Boys Next Door (4-Feb-1996)
Jeffrey (4-Aug-1995)
The Lion King (15-Jun-1994) [VOICE]
Addams Family Values (19-Nov-1993) · Desk Sergeant
Life with Mikey (4-Jun-1993)
Frankie and Johnny (11-Oct-1991) · Tim
He Said, She Said (22-Feb-1991) · Wally Thurman
The Lemon Sisters (31-Aug-1990)
Joe Versus the Volcano (9-Mar-1990)
Ironweed (Feb-1988)





Requires Flash 7+ and Javascript.



Do you know something we don't?
Submit a correction or make a comment about this profile






Copyright ©2019 Soylent Communications