The Lion King (15-Jun-1994)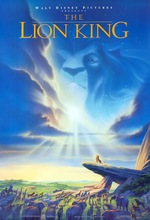 Directors: Roger Allers; Rob Minkoff
Writer: (over 2 dozen names credited)
Music: Hans Zimmer
Producer: Don Hahn
Keywords: Juvenile




Lion cub Simba is led to believe that he is responsible for the death of his father, Lion King Mustafa; as Uncle Scar rules, Simba flees into self-imposed exile and meets Timon and Pumbaa, who teach him the carefree Hakuna Matata. Disney's most popular animated film, by far. Won Oscars for Best Original Song "Can You Feel the Love Tonight" and Best Original Score; received two additional nominations for Best Original Song.
REVIEWS
Review by anonymous (posted on 31-Aug-2006)
This is my personal favorite film in the entire world. One of the things I love so much about this film is the story. It takes a simple foundation then takes it to a level where most disney films are afraid to go. They add deeper meanings and morals in which children can learn and adults can remember. The story may involve animals but their personalities and characteristics are ones we use and see in every day life. This film is about unconditional love, responsability, life and death, family, community, friendship, and facing your deepest fears. The characters are lovable and relatable. Simba is the character that you find yourself rooting for through the entire film. Mufasa is the King you have so much respect for. Timone and Pumbaa are the ones who will have your stomach hurting for all the laughter you'll be doing. And Scar's the villian you'd love to punch in the face for all his scheming and lying. The music is incredible. The songs are entertaining and emotional, with fantsatic vocals by all the performers. (Including the briliant Sir Elton John). The Score is astonishing. Capturing the essance of the African Savannah and the emotion of the story. The animation is at it's best. The backdrops of Pride Rock, it's kingdom, and the jungle are gorgous. The characters are well developed representing the real animals they are modeled after. While still giving each character thier own personality to stand out in. This has to be one the most hearfelt, entertaing, and inspirational films I have ever seen. And by far disney's best. Move over Beauty and the Beast. This film has touched critics and audiences of all ages alike for several years. This ranks right along side with The Little Mermaid and Aladdin. As a teenage girl you'd think I'd stay as far away from this genre as possible but that's how great this film is. A film that's kept me interested for years and doesn't show any signs of stopping.A classic now and forever.
---
Do you know something we don't?
Submit a correction or make a comment about this profile

Copyright ©2019 Soylent Communications