The Producers (16-Dec-2005)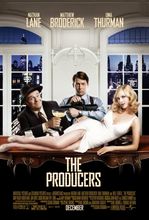 Director: Susan Stroman
Writers: Mel Brooks; Thomas Meehan
Music and Lyrics by: Mel Brooks
Producers: Mel Brooks; Jonathan Sanger
Keywords: Musical Comedy, Theatre, Nazis, Con Artists, New York




Remake of the 1968 film of the same name follows a fledgling Broadway producer and his unexpectedly successful farce.
ABSTRACT
Remake of The Producers (1968). Max Bialystock, once one of Broadway's hottest commodities, falls on hard times after a string of abject failures relegates him to "has-been" territory. Scheming accountant Leo Bloom, realizing that Max is still very much capable of raising money for his productions, suggests that he gather funds to put on a show so terrible, no one will see it and he will get to keep the resultant surplus. Max responds by staging a terrible play titled Springtime for Hitler; complications arise when it becomes a so-good-it's-bad cult phenomenon.
CAST
Nathan Lane
... Max Bialystock
Matthew Broderick
... Leo Bloom
Uma Thurman
... Ulla
and
Will Ferrell
... Franz Liebkind
Gary Beach
... Roger DeBris
Roger Bart
... Carmen Ghia
Eileen Essell
... Hold Me-Touch Me
David Huddleston
... Judge
Michael McKean
... Prison Trustee
Debra Monk
... Lick Me-Bite Me
Andrea Martin
... Kiss Me-Feel Me
and
Jon Lovitz
... Mr. Marks
Bryn Dowling
... Usherette
Meg Gillentine
... Usherette
Kevin Ligon
... Workman
Ray Wills
... Bum
Marilyn Sokol
... Bag Lady
Brad Oscar
... Cab Driver
Tory Ross
... Misfit Showgirl
Brent Barrett
... Brian The Set Designer
Peter Bartlett
... Kevin The Costume Designer
Jim Borstelmann
... Scott The Choreographer
Kathy Fitzgerald
... Shirley Markowitz
Jai Rodriguez
... Sabu The Houseboy
Mike Jackson
... Injun Jack
Keith Kuhl
... First Mate Kyle
Keith Lamelle Thomas
... Patrolman Pete
Roland Rusinek
... Jack Lapidus
Jim Borstelmann
... Donald Dinsmore
Jason Antoon
... Jason Green
Madeleine Doherty
... Mildred The Audition Accompanist
Jonathan Freeman
... Ticket Taker
Mike McGowan
... Workman #2
Timothy Gulan
... Gunter
Patrick S. Brady
... Conductor
John Barrowman
... Lead Tenor
Michael McCormick
... Mr. Shocked
Susann Fletcher
... Mrs. Bewildered
Michael Thomas Holmes
... Stormtrooper Rolf
Ronn Carroll
... Stormtrooper Mel
Ruth Williamson
... Snooty Woman
John C. Vennema
... Stuffy Man
Fred Applegate
... Officer O'Toole
Jerry Richardson
... Officer O'Reilly
Timothy Shew
... Officer O'Rourke
Danny Mastrogiorgio
... Jail Guard
Richard Kind
... Jury Foreman
Naomi Kakuk
... Stenographer
Thomas Meehan
... Max's Attorney
Brian Rogalski
... Convict #1
Jimmy Smagula
... Convict #2
James Biberi
... Sing Sing Prison Guard
Mel Brooks
... Hilda the Pigeon
Mel Brooks
... Tom the Cat
Samba Band
Julio Augustin
... Samba Band
Sebastian La Cause
... Samba Band
J. C. Montgomery
... Samba Band
Chris Vasquez
... Samba Band
REVIEWS
Review by JJ (posted on 19-Apr-2008)
Seeing that the only review for this movie was from "anonymous" who obviously has no sense of humor, I felt compelled to send my review of this hilarious movie. I will admit I am a Mel Brooks fan and was privileged to see the original movie of "The Producers" with Zero Mostel and Gene Wilder and believe me, the musical is even funnier! I also got to see the Broadway road company do this musical (also great). As far as I am concerned, this is one of the funniest movies I have seen. The songs are terrific, and the cast is top notch. Nathan Lane was brilliant as Bialystock, and Matthew Broaderick did a good job as Bloom. Oh, by the way, you "anonymous" twit, of course the fight scene between Bialystock and Bloom was staged and they were acting. Thats what they do for a living, act. That is why they call them "actors." Get a grip and get a sense of humor!
---
Review by Anonymous (posted on 9-Jun-2007)
This has to be the most stupidest movie around. I mean, the fight scene for example between Bialystock and Bloom. It looks like it is staged, and there has to be more acting into it than it already is. It looks more like an elementary school drama club, with people who aren't really doing anything as far as acting is concerned, and on top of that, the guys are just a bunch of hacks, pure and simple. Do yourself a favor, and don't watch this movie. It isn't worth it.
---
Do you know something we don't?
Submit a correction or make a comment about this profile

Copyright ©2019 Soylent Communications