Lewis Libby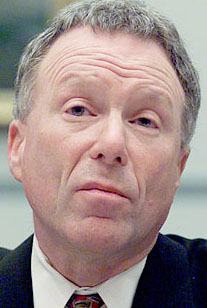 AKA Irve Lewis Libby, Jr.
Born: 22-Aug-1950
Birthplace: New Haven, CT

Gender: Male
Religion: Jewish [1]
Race or Ethnicity: White
Sexual orientation: Straight
Occupation: Government
Party Affiliation: Republican
Nationality: United States
Executive summary: Cheney's former Chief of Staff
Until recently chief of staff to Vice President Dick Cheney, Lewis Libby is alleged to be one of two administration sources who leaked the identity of Ambassador Joseph Wilson's wife, undercover CIA operative Valerie Plame. Libby resigned his White House position on 28 October 2005 after being indicted on five felony counts -- perjury, obstruction of justice, and lying to federal officials. He was the most powerful Chief of Staff for the most powerful Vice President in American history, and was very much one of the ultimate administration insiders. After the events of 2001 Libby was one of the neoconservatives who made the case for war against Iraq.
Lewis Libby was a highly-paid Philadelphia lawyer until his former law professor Paul Wolfowitz offered him a job in the Reagan State Department. Libby worked for Wolfowitz between 1981 and 1985, after which he returned to private practice. A few years later, Libby again served as Wolfowitz's assistant (this time at the Pentagon) from 1989 to 1993.
Libby is also one of the White House's foreign policy advisers, holding also a title of "Assistant to the President", and his name had been on the short list of possible replacements for National Security Advisor Condoleezza Rice.
Until the revelations of the indictment in 2005, it was not publicly known how much Libby talked to reporters, almost always on deep background. In at least one case he insisted that he be credited as a "former Capitol Hill staffer" instead of a more genuine title, to disguise his identity.
The day of the indictments, Libby's attorney, Joseph Tate, ascribed Libby's inconsistencies in testimony to the man's faulty "recollection" of the events. Apologists also have taken this tack. However, if as the indictment alleges, the testimony is more of a fabrication out of whole cloth -- an elaborate fiction intended to deceive investigation, a "faulty recollection" defense is unlikely to succeed. It is very clear that Libby was obsessed with Wilson and expended a not insignificant effort in attempts to sabotage his reputation, spanning several months.
On 31 October 2005, Cheney appointed David Addington as Libby's successor in the post of Chief of Staff, and John Hannah as his National Security Advisor. The latter has worked on Cheney's national security staff since March 2001.
Libby was personal lawyer to Marc Rich, 1985-2003.
---
[1] Member of Temple Rodef Shalom, Falls Church, VA. See Tulsa Jewish Review, Volume 76, Number 10.

Father: Irve Libby (investment banker)
Wife: Harriet Grant (2 children)


High School: Phillips Academy Andover (1968)
University: BA, Yale University (1972)
Law School: JD, Columbia Law School (1975)


Chief of Staff to the Vice President (2001-05)
Dechert LLP Partner (1995-2001)
US Defense Department Deputy Under Secretary for Policy (1992-93)
Dickstein Shapiro Morin & Oshinsky Partner (1986-89)
Dickstein Shapiro Morin & Oshinsky Associate (1985-86)
US National Security Council
Defense Policy Board
Schnader LLP
Northrop Grumman consultant
Council on Foreign Relations
District of Columbia Bar 1978
Hudson Institute Senior Advisor
Pennsylvania Bar Association 1976
Project for the New American Century (1997-)
RAND Corporation
Draft Deferment: Vietnam
Disbarred 20-Mar-2008
Obstruction of Justice indicted 28-Oct-2005, convicted 6-Mar-2007
Making False Statements indicted 28-Oct-2005, convicted 6-Mar-2007
Making False Statements indicted 28-Oct-2005, not guilty 6-Mar-2007
Perjury indicted 28-Oct-2005, convicted 6-Mar-2007
Conspiracy per civil lawsuit filed by Joseph Wilson and Valerie Plame (13-Jul-2006)


Author of books:
The Apprentice (1996, novel)





Requires Flash 7+ and Javascript.



Do you know something we don't?
Submit a correction or make a comment about this profile






Copyright ©2019 Soylent Communications