Valerie Plame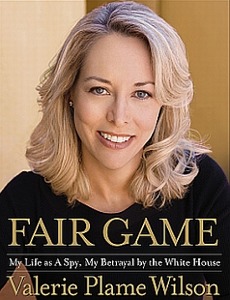 AKA Valerie Elise Plame
Born: 19-Apr-1963
Birthplace: Anchorage, AK

Gender: Female
Religion: Anglican/Episcopalian
Race or Ethnicity: White
Sexual orientation: Straight
Occupation: Spy
Party Affiliation: Democratic
Nationality: United States
Executive summary: CIA operative outed by Bush officials
Born at a military hospital in Anchorage, Alaska, to a Lieutenant Colonel in the Air Force, Valerie Plame grew up to be one of the world's most famous secret agents. After graduating from Pennsylvania State University with a degree in International Relations, Plame was recruited by the CIA and promptly instructed in the spying arts, which included steganography, pursuit driving, blowing up cars, and proficiency with the AK-47 rifle. After handling a series of overseas assignments, the CIA was sufficiently happy with her performance to generate a "nonofficial cover" for her. She was given a fake job which had no discernible ties to the US government, making her a genuine undercover agent.
But then Plame's husband upset powerful individuals inside the White House. Ambassador Joseph Wilson had announced to the world that the Bush administration was lying about Saddam Hussein's reported attempts to purchase uranium yellowcake in Niger, one of the key claims in the President's 2003 State of the Union address. According to Ambassador Wilson, he had previously investigated the claim on behalf of US intelligence services and informed them that the whole story was utterly bogus.
This revelation did not reflect well on Bush. Several individuals -- Richard Armitage (innocently), Karl Rove (with malice) and Lewis Libby (also with malice) -- all leaked Plame's identity to various journalists. Columnist Robert Novak disclosed her role as CIA operative to the entire world in his 14 July 2003 column:
Wilson never worked for the CIA, but his wife, Valerie Plame, is an Agency operative on weapons of mass destruction. Two senior administration officials told me Wilson's wife suggested sending him to Niger to investigate. The CIA says its counter-proliferation officials selected Wilson and asked his wife to contact him. "I will not answer any question about my wife," Wilson told me.
It is a federal crime to knowingly disclose the name of a covert American secret agent, under the Intelligence Identities Protection Act of 1982. This is difficult to prove in the best of circumstances, and perhaps impossible in the face of a hostile White House. The disclosure by Armitage was actually known to investigator Patrick J. Fitzgerald at the start of his investigation. But somewhere during the complicated investigation Lewis Libby allegedly committed perjury, a felony for which he is presently being prosecuted.

Father: Samuel D. Plame (USAF)
Mother: Diane E. Plame (b. 1929)
Brother: Robert M. Plame
Husband: (div.)
Husband: Joseph Wilson (diplomat, m. 3-Apr-1998)
Son: Trevor (twin, b. Jan-2000)
Daughter: Samantha (twin, b. Jan-2000)


High School: Lower Moreland High School, Huntingdon Valley, PA (1981)
University: BA Journalism, Pennsylvania State University (1984)
University: MA, London School of Economics
University: MA, College of Europe, Bruges, Belgium


CIA employee Operative (1985-2006)
Risk Factors: Postpartum Depression





Requires Flash 7+ and Javascript.



Do you know something we don't?
Submit a correction or make a comment about this profile






Copyright ©2019 Soylent Communications