Gloria Stuart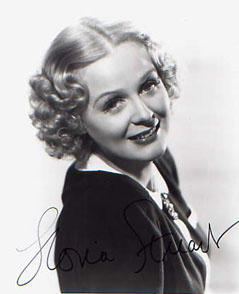 AKA Gloria Frances Stewart
Born: 4-Jul-1910 [1]
Birthplace: Santa Monica, CA
Died: 27-Sep-2010
Location of death: Los Angeles, CA
Cause of death: Cancer - Lung
Remains: Cremated

Gender: Female
Race or Ethnicity: White
Sexual orientation: Straight
Occupation: Actor, Artist
Nationality: United States
Executive summary: Rose in Titanic
Gloria Stuart appeared in more than forty films during the 1930s and early 1940s, most of which have been forgotten. Decades later, she was remembered with James Cameron's 1997 blockbuster, Titanic, playing an elderly woman who had survived the ship's sinking.
Her mother claimed that her father was descended from the royal Stewarts, but Stuart changed the spelling because she thought that having six letters in both her first and last names would look better when her name was up in lights. She was a flapper in the 1920s. Although sororities were banned at her high school, she and her friends formed one and called themselves the Damma Goto Helltas. She attended just a few semesters of college before marrying.
While appearing on stage in Ibsen's The Seagulls, she was seen by two casting executives, one from Universal, one from Paramount. Separately, each asked her to film a screen test the next day, and she wisely said yes to both offers. After her screen tests, they both offered her contracts, and she not-so-wisely signed both. The studios took the matter to court, and an arbitrator ruled that Universal's contract, being signed first, was valid. Stuart is dismissive of most of her early films, saying that Universal was a "B-movie studio" at the time.
Stuart was best remembered for her work in horror films, including two of James Whale's -- The Old Dark House and the definitive Invisible Man. She was also featured in the Don Ameche version of The Three Musketeers, and Rebecca of Sunnybrook Farm with Shirley Temple.
Stuart was one of the founding members of the Screen Actors Guild in 1933, but retired from films twice, in 1940 to concentrate on stage acting, and again in 1946, when she began selling her paintings, which were featured in several shows in New York and Europe by the early 1960s. Stuart took her first acting job in almost 30 years in the 1975 TV movie The Legend Of Lizzie Borden. She returned to the big screen with 1982's My Favorite Year. In Titanic, Kate Winslet and Stuart played the same character at younger and older ages, marking the first time two actresses were both nominated for Oscars playing the same character in the same film. At 90, she was also the oldest Oscar acting nominee ever.
When she published her autobiography, I Just Kept Hoping, it angered some readers who wanted her to be the little old lady from Titanic. Stuart instead announced that she was an advocate of free love, and encouraged women to gratify themselves. "I do not need a man. I am devoted to masturbation. I think it's probably one of the most pleasurable experiences in life. I had and have no guilt whatsoever when it comes to pleasuring myself."
The book begins with a description of the many animals that lived in and near the ocean when she was a child, species that are now gone. "I belong to every organization there is that has to do with saving the environment," says Stuart. "I am so anti-Mr. Bush and his forestry people and mining people and oil people and gas people that want to take the arctic away from us and drill in the ocean and cut down the forests. I just think it's so wicked. I think it's a sin."
Her second husband, Arthur Sheekman, was a newspaper writer who also wrote for Hollywood, with credits ranging from the Marx Brothers' Duck Soup to My Three Sons. Her son-in-law, Gene Thompson, was a TV scriptwriter for My Three Sons, The Flying Nun, and Columbo.
---
[1] Current Biography (1999) states that there is dispute as to whether she was born on July 4 or July 14. Most sources, including nearly every published obituary, have settled on the July 4 date. Steven Smith, "Back in Bloom", The Los Angeles Times, 20 December 1997 gives the 14 date. Stuart's entry in the Social Security Death Index, under the name "Gloria Stuart Sheekman", gives 4 July 1910.

Father: Frank Stewart (attorney, d. 1919 infection from auto accident)
Mother: Alice Deidrick Stewart (homemaker, b. 1884, d. 24-Oct-1959)
Father: Fred J. Finch (stepfather, banker, married Stewart)
Brother: Frank Finch (sportswriter, Los Angeles Times, b. 1911)
Brother: Thomas Stewart (b. 1912, died in infancy, spinal meningitis)
Boyfriend: Carl Meyer
Boyfriend: Ari Chronus
Husband: Blair Gordon Newell (artist, m 21-Jun-1930, div. 1934)
Husband: Arthur Sheekman (newspaper columnist, b. 5-Feb-1901, m. 29-Jul-1934, d. 12-Jan-1978, one daughter)
Daughter: Sylvia (Sheekman) Thompson (b. 19-Jun-1935, author, The Kitchen Garden)
Boyfriend: Ward Ritchie (publisher, b. 1906, dated 1981-83, cohabited 1983-96, d. 1996)


High School: Santa Monica High School, Santa Monica, CA (1927)
University: University of California at Berkeley (dropped out)


Hollywood Anti-Nazi League Founding Member (1936)
Hollywood Walk of Fame 27-Sep-2000 at 6718 Hollywood Blvd.
Tonsillectomy
Risk Factors: Smoking, Lung Cancer, Breast Cancer


FILMOGRAPHY AS ACTOR
Chris & Don: A Love Story (31-Aug-2007) · Herself
Land of Plenty (9-Sep-2004) · Old Lady
The Million Dollar Hotel (9-Feb-2000) · Jessica
My Mother, the Spy (2000)
The Love Letter (21-May-1999) · Eleanor
Universal Horror (8-Oct-1998) · Herself
Titanic (1-Nov-1997) · Old Rose
Wildcats (14-Feb-1986)
Mass Appeal (6-Dec-1984)
My Favorite Year (1-Oct-1982) · Mrs. Horn
The Two Worlds of Jennie Logan (31-Oct-1979)
Flood! (24-Nov-1976)
The Legend of Lizzie Borden (10-Feb-1975)
Enemy of Women (10-Nov-1944)
The Whistler (30-Mar-1944) · Alice Walker
The Three Musketeers (17-Feb-1939)
Time Out for Murder (25-Sep-1938)
Island in the Sky (1-Apr-1938) · Julie Hayes
Rebecca of Sunnybrook Farm (18-Mar-1938) · Gwen Warren
Life Begins in College (1-Oct-1937)
Wanted: Jane Turner (27-Nov-1936)
36 Hours to Kill (24-Jul-1936)
Poor Little Rich Girl (24-Jul-1936)
The Prisoner of Shark Island (12-Feb-1936)
Professional Soldier (27-Dec-1935) · Countess Sonia
Gold Diggers of 1935 (15-Mar-1935) · Ann Prentiss
Maybe It's Love (12-Jan-1935)
Here Comes the Navy (28-Jun-1934) · Dorothy
Roman Scandals (25-Dec-1933)
The Invisible Man (13-Nov-1933) · Flora Cranley
The Kiss Before the Mirror (4-May-1933)
Sweepings (23-Mar-1933) · Phoebe
Air Mail (3-Nov-1932)
The Old Dark House (20-Oct-1932) · Margaret Waverton
Back Street (1-Sep-1932)
Street of Women (4-Jun-1932) · Dodo Baldwin


Author of books:
I Just Kept Hoping (1999, memoir)





Requires Flash 7+ and Javascript.



Do you know something we don't?
Submit a correction or make a comment about this profile






Copyright ©2019 Soylent Communications