My Favorite Year (1-Oct-1982)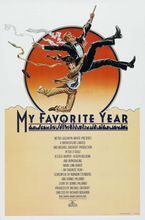 Director: Richard Benjamin
Writers: Norman Steinberg; Dennis Palumbo
Music by: Ralph Burns
Producer: Michael Gruskoff
Keywords: Comedy




Peter O'Toole is Alan Swann, an aging, alcoholic, and womanizing swashbuckler who still commands enormous star power, scheduled to be special guest on a live television variety show. Benji Stone's assignment is to keep him out of trouble until screen time. Patterned after Errol Flynn, who almost appeared on Sid Caesar's Your Show of Shows. For this performance Peter O'Toole received an Academy Award nomination for Best Actor.
CAST
Peter O'Toole
... Alan Swann
Jessica Harper
... K. C. Downing
Joseph Bologna
... King Kaiser
Bill Macy
... Sy Benson
Lainie Kazan
... Belle Carroca
Introducing
Mark Linn-Baker
... Benjy Stone
Co-Starring
Anne De Salvo
... Alice Miller
Basil Hoffman
... Herb Lee
Lou Jacobi
... Uncle Morty
Adolph Green
... Leo Silver
Tony DiBenedetto
... Alfi Bambacelli
George Wyner
... Myron Fein
Selma Diamond
... Lil
and
Cameron Mitchell
... Karl Rojeck
Jenny Neumann
... Connie
Corinne Bohrer
... Bonnie
George Marshall Ruge
... Lord Drummond
Barbara Horan
... Lady Eleanor
John Welsh
... Cubby Brown
Richard Brestoff
... Stage Manager
Jed Mills
... Member #1
Ted Grossman
... Harris
Teresa Ganzel
... Dumpling
Phil Bruns
... Federal Marshal Holt
Archie Hahn
... Delivery Boy
Karen Haber
... Vivian
Priscilla Kovary
... Priscilla
Eleanor Heutschy
... Gossip Columnist
Peter Eastman
... Maitre D'
Fox Harris
... Curt
Rieneke
... Andrea
Howard George
... Artie
Bob Windsor
... Alvin Horn
Gloria Stuart
... Mrs. Horn
Clyde McLeod
... Club Dancer
Harry Bill Roberts
... Orchestra Leader
Ramon Sison
... Rookie Carroca
Annette Robyns
... Sadie
Pearl Shear
... Mrs. Kessler
Stanley Brock
... Mr. Berkowitz
Martin Garner
... Mr. Cantor
John Medici
... Scalfoni
Robert G. Denison
... Stockbroker #1
John Christy Ewing
... Stockbroker #2
Vincent Sardi
... Policeman
Katie McClain
... Tess
Norman Steinberg
... Sandy
Richard Warwick
... Technical Director
Rex Benson
... Makeup Man
Denver Mattson
... Thug #1
George Fisher
... Thug #2
Bob Terhune
... Thug #3
Nick Dimitri
... Thug #4
Phil Adams
... Stagehand #1
Richard Butler
... Stagehand #2
REVIEWS
Review by Steve L (posted on 18-Feb-2005)
Very enjoyable movie! Peter O'Toole well-earned the Oscar nomination. Captured the spirit and look of 1950's television with all its foibles. Directing efforts were marvelous and actors took liberties without going too overboard. See this film along with Quiz Show and you'll capture the feel of the 50's.
---
Do you know something we don't?
Submit a correction or make a comment about this profile

Copyright ©2019 Soylent Communications