Margaret Sanger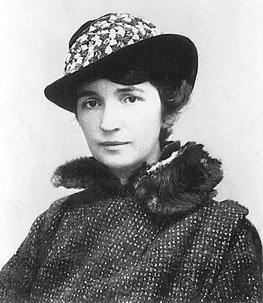 AKA Margaret Louise Higgins
Born: 14-Sep-1879
Birthplace: Corning, NY
Died: 6-Sep-1966
Location of death: Tucson, AZ
Cause of death: Heart Failure
Remains: Buried, Fishkill Rural Cemetery, Fishkill, NY

Gender: Female
Religion: Atheist
Race or Ethnicity: White
Sexual orientation: Straight
Occupation: Activist
Party Affiliation: Republican [1]
Nationality: United States
Executive summary: Birth control advocate
Margaret Sanger's mother had eighteen pregnancies, but after miscarriages and the deaths of several of her young children, Sanger had only nine surviving siblings. She trained as a nurse, and worked at a charity clinic in the slums of New York City's Lower East Side, where in 1912 she helped a patient named Sadie Sachs recover from a self-induced abortion. Sachs was a mother of three with medical problems who had been warned that another pregnancy would probably kill her, and Sanger listened as she asked a doctor how to prevent pregnancies, but his only advice was that she should tell her husband to "sleep on the roof." When Sachs became pregnant again, fearing for her life, she performed another self-abortion, leading to an infection which killed her.
These events and numerous similar cases radicalized Sanger, and she began reading everything she could find on the subject of contraceptives, but in the 1910s not much could be found. In 1913 she traveled to Europe to further her research, and upon her return to America she began writing a newspaper column offering contraceptive advice, in which she coined the term "birth control." Her writings included such shocking recommendations as condoms for men and spring-loaded vaginal diaphragms for women. At the time, contraception was against the law and the only legal way for a married couple to control birth was the rhythm method, so her frank discussion of reproduction led to charges of obscenity under the Comstock Act.
She opened America's first birth control clinic on 16 October 1916 in New York City, where it was raided by police and closed ten days later. In court, however, a judge ruled that distribution of contraceptive advice and materials was lawful for the purpose of preventing and treating venereal diseases. In 1921 she was charged with disorderly conduct, after a scuffle with police officers shutting down a public debate ("Birth Control: Is It Moral?") in which she had been scheduled to participate. In the same year she founded the American Birth Control League, which renamed itself Planned Parenthood in 1942; the organization, however, considers Sanger's first clinic opening in 1916 to be its founding date. In 1936 her work was cited in a landmark court case, United States v. One Package, which decided that it was not a violation of federal law for a physician to receive a contraceptive device in the mail. In 1948, Sanger learned of Gregory Pincus's research into developing a birth-control pill, and she had his work funded in part through a grant from Planned Parenthood. In 1965, the U.S. Supreme Court struck down laws against contraception in Griswold v. Connecticut, overturning the conviction of a Planned Parenthood worker for dispensing birth control advice to married couples.
Sanger was a radical bohemian and a proponent of free love, with out-of-wedlock lovers including H. G. Wells and English author Hugh de Selincourt. Her friends included Alexander Berkman, Havelock Ellis, Emma Goldman, Big Bill Haywood, and Mabel Dodge Luhan. Her second husband, James Noah H. Slee, was the millionaire manufacturer of 3-in-1 Household Oil, and used his wealth to bankroll her efforts, including smuggling then-illegal contraceptive products from Europe into America. In her younger years, she was a socialist and a Wobbly; in her later years she was a registered Republican. In the 1940s and '50s, local Planned Parenthood meetings, as well as meetings of the Women's Republican Club, were held in Sanger's Tucson home. She opposed John F. Kennedy's 1960 candidacy for President, fearing that his membership in the Roman Catholic Church would lead him to oppose or crack down on birth control.
She was a supporter of eugenics, the now-discredited philosophy of improving the human race through selective breeding and sterilization, but Sanger was harangued by hardline eugenicists for what they considered her "half-hearted" commitment to eugenics, and for her refusal to include race as a factor for determining genetic fitness. Though widely considered repugnant today, it should be noted that eugenics was not particularly controversial in Sanger's time, and was in fact generally accepted among academics and political leaders. Prominent supporters of eugenics included Alexander Graham Bell, Winston Churchill, John Harvey Kellogg, Charles Lindbergh, John D. Rockefeller, Theodore Roosevelt, George Bernard Shaw, and even W. E. B. Du Bois and Helen Keller. Sanger was certainly no Nazi -- she was active in the Anti-Nazi Committee, vocally opposing Adolf Hitler's philosophy and rise to power years before the Holocaust was revealed.
She once addressed a meeting of a women's auxiliary of the Ku Klux Klan, and made no apologies for it -- she accepted speaking invitations from virtually any group willing to listen -- but she was never a member of the KKK or a sympathizer. Her views on race were generally progressive for her era, but an excerpt from a 1939 letter Sanger wrote is frequently cited for shock value: "We do not want word to go out that we want to exterminate the Negro population, and the minister is the man who can straighten out that idea if it ever occurs to any of their more rebellious members." In context, however, it is clear that Sanger was discussing ways to avoid a mistaken impression about Planned Parenthood's "Negro Project," which sought to provide access to birth control for Southern Blacks. There is no evidence that Sanger or Planned Parenthood tried to coerce Blacks (or anyone) into using birth control.
She was adamantly opposed to abortion except in emergency situations, and said: "Although abortion may be resorted to in order to save the life of the mother, the practice of it merely for limitation of offspring is dangerous and vicious." Planned Parenthood, of course, offered no abortion services while Sanger was alive, as abortion was illegal in America until 1973, seven years after Sanger's death. She also spoke out against prostitution and pornography.
---
[1] In later years.

Father: Michael Hennessey Higgins (tombstone cutter)
Mother: Anne Purcell Higgins (b. 1858, d. 1898 tuberculosis)
Sister: Ethel Bryne (nurse, b. circa 1883)
Sister: Anna Higgins (b. 1872, d. 1944, buried next to Sanger)
Husband: William Sanger (architect, b. 1873, m. 1902, three children, sep. 1914, div. 1921, d. 1961)
Son: Stuart Sanger (physician, b. 1903, d. 1995)
Son: Grant Sanger (physician, b. 1907, d. 1989)
Daughter: Peggy (b. 1909, d. 1915 pneumonia)
Slept with: Hugh de Selincourt (author)
Slept with: H. G. Wells (author)
Husband: James Noah H. Slee (manufacturing magnate, b. 1861, m. 1922 until his death 1941)


University: Claverack College


American Civil Liberties Union
Industrial Workers of the World
Planned Parenthood
Humanist of the Year 1957
National Women's Hall of Fame 1981
Obscenity 1914 (charge dismissed)
Disorderly Conduct 1921 (charge dismissed)
Tonsillectomy (Sep-1921)
Cholecystectomy New York City (1-Nov-1938)
Heart Attack 1949
Assisted by the ACLU 1929
Risk Factors: Tuberculosis


Is the subject of books:
The Margaret Sanger Story and the Fight for Birth Control, 1955, BY: Lawrence Lader, DETAILS: (biography)


Author of books:
What Every Mother Should Know (1917)
My Fight for Birth Control (1931)
Margaret Sanger: An Autobiography (1938, memoir)





Requires Flash 7+ and Javascript.



Do you know something we don't?
Submit a correction or make a comment about this profile






Copyright ©2019 Soylent Communications