Victoria Principal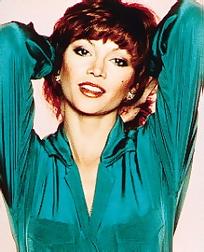 AKA Concettina Ree Principale
Born: 3-Jan-1950 [1]
Birthplace: Fukuoka, Japan

Gender: Female
Race or Ethnicity: White
Sexual orientation: Straight
Occupation: Actor, Model
Nationality: United States
Executive summary: Pamela Barnes Ewing on Dallas
Victoria Principal was raised in a military family, which necessitated frequent moves, and grew up in London, Puerto Rico, Massachusetts, and Georgia. She started appearing in TV commercials at the age of 5. After studying at London's Royal Academy of Dramatic Art, she worked as a model while looking for acting work. She won the Miss Miami beauty pageant in 1969, and made her film debut as Paul Newman's Mexican mistress in The Life and Times of Judge Roy Bean. She posed for Playboy in September 1973, and played a sexy biker chick in the 1974 disaster epic Earthquake with Charlton Heston and Richard Roundtree.
On the long-running prime time soap opera Dallas, she played Pamela Barnes Ewing, the wife of Patrick Duffy's Bobby Ewing, and sister-in-law of that scheming bastard, J. R. Ewing (Larry Hagman). She left Dallas after nine years, at about the time the show jumped the shark (co-star Duffy had just returned from the dead, revealing that the previous season had all been a dream). After Dallas, she wrote several books on fitness and nutrition, and has marketed her own skin care products, ventures which have reportedly earned her millions more than her acting has.
In a 1993 interview with TV Guide, Principal said, "I know there have been rumors that I didn't have children because of my vanity. I didn't have children because I can't have children. It was the luck of the draw... It is a loss." Some insiders whisper that her break-up with BeeGee Andy Gibb precipitated his spiraling drug abuse, depression, and eventual suicide.
Principal is active with PETA, publicly supports abortion rights, and has spoken out against domestic violence. In 1970, she was beaten up by then-boyfriend Max Baer, Jr., who remembered the incident 35 years later by saying, "She deserved it. She was acting like a bitch." In 2003, she was briefly hospitalized and her husband, surgeon Harry Glassman, was arrested on suspicion of spousal abuse. Charges were never filed, and Principal issued a press release stating, "We have had a loving relationship for over 20 years. We've been and remain happily married. It is outrageous to believe we would inflict injury on one another or harm each other in any way."
---
[1] Often reported as 1946. From an interview on UltimateDallas.com, clarifying: "I was born January 3rd 1950. I'm 57 years old and I have just made my passport available to IMDB.com, obviously doing so is a little dangerous, you don't want anyone to have your passport but I felt that was the only way to clear this up once and for all. My name is my real name; my age is my real age. Someone on the internet, years ago, printed a different age than I am and I'm in the process legally of clearing that up, because I have never lied about my age."

Father: Victor Principal (US Air Force sergeant)
Mother: Bertha Ree Veal
Boyfriend: Max Baer, Jr.
Boyfriend: Bernie Cornfeld (mutual funds magnate, dated for 2 years)
Boyfriend: Frank Sinatra
Boyfriend: Desi Arnaz, Jr.
Boyfriend: Maharaja of Palitana
Boyfriend: Lance Rentzel
Boyfriend: Andy Gibb (1981-82)
Boyfriend: Anthony Perkins (1970s)
Husband: Christopher Skinner (m. 1978, div. Dec-1980)
Husband: Harry Glassman (plastic surgeon, m. 22-Jun-1985, sep. 25-Mar-2006, div. 27-Dec-2006)


High School: South Dade Senior High School, Miami-Dade, Florida
University: Miami-Dade Community College
University: Royal Academy of Dramatic Arts, London, England


People for the Ethical Treatment of Animals
Beauty Contest Miss Miami (1969)
Posed Naked for Playboy
Risk Factors: Smoking


TELEVISION
Titans Gwen Williams (2000-01)
Providence Donna Tupperman (2000)
Jack & Jill Cecilia Barrett (1999-2001)
Dallas Pamela Barnes Ewing (1978-87)


FILMOGRAPHY AS ACTOR
The Abduction (7-Jul-1996) · Kate Finley
The Burden of Proof (9-Feb-1992)
Vigilante Force (9-Sep-1976) · Linda Christopher
I Will, I Will... for Now (18-Feb-1976)
Earthquake (15-Nov-1974) · Rosa
The Naked Ape (1-Aug-1973)
The Life and Times of Judge Roy Bean (18-Dec-1972)


Official Website:
http://www.victoriaprincipal.com/




Requires Flash 7+ and Javascript.



Do you know something we don't?
Submit a correction or make a comment about this profile






Copyright ©2019 Soylent Communications