Peter Boyle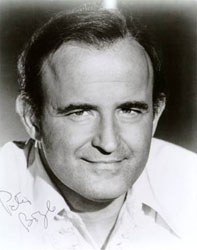 AKA Peter Boyle Jr.
Born: 18-Oct-1935
Birthplace: Philadelphia, PA
Died: 12-Dec-2006
Location of death: New York City [1]
Cause of death: unspecified
Remains: Cremated

Gender: Male
Religion: Roman Catholic
Race or Ethnicity: White
Sexual orientation: Straight
Occupation: Actor, Activist
Party Affiliation: Democratic
Nationality: United States
Executive summary: Young Frankenstein
Military service: US Army
In his most famous roles, Peter Boyle played the singing-and-dancing monster in Mel Brooks' Young Frankenstein with Gene Wilder, and the perpetually cranky grandfather in TV's Everybody Loves Raymond with Ray Romano and Doris Roberts.
Boyle's father was a cartoonist who hosted Pete's Gang, a local kiddies' show on Philadelphia's Channel 3, where he would draw quick sketches and show them to the camera before cuing up a cartoon or a "Little Rascals" short. Junior Boyle grew up with little interest in performing, and instead became a monk with the Congregation of Christian Brothers, an order affiliated with the Catholic church.
Within a few years, though, it became clear Boyle was too funny for a monastery. Leaving the order, he honed his comedic talents with Chicago's Second City in the late 1960s, where his easygoing attitude was radicalized by the 1968 Democratic National Convention. His first film role, in the powerhouse women's film The Group with Candice Bergen and Joan Hackett, was so small he was not even credited. He first caught critics' attention as the redneck racist Joe in 1970, but all through the era of the Vietnam war Boyle was among Hollywood's most radical leftists.
Alongside Jane Fonda and Donald Sutherland, he performed in a series of anti-war rallies held just outside American military bases in Europe and Asia. He married Loraine Alterman, a rock'n'roll reporter and critic who wrote for Rolling Stone, Melody Maker, and The New York Times, and was among the more influential rock writers of her era. Known for her acerbic wit, she once dismissed John Denver's music as "corny sentimentality that just doesn't register on any deep level" and panned Andrew Lloyd Webber's Jesus Christ Superstar as "unmitigated boredom", adding that she "couldn't wait until they nailed Jesus". When Boyle and Alterman were married in a small ceremony at the United Nations chapel, the best man was John Lennon.
Among his many impressive character roles in feature films, Boyle ran the gun clinic in the riotous political drama Medium Cool with Robert Forster and Peter Bonerz, played a more philosophical taxi driver in Taxi Driver with Robert De Niro, managed Robert Redford's campaign for Senate in The Candidate, tended bar and snitched to the cops in The Friends of Eddie Coyle with Robert Mitchum, oversaw the deep space mine in Outland with Sean Connery, played Billy Bob Thornton's redneck father in Monster's Ball, and had a small but striking role as a cop in Spike Lee's Malcolm X. In films made for television, he played Senator Joseph McCarthy in Tail Gunner Joe, and Iran-Contra criminal John Poindexter in Guts and Glory: The Rise and Fall of Oliver North.
His first TV series was Comedy Tonight in 1970, a sketch show that also featured Robert Klein and Madeline Kahn and lasted barely a month. In the 1986 sitcom Joe Bash, he played a semi-crooked cop approaching retirement -- it lasted two months. In a more dramatic vein, he played Gary Cole's father in the radio talk show themed Midnight Caller, and took the Ernest Borgnine role in a TV mini-series of From Here to Eternity. In a popular episode of The X-Files, Boyle played a psychic who predicted that Mulder would die of auto-erotic asphyxiation.
Hosting Saturday Night Live on Valentine's Day in 1976, Boyle sang "My Funny Valentine" to his then-girlfriend Alterman -- while she, for comic effect, made out with another man in the audience. In a memorable skit later that night, Boyle and John Belushi played "Dueling Brandos", trading lines from Marlon Brando films.
Boyle suffered a mild stroke in 1990, and had a heart attack on the set of Everyone Loves Raymond in 1999. He was back at work within a few weeks.
---
[1] New York Presbyterian Hospital, New York City.

Father: Peter Boyle Sr. (cartoonist)
Mother: Alice Boyle
Wife: Loraine Alterman (rock'n'roll writer, b. 1942, dated 1975-76, m. 1977, 2 daughters)
Daughter: Lucy Boyle
Daughter: Amy Boyle


University: LaSalle University (1957)


John Kerry for President
Emmy 1996 for The X Files (guest star)
Second City
Stroke 1990
Heart Attack (Mar-1999)
Angioplasty (Mar-1999)
Cholecystectomy (Jul-2002)
Irish Ancestry
Risk Factors: Obesity


TELEVISION
Everybody Loves Raymond Frank Barone (1996-2005)


FILMOGRAPHY AS ACTOR
Birth of the Living Dead (18-Oct-2013) · Himself
All Roads Lead Home (27-Jan-2008)
The Santa Clause 3: The Escape Clause (2-Nov-2006)
Scooby Doo 2: Monsters Unleashed (20-Mar-2004) · Old Man Wickles
Master Spy: The Robert Hanssen Story (10-Nov-2002)
The Adventures of Pluto Nash (16-Aug-2002)
Monster's Ball (11-Nov-2001) · Buck Grotowski
Doctor Dolittle (13-Jun-1998) · Calloway
Species II (10-Apr-1998)
A Deadly Vision (21-Apr-1997)
That Darn Cat (14-Feb-1997) · Pa
Final Vendetta (18-May-1996)
In the Lake of the Woods (5-Mar-1996)
While You Were Sleeping (21-Apr-1995) · Ox
Born to Be Wild (31-Mar-1995)
Exquisite Tenderness (13-Jan-1995)
The Santa Clause (11-Nov-1994)
Killer (14-Sep-1994)
The Shadow (1-Jul-1994) · Moe Shrevnitz
Royce (1994)
Nervous Ticks (3-Sep-1993)
Taking the Heat (6-Jun-1993)
Malcolm X (18-Nov-1992) · Capt. Green
Honeymoon in Vegas (28-Aug-1992)
Death and the Compass (5-Aug-1992)
Kickboxer 2: The Road Back (14-Jun-1991) · Justin Maciah
Men of Respect (18-Jan-1991) · Duffy
Solar Crisis (14-Jul-1990)
Challenger (25-Feb-1990)
Guts and Glory: The Rise and Fall of Oliver North (30-Apr-1989)
Speed Zone! (21-Apr-1989)
The Dream Team (7-Apr-1989) · Jack McDermott
Red Heat (14-Jun-1988) · Lou Donnelly
The In Crowd (Feb-1988) · "Uncle Pete" Boyle
Walker (4-Dec-1987) · Cornelius Vanderbilt
Echoes In The Darkness (1-Nov-1987)
Surrender (9-Oct-1987)
Conspiracy: The Trial of the Chicago 8 (16-May-1987)
Turk 182! (15-Feb-1985) · Det. Ryan
Johnny Dangerously (21-Dec-1984) · Dundee
Yellowbeard (24-Jun-1983)
Hammett (12-Sep-1982) · Jimmy Ryan
Outland (2-Sep-1981)
In God We Trust (26-Sep-1980)
Where the Buffalo Roam (25-Apr-1980) · Lazlo
Beyond the Poseidon Adventure (18-May-1979) · Frank Mazzetti
The Brinks Job (6-Apr-1979) · Joe McGinnis
From Here to Eternity (14-Feb-1979)
Hardcore (9-Feb-1979)
F.I.S.T. (13-Apr-1978)
Swashbuckler (29-Jul-1976)
Taxi Driver (8-Feb-1976) · Wizard
Young Frankenstein (15-Dec-1974) · The Monster
Crazy Joe (15-Feb-1974)
Kid Blue (29-Sep-1973)
The Friends of Eddie Coyle (27-Jun-1973)
Slither (7-Mar-1973) · Barry Fenaka
Steelyard Blues (9-Feb-1973)
Ghost in the Noonday Sun (1973)
FTA (21-Jul-1972) · Himself
The Candidate (29-Jun-1972)
T. R. Baskin (20-Oct-1971)
Joe (15-Jul-1970)
The Monitors (8-Oct-1969)
Medium Cool (27-Aug-1969)





Requires Flash 7+ and Javascript.



Do you know something we don't?
Submit a correction or make a comment about this profile






Copyright ©2019 Soylent Communications